Rory McIlroy hits out at Patrick Reed as he responds to 'Tee-Gate' in Dubai
Rory McIlroy hit out at Patrick Reed as the world No 1 responded to 'Tee-Gate' on the eve of his first outing of 2023 in the Hero Dubai Desert Classic.
In a wide-ranging press conference at Emirates Golf Club, where he's bidding to land a third title triumph, the Northern Irishman heaped praise on Jon Rahm for his dazzling run of form but gave no encouragement whatsoever to Sergio Garcia potentially playing in this year's Ryder Cup in Rome.
However, the main interest in what he had to say surrounded an incident that was reported to have happened on the driving range on the Majlis Course on Tuesday.
According to a Spanish website, ten-golf.com, LIV Golf player Reed reportedly approached McIlroy and saluted the four-time major winner, who has been one of the staunchest critics of the breakaway series.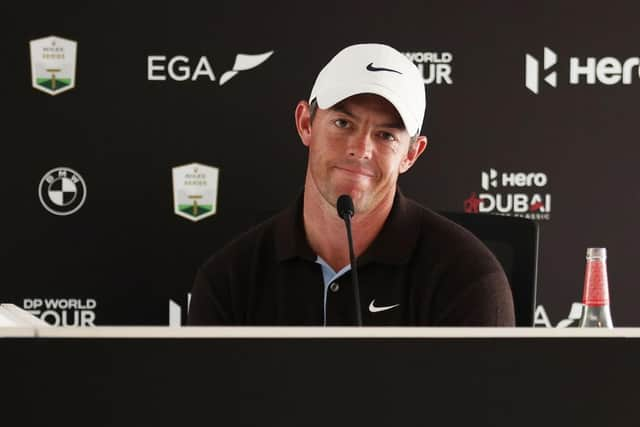 McIlroy is said to have ignored the gesture, prompting Reed to respond by pulling a tee from his pocket and flicking it in his direction.
Asked what had happened, McIlroy said: "I didn't see it. I was down by my bag and he came up to me, and I was busy working and sort of doing my practise, and I didn't really feel the need to acknowledge him.
"So I didn't see a tee coming my direction at all, but apparently that's what happened. And, if roles were reversed and I'd have thrown that tee at him, I'd be expecting a lawsuit."
McIlroy added that he hadn't felt the need to "duck" due to the fact "my back was turned on him" before going on to outline why he's not necessarily in the mood to exchange pleasantries with the former Masters champion at the moment.
"I mean, exactly, right," said the four-time major winner. "Like that's - I mean, I got a subpoena on Christmas Eve. I mean, you can't pretend like nothing's happening, right. I think that's the thing. Like why - we are living in reality here. He's - no, so..."
McIlroy was asked if he could ever see himself "mending bridges" with the American. The fact he didn't even answer that and stared at his inquisitor with an incredulous expression on his face said more than any words could.
As has become the norm, McIlroy was also asked about LIV Golf after it emerged earlier in the week that Majed Al Sorour, the breakaway circuit's managing director and Golf Saudi CEO, is no longer in an administrative role with LIV Golf,
Al Sorour, who serves as an adviser to Saudi Arabia's Public Investment Fund and is a director of Newcastle United, was considered the second-in-command at the circuit, behind only Aramco chairman and PIF governor Yasir Al-Rumayyan.
"I mean, if the chief executive doesn't have an executive team, I don't know how strong that is," said McIlroy of claims that Norman's position as LIV Golf CEO has been strengthened as a consequence of that development and other recent departures.
Does he that as some kind of level of weakness? "Yeah," he replied to that. "I mean, he can't do it himself. He needs to rely on a team just like all of us rely on teams, right, to do things. You know, you start operating in a silo, it starts to get pretty difficult."
McIlroy said he has "unfinished business" as far as this week's assignment is concerned, having hit his second shot into the water on the 18th hole in the final round 12 months ago to miss out on a play-off won by Norwegian Viktor Hovland.
He's feeling good about his game heading into the new calendar campaign, though Rahm, having recorded four times in his last six starts to climb to third in the world rankings, is threatening to topple him from the top spot.
"It's unbelievable for Europe's Ryder Cup chances," said McIlroy, referring not only to Rahm but also the inaugural Hero Cup in Abu Dhabi a fortnight ago. "You see Jon play the way he's playing; it's amazing.
"Like we all know Jon is one of the best players in the world, whether there's a 1 beside his name or a 2 beside his name, it doesn't really matter. He's won four of his last six events. He's playing some of the best golf he's played in his career. He's not had a long career, but all of his career, he's played consistently at a very, very high level.
"So I think we all know that Jon Rahm is one of the best players in the world, so I don't think that's a surprise. But it's been amazing start to the year. He started off the first two tournaments of the year shooting 27-under at both of them. That's pretty impressive."
McIlroy admitted that he'd felt "mentally drained" at the end of last year and was asked how much of that had been down to him not being scared to talk out on behalf of both the PGA Tour and DP World Tour in golf's civil war, which broke out as a direct result of LIV Golf being launched by Norman.
"All of it. All of it," he replied. Had it been worth it? "I mean, I think on reflection last year, I felt like I needed to take on quite a lot," added. "I think getting the wheels in motion for hopefully the new structure of professional golf took a lot of effort last year, but now those wheels are in motion.
"We just have to try to tidy up the schedule for 2024. But I feel like most of the heavy lifting was done last year. We still have quite a bit of work to do, but, you know, hopefully this year it won't be quite as taxing."
Comments
 0 comments
Want to join the conversation? Please or to comment on this article.