Rory McIlroy backs bid by golf's governing bodies to roll back ball at elite level
World No 3 Rory McIlroy has said he supports the bid by golf's governing bodies to roll back the ball at elite level in the men's game.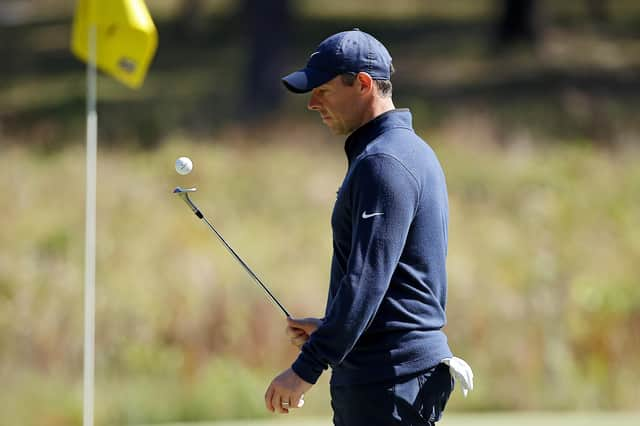 Speaking in an exclusive interview with No Laying Up, the Northern Irishman delivered his opinion on The R&A and USGA proposing the introduction of a Model Local Rule (MLR).
The move, which would likely result in driving distances decreasing by around 15 yards, was strongly criticised by PGA champion Justin Thomas, but McIlroy disagrees with the American and other top players.
"I've been pretty adamant that I don't really want the governing bodies to touch the recreational golfer because we need to make this game as not intimidating and as much fun as possible, just to try to keep the participation levels at an all-time high," said the four-time major winner.
"So, I'm glad in this new proposal that they haven't touched the recreational golfer. But, for elite level play, I really like it. I really do. I know that's a really unpopular opinion amongst my peers, but I think it's going to help identify who the best players are a bit easier. Especially in this era of parity that we've been living in these past couple of decades.
"You guys [at No Laying Up] use the term 'golf has been dumbed down a little bit at the elite level,' and I completely agree. I think you're gonna see people with more well-rounded games succeed easier than what the game has become, which is a bit bomb and gouge over these last few years."
Manufacturers and golf stakeholders, including the likes of the PGA Tour and DP World Tour, will have the opportunity to provide feedback until August 2023 and, if adopted, the proposal would take effect in January 2026.
"Selfishly, I think it helps me," added McIlroy. "I think this is only gonna help the better player. You know, it might help the longer player too, in some ways. But I think it's going to help the overall professional game.
"I think making guys hit some long irons again, and some mid irons, and being able to hit every club in your bag in a round of golf. … I can't remember the last time when I've had to do that. I don't know if this change in the ball will make us do that, but it certainly is a step closer to that."
McIlroy claimed he may still play the rolled back ball in PGA Tour tournaments even if the MLR wasn't adopted on the US circuit.
"Honestly, for me, the major championships are the biggest deal, so if the PGA Tour doesn't implement it, I might still play the MLR ball, because I know that that'll give me the best chance and the best preparation leading into the major championships," he went on.
"And again, this is personal preference and personal opinion at this stage of my career. I know that I'm gonna be defined by the amount of major championships that I hopefully will win from now until the end of my career. And that's the most important thing for me.
"If that gives me the best chance to succeed at the major championships and feel as prepared as I possibly can be, then that's what I would do."
Comments
 0 comments
Want to join the conversation? Please or to comment on this article.