Richard Bland redeems himself with apology after alcohol-fuelled DP World Tour tweet
We've all been there. Well, some of us anyway. And Richard Bland has now added his name to the list of people to regret being sucked in by social media after alcohol has been consumed.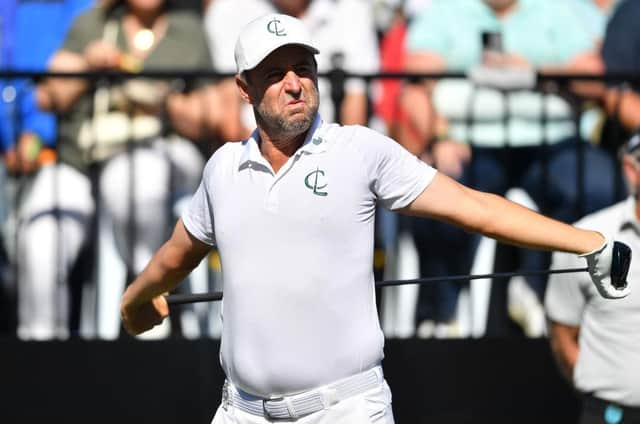 Out of the blue, Bland had a pop at Eddie Pepperell on Twitter over the weekend and was quickly shot down in flames by his fellow Englishman, who, in fairness, has fallen into exactly the same trap himself on occasions in the past.
It all stemmed from a discussion on the social media platform about LIV Golf's 'Party Hole' at the circuit's latest event in Adelaide, where a huge crowd turned up the volume and showered Chase Koepka in beer after the American made a hole-in-one in the final round on Sunday.
"Ed.. tell me where on DP World [Tour] there's been a hole like this?" wrote Bland. "Because in 22yrs of playing the tour I can't think of any. But maybe your 15 minutes on tour you know different."
Well, and he knew it once the alcohol had worn off, that comment opened the door for Pepperell, a two-time tour winner, to land what he has subsequently described a "haymaker" on Bland's chin.
"Where to start," he wrote in reply. "Suppose it's simple; in my 15 minutes I won more events than you did in 22 years. What the Tour has done (just to name a few); GolfSixes, Heineken hole at Himmerland, Beat the Pro in Holland. The Tour, which you spent 22 years on, did ok for you mate."
It did, indeed. Without it, and, more specifically, his breakthrough win at the age of 48 and in his 478th start in the 2021 Betfred British Masters at The Belfry, Bland wouldn't have sniffed a lucrative LIV Golf contract.
Which is why Pepperell wasn't the only one to be peeved at him for his comment. "I have no issue with players choosing to go play LIV," wrote David Horsey, a quiet man of the game, as even he was stirred by Bland. "But I do have an issue with the deformation and disrespecting of the tours and players that gave them a platform to create their brand in the first place."
In fairness, Bland subsequently admitted himself that he should never have tweeted in the first place. "Unfortunately I did have too many last (night) Ed.. & I apologise for what I said.. I should know better not to tweet under the influence," he wrote in a post on Monday morning before adding to a reply from Pepperell as the pair kissed and made up that it had been a "lesson learned".
Unfortunately, this, of course, is where golf is at the moment as a result of its widely-publiscise civil war and the LIV Golf players, caddies and supporters have certainly been bullish over the past few days after a massive crowd turned out for that event in Australia.
If loud is what you are looking for in golf and also drinking alcohol out of a shoe, then it was certainly a successful event, but let's not kid ourselves. This was a penalty kick for the Saudi-backed circuit and Greg Norman knows it.
Did it actually change the perception of many about the actual concept and, in particular, its team element? Probably not and that's way more important than delivering days at a golf event primarily centred around alcohol, which, incidentally, is coming from someone very partial indeed to a tipple or two.
Comments
 0 comments
Want to join the conversation? Please or to comment on this article.