Rejuvenated Matteo Manassero says his 'big goal' is to win again on DP World Tour
Matteo Manassero, European golf's one-time golden boy, has taken the first big step on the road to resurrecting his career and now the Italian has his sights set on a return to winning ways on the DP World Tour.
The 30-year-old lost his main tour card after suffering a nightmare season in 2019 as the impressive all-round game that had helped him secure four successes, including a record-breaking BMW Championship at Wentworth, until that point suddenly deserted him.
It's taken both time and patience to turn things around but, at the third attempt, Manassero has climbed back up the ladder again after being among this season's Challenge Tour graduates. Helped by two title triumphs - he landed the Copenhagen Challenge in May before adding a sweet success on home soil in the Italian Challenge Open a few weeks later - he finished ninth in the Road to Mallorca Rankings on Sunday, which means he's back sitting at the top table for the start of the new campaign in South Africa next month.
"I've probably been thinking ahead in the last month or so as it started to sink in," said Manassero, speaking to The Scotsman at the end of the Rolex Challenge Tour Grand Final supported by The R&A at Club de Golf Alcanada in Mallorca. "But this week I came in focusing and trying to win the tournament and we had to be on with everything due to it being a week of proper golf (due to high winds) and not much relaxing or partying."
Manassero won the Silver Medal for leading amateur, tying for 13th, in the 2009 Open at Turnberry, where he played with Tom Watson in the opening two rounds. He then became the youngest-ever winner on the European Tour at just 17 in the Castello Masters before creating history again, this time at Bernard Gallacher's expense, by becoming the youngest BMW PGA champion at 20.
"I'm very excited," he added, smiling, of heading back to the DP World Tour. "There's been a lot of talk about it. But now this season is over and we move on to the next one, which will throw up new challenges. I'm pleased I've had a successful season and I'm excited for what's coming ahead, for sure. I will need to speak to my team and with the guys who help me and reset and think how we can do our best next season. A lot of things are going to be the same and I will take confidence from what I have achieved this season, but we need to keep improving.
"A big goal of mine was to win again on the DP World Tour. That was my goal when I left the tour and I would like to be going back there with the same goal. I would say right now result-wise, that is my inspiration. I will work towards that and, if I can achieve that, then I guess I will have to sit down and see what is next."
Speaking just before he came up short in the season-ending Challenge Tour event two years ago, the Verona resident talked about how he'd hit the reset button after slipping to 1,70th in the world and, though slowly but surely, he's been rewarded for that decision.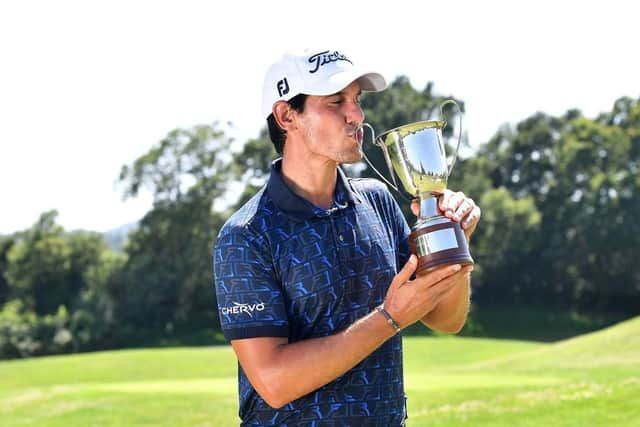 "It wasn't always easy," he admitted. "But, since I started to be on a good work path, not result-wise, I started to accept things a little bit better. The switch was mainly on that, focusing on building and growing as a player more than on results and that helped me on and off the course. I think that was the key. But attitude can always improve here and there. You have to be conscious about your attitude and look at improving it because I understood how important that is."
What did he learn most during his spell in the doldrums? "I would say I look a little bit more long term than this week or the next day," he said. "I do everything for something that is a little bit longer and bigger. It doesn't have to affect the next day or the next shot. It's just growing myself as a player and I think that's what I managed to do. You never know if you are going to win, but I guess it paid off this year and it's not random and it's not luck."
As he leaves the Challenge Tour behind, having graduated along with compatriots Andrea Pavan, Lorenzo Scalise and Francesco Laporta, Manassero acknowledged how difficult it is for players to secure a step up. "The standard has gone really high, in my opinion," he observed. "The depth of the players is growing and you can see that again this year. I mean, I won twice and I'm still finishing just inside the top ten in the rankings. That means a lot of guys have played really good golf and getting to the DP World Tour is a tough task. I think the guys who have graduated before us have shown they can go on the main tour and win.
"It (securing a card) is difficult. It (20 cards) might seem like not a small number, but people struggle to realise how many good players are on the Challenge Tour. Basically, you can win but you need more than winning. It is hard as guys who are winning are not making it. And, if you win on the Challenge Tour, you are a good player. It's tough. But whoever is going to end up on tour next year from here is going to be ready to compete."
Comments
 0 comments
Want to join the conversation? Please or to comment on this article.