R&A's new community facility in Glasgow now part of Arnold Palmer's legacy
The R&A's bid to transform lives through golf is being supported by one of the game's greatest names after a newly-launched global philanthropy programme was backed by the Arnold & Winnie Palmer Foundation.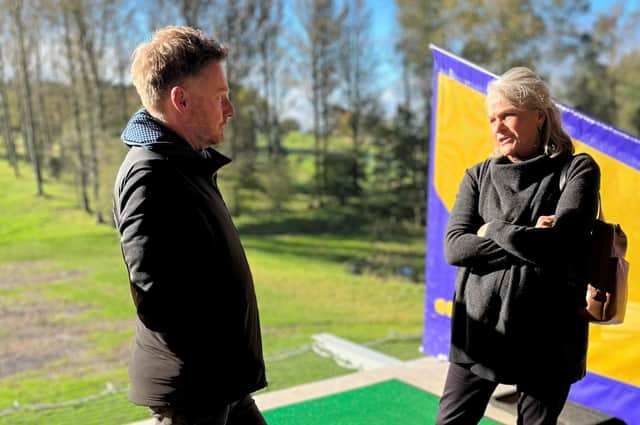 It's the first time the Palmer Foundation has thrown its backing behind an initiative outside the United States, with Amy Palmer, daughter of the seven-time major winner, being blown away by Golf It!, The R&A's new community facility close to Glasgow city centre, during a recent visit to Scotland to cement the partnership. Since it opened in August, the ambitious facility at Hogganfield Loch has welcomed more than 50,000 visitors through its doors, with more than two million balls being hit on the driving range alone in just eight weeks.
"I do, greatly," said Palmer, speaking in St Andrews, in reply to being asked if she'd been impressed by how The R&A, driven by its chief executive Martin Slumbers and with Phil Anderton now on board as chief development officer, is trying to grow the game in a meaningful way through initiatives like Golf It! "Not only due to the traditions of the game and how The R&A helps to navigate that balance of history and tradition but evolution is so critically important and, when you talk about growing the game, how you do that is key.
"It requires a tremendous amount of creativity to engage those who never felt the game was accessible and that was something that troubled my father greatly because he grew up in very humble beginnings and never really had that opportunity to even access a golf course until his golf career really started to grow, even in high school So seeing what is happening with The R&A and how Golf It! has made golf accessible but also some of the other things that sort of compel you to visit, I think draws such a broader audience and I think that is fairly unique to what anyone else has done."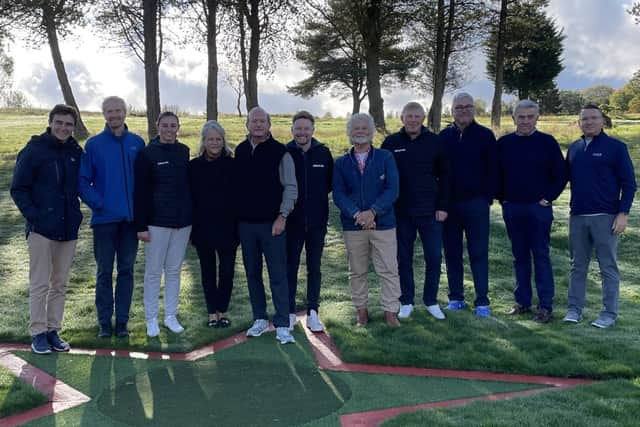 Over the next five years, the Arnold & Winnie Palmer Foundation will provide funding to support Golf It!'s education programme, which will see 42,000 children across Glasgow receive in-school golf tuition. It will also support an apprenticeship programme, a new part-time post to maximise the golf-related activities and also see dedicated volunteers get the chance to join the team of volunteers at the Arnold Palmer Invitational, one of the marquee events on the PGA Tour, in Florida.
"I think it took a tremendous amount of courage by The R&A to embark on something as innovative as Golf It!," declared Ken Boehner, who is director of the Arnold & Winnie Palmer Foundation and accompanied Amy on her visit. "Amy's dad wanted the game to be accessible and he worked hard to make it so and I think is a classic example. Speaking to Martin Slumbers about it, his vision was that golf used to be a community game and this is exactly what Golfit is doing and I hope it is able to be replicated in other communities because I think it will have a powerful impact on the lives of people.
"Russell Smith, who runs Golf It!, shared with us that 77,000 people each year utilise Hogganfield Loch as a place for recreation. In the first first few months its been open, 55,000 people have come though the facility and two million golf balls have been hit. I think that's hopefully a sign that there's a real grow the game opportunity here, even if it's just a grandparent who has never played the game bringing their grandkid there. Maybe they aren't picking up a club themselves but are having a cup of tea while their kid is hitting a golf ball and learning something about the game. I think it is incredibly impressive."
The R&A Foundation was formed in 2003 and reinvests proceeds from The Open in developing golf globally and helping more people enjoy the benefits of playing the game. In a new phase, additional funds are being raised through philanthropy and, during the pre-launch stage, over £5 million was secured, with supporters including The Arnold & Winnie Palmer Foundation, Rolex, AIG and an international group of individual donors.
"When this was first introduced to us by Caroline [Wallard, The R&A's Director of Philanthropy] and Jenny [Brown, Director of Business Development, I can tell you that the immediate moment it was shared it so resonated for me and Ken based on all the work we have been doing as we think about my parents' legacy and all the things that were important to them during my father's career and their lifetime together of supporting things that they felt so privileged to have the opportunity to experience and they wanted to give that opportunity to give back," said Amy. "Not only in their own communities but beyond that through so many things that were important to them, from children's healthcare to the nature-based wellness to the character development for golf. When we heard what Golf It! was all about, there was so much aligned thinking between us that it was not only very compelling in itself but it was also so relevant to what our mission is."
That mission is to "support a life well played for future generations", with people who support the foundation becoming members of 'Arnie's Army', the term used to describe Palmer' huge number of fans. "Nothing like this," replied Boehner to being asked if it had been involved with any other UK programmes. "We have been supportive of other initiatives over the years and clearly Amy's parents have been supportive of other initiatives. But this is our first real foray into a meaningful partnership in a formal capacity and it's because we believe The R&A is doing all the right things to help the game.
"Most of our initiatives have been US based. There are the children's hospitals and the hospital for women and babies in Orlando. We supported the University of Pittsburgh Medical Centre closer to home and also the hospitals in Latrobe. We also have the Winnie Palmer Nature Reserve in Latrobe, which does an incredible job to educate children about the importance of nature. We are really excited about the fact that programming that has been developed in the US, subject to cultural refinements, will be implemented in the new alliance with Golf It!. So we are sharing our programme across countries.
"Character development is probably where we've had the most impact from an international point of view where we are trying to teach the values of the game through the life Amy's parents lived and certainly through the way Mr Palmer carried himself on the golf course and off the golf course and engaged with people of all shapes and sizes in a truly authentic and caring way."
Palmer recorded a second successive win in The Open at Royal Troon in 1962 and, along with the likes of Peter Thomson, Jack Nicklaus and Tom Watson, his name will always be God-like in the eyes of Scottish golf fans. "It is very special," said Amy of that. "To our good fortune, our parents raised us somewhat insulated because they knew their public life and the health of our childhood growing up in a little town like Latrobe was really valuable to keeping us grounded and realising later in life all the things you just said has truly been an amazing journey for me.
"I certainly appreciate and acknowledge my father's career, but never did I realise as much as I do now the impact he had, particularly coming here, having not been here for a long time. To see how his name is still celebrated in certain ways, it's an honour for me to be part of this and feel the responsibility I do and protecting the integrity of that and, as we look at protecting the integrity of golf and I know how meaningful that was to my dad. To come here just helps consolidate what we are doing."
Comments
 0 comments
Want to join the conversation? Please or to comment on this article.