Race to Dubai winner Rory McIlroy commits to Genesis Scottish Open title defence in 2024
Race to Dubai winner Rory McIlroy has confirmed he'll be defending his title in next year's Genesis Scottish Open in East Lothian and is still purring over the shot that landed him a first victory in the home of golf.
The four-time major champion finished birdie-birdie at the The Renaissance Club in July to pip Bob MacIntyre after the Oban man had produced a wonder shot at the last to put himself on the verge of becoming the first home winner since Colin Montgomerie in 1999.
The Rolex Series event is heading back to the same venue in 2024, when it will mark the start of a new Closing Swing and McIlroy will be there before heading to Royal Troon the following week for the 152nd Open.
"Yeah, I'll absolutely play," the world No 2 told The Scotsman, speaking at the finish of the season-ending DP World Tour Championship at Jumeirah Golf Estates in Dubai as he was crowned as the Race to Dubai winner for a fifth time.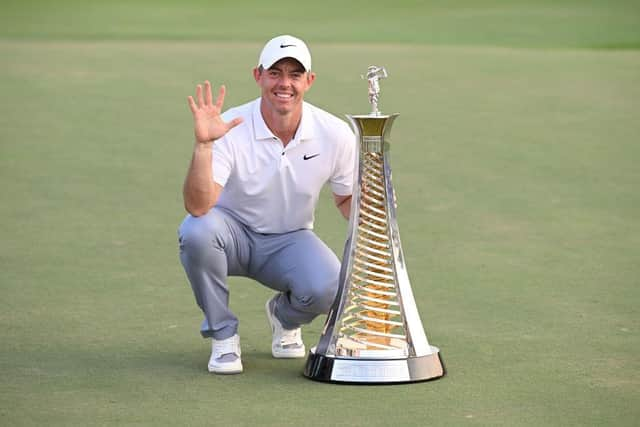 "I think it worked well going into The Open. It's not like it's just a warm-up event. It's a big event in its own right, but I think I have definitely come to the realisation that I play better when I play my way into the majors.
"So, regardless of the golf course and what I think of it, I can suck it up for a week as I'm a big boy and hit the shots. I've won on a few golf courses that I haven't been particularly keen on or didn't think fitted my eye or suited me that well, But, yeah, I'll be back."
McIlroy had won the Hero Dubai Desert Classic in January before completing a Rolex Series double as he came out on top on Scotland's Golf Coast. Coupled with his strong performances in three of the four major, those wins allowed him to top the order of merit once again.
"It was great," he said in reply to being asked how he reflected on his first Scottish success. "I think as well in the conditions I did it. You know, they were really tough conditions that Sunday. The wind was pumping and those two iron shots I hit in 17 and 18 were two of the best I can remember, so it was a nice way to finish it off."
His second shot into the par-4 18th was something special. "Yeah, it's definitely in the top ten. And it could be in the top five," he admitted. "There's probably been shots I've hit that have been more meaningful or consequential or in bigger tournaments. But, in terms of just like the pure quality of the shot, I don't think I've hit one as good as that.
"It was a perfect 3-iron, but I didn't have a 3-iron in the bag. So I was either trying to turn a 4-iron into a 3-iron or a 2-iron into a 3-iron. I was over the 4-iron first but I just couldn't see how it was going to get over the false front of the green. So I went from hitting a big slinging draw to hitting a little cut with the 2-iron. Nice to have options and it was proper shot-making."
Comments
 0 comments
Want to join the conversation? Please or to comment on this article.