Phil Mickelson backs up 'ready to go on a tear soon' prediction
He's looked like a poor imitation of himself, both in terms of physical appearance and his golf game, since signing for LIV Golf. But Phil Mickelson said on Friday that he was "ready to go on a tear pretty soon" and he duly did in the final round of the 87th Masters.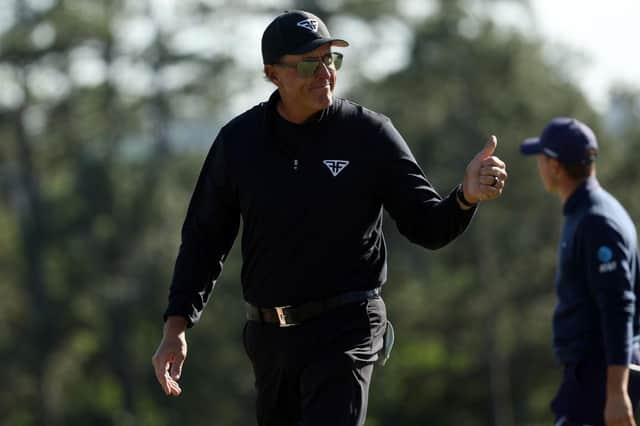 Making five birdies in the final seven holes and eight in total, the 52-year-old signed off with a sensational seven-under-par 65 to finish joint-second behind Jon Rahm on eight-under in his 30th appearance at Augusta National.
"I had so much fun today," said three-time winner Mickelson. "I feel like I've been hitting these type of quality shots, but I have not been staying focused and present for the upcoming shot, and I make a lot of mistakes.
"To come out today and play the way I did and hit the shots when I needed, it's so much fun. I'm grateful to be a part of this tournament and to be here competing and then to play well, it means a lot."
The six-time major winner's form has been lousy since he became one of LIV Golf's marquee signings last year, but this week was more like it, having opened with rounds of 71-69 to boost his confidence by simply making the cut.
"Today is hopefully a stepping stone to really kick start the rest of the year and continue some great play because I have a unique opportunity," added Mickelson, who created history by becoming the oldest major winner at close to 51 in the 2021 PGA Championship at Kiawah Island.
"At 52, no physical injuries, no physical problems, being able to swing a club the way I want to, to do things in the game that not many people have had a chance to do later in life.
"I know I've been playing really well. I've been shooting low scores back home. When I've been competing, I have not been staying present. I haven't been letting it happen, kind of forcing it. I just haven't been scoring the way I know I can."
This year marks the tenth anniversary of Mickelson winning The Open at Muirfield and, if he is indeed building up a head of steam, this year's Claret Jug joust at Royal Liverpool could be an exciting assignment for him.
Earlier in the week, Mickelson was asked if driving down Magnolia Lane had almost felt therapeutic. "I would use the word more spiritual because, if you love golf, when you come here, it's more of a spiritual experience, where you feel this appreciation for this great game and the gratitude that you have," he said.
"Then this tournament, this course gives something for everybody to aspire to. If you're a kid and you're dreaming of playing in The Masters and you want to win it, it gives you something to aspire to. It did for me, something to aspire to to play the golf course where you see history made every year, and that's what this place does for me and I think all golfers."
Spieth, the 2015 winner, finished a shot behind his playing partner after signing for a 66 that contained nine birdies. Between them, they made 17 in total.
"It was great," said the Texan of the pairing. "It was actually pretty quiet for some of the stretches, and then once we both started to really get it going around 10, 11, 12, 13 there, it started to pick up in our group.
"It was really awesome going to 12 tee and going to 16 tee. I have a lot of great memories coming off that 15th green, from the year I won, the year after, '18, and now this year where you feel like everyone's trying to will the ball in for you. It's a really cool feeling you don't get anywhere else but here."
Comments
 0 comments
Want to join the conversation? Please or to comment on this article.