Phil Mickelson aims to use Masters display as 'catapult' for big year in majors
He's back. Almost out of the blue, Phil Mickelson put his stress and strife behind him and got the golf world excited again about his golf.
On the back of finishing joint-second, having closed with a best-of-the-day 65 in the final round, behind Jon Rahm in the 87th Masters, the 52-year-old jumped from 425th to 72nd in the world rankings. Now, having shrugged off his poor LIV Golf League form, Mickelson is suddenly feeling excited about next month's PGA Championship at Oak Hill, the US Open at Los Angeles Country Club in June and the 151st Open at Royal Liverpool a month after that.
"I'm hopeful that this kind of catapults me into playing the rest of the year the way I believe I'm playing," said the six-time major winner as he reflected on a sensational closing effort, which was capped by a birdie-birdie finish in his 30th appearance at Augusta National. "I really worked hard in the off-season to get ready. I've been shooting some really low scores at home, and today I kind of let it happen rather than trying to force it, and I had a really good day and made some noise. Unfortunately it wasn't enough, but it was really a lot of fun for me to play at this level again, and it's encouraging for me going forward the rest of the year."
Mickelson didn't play in the season's opening major last year as he took a break from the game at a time when he was shrouded in controversy following explosive comments about Saudi Arabia in particular but also the PGA Tour. One of Greg Norman's marquee signings for LIV Golf, the left-hander insists he's happy with life on the breakaway circuit, which has an event in Australia as its next offering. "It's been awesome for me, and I love it," he said. However, it was surely no coincidence that he found his mojo again on one of the game's biggest stages as opposed to a 54-hole event with a shotgun start.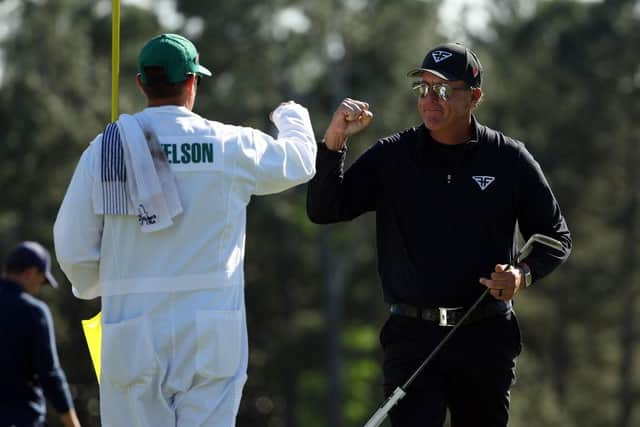 "Look, I wouldn't look at it like that," said Mickelson to being asked if he'd felt there had been competition between the LIV Golf players and the players from the traditional tours. "I'm very appreciative that we're here; that we are able to play in the majors. And I thought it was exciting that this tournament rose above it all to have the best players in the world here and lost all the pettiness; that was great."
Mickelson finished the event alongside LIV Golf colleague Brooks Koepka, who, though disappointed to miss out on a fifth major after being at the top of the leaderboard for most of the event, echoed that view. "I mean, we're still the same people," he said. "I know if I'm healthy, I know I can compete. I don't think any of the guys that played this event thought otherwise, either. When Phil plays good, we know he's going to compete. P(atrick)-Reed, the same thing I think that's just manufactured by the media that we can't compete anymore; that we are washed up."
Koepka and Jon Rahm took close to five hours to complete their final round after being held up from the second tee onwards by the group in front, with notorious slow coach Patrick Cantlay being responsible for that. "Yeah, the group in front of us was brutally slow," observed Koepka. "Jon went to the bathroom like seven times during the round, and we were still waiting."
Comments
 0 comments
Want to join the conversation? Please or to comment on this article.