Rory McIlroy, who'd spoken out more than most about LIV Golf over the previous nine months or so, played a practice round at Augusta National with Brooks Koepka, one of the Saudi-backed breakaway circuit's star players.
Others on different sides of golf's great divide also seemed to go out of their way that week to show that players can still be civil to each other, with Fred Ridley, the Augusta National chairman, saying he'd been heartened by that and hoped the week could be a "path forward".
Well, quite a lot has happened in the interim, notably Phil Mickelson finding his voice again and having lots to say about various things and, of course, players, including Lee Westwood, Sergio Garcia, Ian Poulter and, most recently, Henrik Stenson, resigning as members of the DP World Tour in the wake of new sanctions being imposed on LIV Golf players for competing in a mix of events on that circuit and also the Asian Tour without official releases.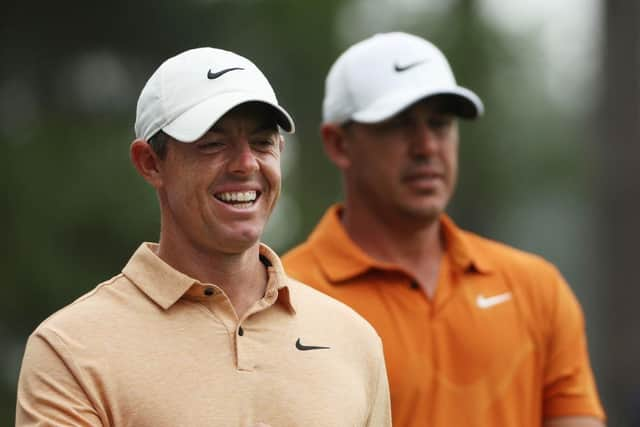 But, nonetheless, it will be interesting to see if what seemed like a bit of welcome harmony will still be evident when the world's top players get together again for the season's second major, the PGA Championship, which starts at Oak Hill on Thursday.
Eighteen LIV Golf players are in the field at the Rochester venue, where the PGA of America event is being staged for a fourth time after previous visits in 1980, 2003 and 2013.
"I don't know if there was harmony necessarily. That might be overstating it," said Scott Van Pelt, who will be anchoring ESPN's coverage of the tournament, as he joined former US Open champions Curtis Strange and Andy North on a conference call to preview it. "I think guys were rooting for their sides, frankly.
"Seeing Rory and Brooks play together is a good reminder that this is golf; there are actual conflicts in the world that are real and there's war and things of that nature that are quite serious."
Which put a narrative around Koepka and Jon Rahm battling it out at the top of the leaderboard heading into the final day in Georgia into perspective, even though it definitely added an extra later of excitement, as did Mickelson finishing with a brilliant closing 65 to claim a share of second with Kopeka as Rahm claimed the Green Jacket.
"The lines are drawn here with the tours, we know them, and certainly the LIV players showed very well, between Phil and Brooks and [Patrick] Reed all playing very, very well at Augusta. No question, they did," added Van Pelt.
"But I think it was a good reminder with Brooks and Rory, I guess, playing a practice round, just reminding each other that it is golf. But 'harmony' might be overstating it a bit. I don't think this, I know this. I know the PGA Tour players were happy to see Jon win, because had it been Brooks or Phil, then what would the conversation have been? I don't know. They'll have an opportunity next week to do the same. I don't know what kind of a headline that would be.
"My appetite for this conversation has waned. I feel like mostly it has for people. Some guys play on one tour, other guys playing on another. It's just golf. They're not going to fight. They're not going to fist fight. They're going to try to beat each other on the leaderboard. The end."
Jack Nicklaus landed the last of his five PGA Championship wins at Oak Hill in 1980 before two other Americans, Shaun Micheel and Jason Dufner, claimed the coveted title in 2003 and 2013 respectively. For its latest week in the spotlight, the Donald Ross-designed course has been renovated by Andrew Green.
"I felt like the presentation of the golf course needed to be more authentic and better connected to some of the original imagery we had from Ross' time," said Green. "I'm really excited about the way it presents itself in as authentic fashion as possible. That it feels like the way it was intended to be. I'm really excited to see how it holds up, what the challenges are and how the players react."
It's already been given the thumbs up by Strange and North. "It was a wonderful golf course in the day, and I think it's a much better golf course now with the renovations," said Strange. According to North, it will provide a tough test for an event that sees Justin Thomas defend the title after his play-off victory at Southern Hills 12 months ago
"It's a golf course that, if you played poorly, it just beat you up. It could just absolutely slap you around," said North. "It's not a golf course you can just squirrel it around and shoot a score. You've really got to be on your game and hit a lot of quality shots."
On a course where Bernard Gallacher led Europe to victory in the 1995 Ryder Cup, Bob MacIntyre is the sole Scot in the field. "I can't wait," said the Oban man, who has made the cut in his three previous PGA Championship appearances. "I missed out on the Masters, so, with this being my first major of the season, it's really important for what my goals are for the rest of the year. If I have a good week, it's a big step forward. But I won't put too much pressure on myself, I'll just go and play golf and just enjoy it."