Patriotic Gemma Dryburgh proud to maintain Scottish Solheim Cup connection
She may have lived near London for a big chunk of her life and is now based in New Orleans after going to college there, but Gemma Dryburgh was born in Aberdeen and remains Scottish to the core.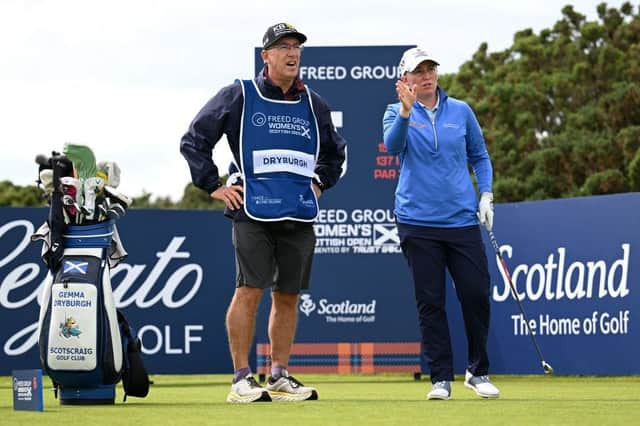 "I'm very patriotic," declared the 30-year-old as she looked forward to representing her country in this week's Solheim Cup at Finca Cortesin on the Costa del Sol in Spain. "I'm the sole Scottish LPGA Tour player at the moment, so I like to fly the flag as much as I can."
Dryburgh, who was handed a captain's pick by Suzann Pettersen after backing up a maiden LPGA Tour win last November by making the cut in all five majors this season, is just the seventh Scot to fly the Saltire in the Solheim Cup.
"Kathryn [Imrie, who played in the 1996 match] was telling me there has always been some sort of Scottish connection in the Solheim probably ever since it probably started, so it is nice to keep that going.
"With Catriona [Matthew] obviously being the captain the last couple of matches, it is nice to keep the flag flying and I am very proud to keep it going. It's great to see Bob [MacIntyre] on the Ryder Cup team also, so, hopefully, we can represent Scotland well."
Stacy Lewis, the US captain for this contest, said she was "very, very happy" to see Dryburgh make the European team, describing her fellow LPGA Tour board member as a "great girl and great advocate for our tour".
Commenting on being the bubbly type as opposed to someone who prefers to hide away in the corner of a room, Dryburgh said: "I think it will be helpful. I think Suzanne mentioned that as well. I am a very happy person and I am sure I will be good for having a bit of banter in that team room which I'm sure is a big part of the experience as well.
"It's not just about the golf, it's about the camaraderie and pushing each other on and stuff. Hopefully, I can add that dynamic to the team room."
She'll be heading into battle with the likes of English duo Charley Hull and Georgia Hall, as well as Swedish sensations Linn Grant and Maja Stark. "I've heard that, although you might not be the best of pals during the season, during that week you just come together," said Dryburgh. "You get to know everyone really well and it's a great experience to get to know the girls even better, so I look forward to it."
After back-to-back wins under Matthew's captaincy at Gleneagles in 2019 and in Tulsa in 2021, Europe have teed up an opportunity to land a hat-trick of wins in the contest for the first time.
"I think we are pretty even," said Dryburgh of how she feels the teams stack up. "We've got girls who are playing so well. It's going to be a tight match, but we have the home advantage and having won the last two we've also got the momentum. It's a hard one to call but I think it's going to be a really good match. Three in a row has been done before, so it would be pretty cool to do it."
Comments
 0 comments
Want to join the conversation? Please or to comment on this article.