Norman Wood on birdies, a chirpy Lee Trevino and birdwatching
Norman Wood may have lived in Guernsey for almost 40 years, but there is no disguising his Scottish accent and he remains fiercely proud of his roots, both in life and golf.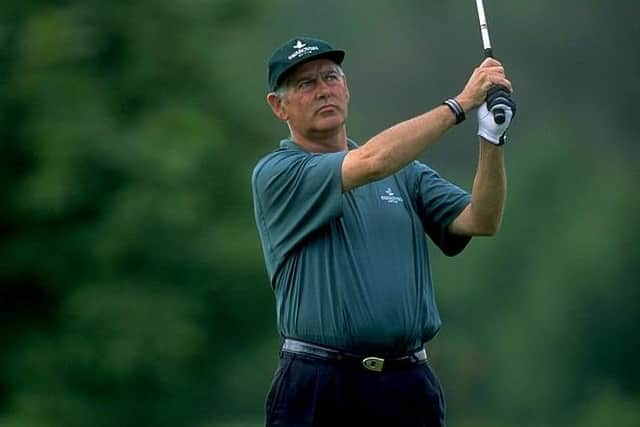 Now 74, he won the Italian Open, came close to adding the Australian Open and beat Lee Trevino in a singles session in the 1975 Ryder Cup at Laurel Valley in Pennsylvania.
Not bad for someone who thought golf was a "stupid game" before quicky becoming hooked.
Life started for you in Prestonpans, so was it in East Lothian where you took up golf?
NW: I was born there, but I left when I was three or four and I moved all over Scotland. I moved to Macmerry then a couple of places in Glasgow - Carmyle and Broomhouse - and then I moved to Banknock, near Denny, and that's where I went to school. Then I moved to Alva and that's where I started playing golf.
So how did that come about?NW: It was quite late actually. I used to caddie for my dad, Hugh, at the weekends. I got half a crown for that and I thought it was a stupid game, hitting a little white ball and walking after it. He kept giving me a club and saying, 'go on, have a shot' but any time I did nothing special happened. But, when we were on holiday in Cornwall one year, he played a course, which might have been Royal North Devon, and I remember the very shot that got me hooked. It was a 5-iron from the top of a hill to a green way below me and it came right out of the middle of the club, so sweet, and it seemed to stay in the air forever. That was it, I was hooked because I couldn't believe how exciting that felt. As soon as we got home, he got me a little set of clubs and I was up at the nine-hole course at Alva every night after school. I then joined Schaw Park and Dunblane and, from taking it up when I was 15, I was down to a two handicap by the time I was 17 and I'd won the club championship at Dunblane and quite a few amateur tournaments.
Did you get a job before turning professional?NW: I worked in a bank in Alloa and having to work on a Saturday used to interfere terribly with the golf (laughing). I finished there on a Saturday and started working at Turnberry the next day after I had decided to turn professional in 1965 and I went about two years without a holiday. I was at Turnberry for a good few years working under Bob Jamieson, so I got good training there.
Your first notable success in the paid ranks was in the Scottish Assistants' Championship in 1968. What do you remember about that?
NW: It was held at Longniddry and I beat David Webster in a play-off. I went on to win the Coca-Cola Championship and other events in Scotland and that was the start of it. I always remember Bob Jamieson saying to me, 'right, if you are going to play in any tournament, you have to be back in the shop the next morning'. The first one I went to was the Pringle of Scotland at Lytham St Anne's. There was pre-qualifying on the Monday to get into the tournament and I was out in level-par and started back par-par-par. I remember thinking, 'I'm cruising it here and I'm going to go on and win lots of events' only to finish 6-7-6-5-5-5 and I missed out by a shot. I then had to jump in the car straight afterwards and be back in the shop the next morning. That certainly brought me down to earth (laughing).
When did you start playing on the European Tour?
NW: That would be around 1970-71 and it wasn't a hard decision to make at the time, to be honest. I'd already been dabbling in European Tour events, playing the odd one here and there without any real success.
But then you did taste success in the Italian Open in 1972, winning by two shots from Brian Hugget. How did that feel at the time?
NW: I recently looked that up on the computer and I actually can't believe the strength of the field I beat. Bob Charles was in, as was Tony Jacklin, they were all in it, Neil Coles, Bernard Hunt and so on. That was my first big one and that set me up, that got me going.
You also won the Jamaica Open in 1973 then came close to adding the Australian Open the following year, finishing second to Gary Player?NW: I remember the Australian Open in particular because I got mixed up with the times due to jetlag and I ended up being late on the tee for the first round. I had a taxi taking me to the golf course and I ran up to the first tee and my two playing partners were walking down the fairway and if they'd hit their second shots, I would have been disqualified. But they hadn't and, as the starter waved down to them and me still wearing my dress shoes as I didn't have time to change into my golf shoes, I hit my drive and changed into my golf shoes before catching the other two players up. And, lo and behold, I ended up finishing second. I should have won it actually because playing with Gary Player in the third round was when he had a 63. I outplayed him all the way, but I missed putt after putt after putt.
At that stage of your career, what did you think was possible?
NW: At that time, I was even thinking I could get into a major and doing well in an Open because that, of course, was the only one we could play in at that time because we never got invites to The Masters, PGA in America or the US Open. They didn't want outsiders coming in and playing in those events back then, which was a bit disappointing. The Open, therefore, was the one I set my sights on and I played well in it. I think I made the last day five or six years in a row, which was nice.
You played in the Ryder Cup in 1975 at Laurel Valley. How did that go?NW: I played well that year. I think I was in the top 10 in each of the first five tournaments and I should have won a couple of them actually. The last qualifying tournament was the Benson & Hedges at Fulford and I needed a good last round and shot 67, which got me into the automatic places and I was really pleased about that. The Ryder Cup was huge in those days as well because everyone wanted to play in it before it lost its edge a bit and the Europeans came in. I only had three matches and played good players in every match. I had Hae Irwin and Gene Littler the first match then Jack Nicklaus and J C Snead in the second one then, of course, Lee Trevino in the singles.
You beat Trevino 2&1. Is it right that he didn't say a word early on before becoming a bit on the chirpy side when you got your nose in front?
NW: That's right, yes. He'd been known for that, of course. Jacklin hated playing with him. Everybody hated playing with him, in fact. When I won the eighth to go one up, he just started to yak, yak, yak all the time on the way to the ninth tee. The crowds were laughing at him, but I am sure it was deliberate, but that was him, he was an entertainer and, you know, good luck.
Are there any other events you look back on with particularly fond memories?NW: Yes, the international matches we used to play at Gleneagles. Double Diamond sponsored the event and I remember one year we had a good team that included Sam Torrance, Brian Barnes and Bernard Gallacher. It was a big event, and, in the semi-final against the United States on the King's Course, I was out in the last match out on the course. Brian Barnes had been behind me, but he won 6&5 and was walking in. He said to me, 'how are you getting on?' and, at the time, I was on the 15th tee and I was three down with four to go. I nobbled my tee shot off the tee and into the heather just 20-30 yards in front of me and I remember Brian saying, 'ah well, pity' walked away down the last to the clubhouse. Anyway, I knocked it out, knocked the next one on the green and holed the putt for a 4 and won the hole. I was playing against Dave Hill and then birdied the 16th and 17th to get back to level before hitting my second shot into the greenside bunker at 18. Sam Torrance said to me, 'we just need a half and we are in the final'. I remember looking at the back of the green and all the Welsh players were drinking champagne as they thought they were in the final after hearing about how my match had stood on the 15th tee. I got in the bunker and shanked it about 50 feet away but I managed to two-putt to finish all square, which put us into the final. Sam grabbed me, got me up on his shoulders and ran across the green. I really enjoyed that.
When did the back problems that ended your playing career start to creep in?
NW: That started when I was out in Barbados, but the thing that stopped me playing on the tour was the yips. I got the yips in 1976, the year after that Ryder Cup. I remember the very time I got them. It was at the Italian Open, funnily enough, in Venice. The greens were muddy and the spike marks were really coming up on them. I had a two-foot putt on one green and I hit it and it missed the hole miles left. The next hole I had the exact same putt and thought, 'don't miss it left' and yipped it out to the right and that was the start of it. I was three-putting, four-putting all the time. I was hitting 18 greens in regulation and shooting 75. That made my mind up to give up the tour.
You mentioned Barbados. Where did you work out there?
NW: It was at Sandy Lane. I was out there teaching for five winters. I still dabbled in tournaments at that time and that's how I damaged my back, so I virtually gave up the tour at that time. I didn't play competitive golf, in fact, from 1978 until I was 50 and had a crack at the European Senior Tour.
You are now based in Guernsey, having been there for about 40 years. You clearly enjoy life in the Channel Islands?
NW: Definitely. I was the pro at Royal Guernsey from 1982 roughly and I retired when I was 60 because I had a mild stroke. When we moved here, our children were very young and it was such a safe place for children. There was no crime and no violence. It's a lovely place and the weather is fantastic. We hardly ever get snow here.
Are you still into birdwatching?
NW: I am still very keen on that. I do a bit of work for the British Trust for Ornithology. It's a big thing in Guernsey and my bird watching group is the RSPB. Fishing is my other hobby. I try to go up to Thornhill in Dumfriesshire every year. Along with Andrew Coltart, of course, I was a member there. In fact, my dad was the captain at the time it became an 18-hole course. I'm an honorary life member and it's great that two Ryder Cup players came from the same little club.
Do you still keep a track of how Scottish golfers are faring around the world, the latest to make a big impression, of course, being Bob MacIntyre?
NW: Oh yes, I follow them all and get a lot of fun from that.
It sounds as though you've had a lot of fun from a sport you didn't fancy taking up at the outset?
NW: Indeed. I still think about the days playing with my dad and remember once playing against him in a final of a match-play event at Alva and he hammered me 7&6, telling me afterwards: 'Let that be a lesson to you, don't ever feel sorry for anybody (laughing).' The whole family played golf and my wife, Carol, is just back from playing in a tournament at the club here today. We have all enjoyed it. The one thing I really enjoyed is my first hole-in-one, which came 50 years almost to the day I started playing. It was at Royal Guernsey and I followed it straight up with one in Tobago and another one in the north of Scotland at Spey Valley in Aviemore. Talk about buses never coming along and then...
A message from the Editor:
Get a year of unlimited access to all of The Scotsman's sport coverage without the need for a full subscription. Expert analysis, exclusive interviews, live blogs, and 70 per cent fewer ads on Scotsman.com - all for less than £1 a week. Subscribe to us today https://www.scotsman.com/subscriptions/sports
Comments
 0 comments
Want to join the conversation? Please or to comment on this article.