New Guinness World Record set for fastest nine-hole round of golf
Luke Willett, renowned as the world's fastest golfer, has achieved a remarkable feat at Jumeirah Golf Estates, setting a new Guinness World Record for the fastest nine-hole round of golf by an individual.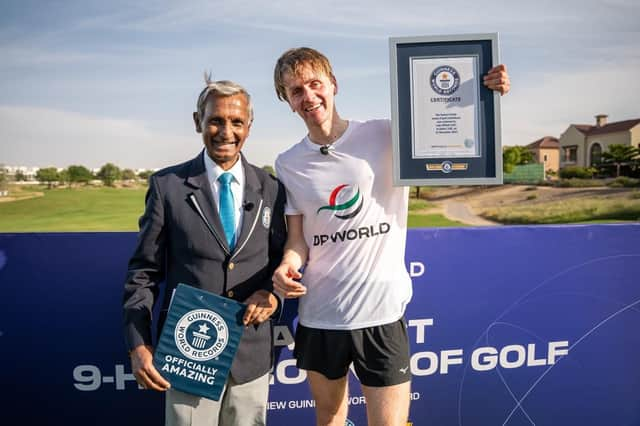 The record-breaking performance took place on the Fire Course at Jumeirah Golf Estates in Dubai, just ahead of the $10 million DP World Tour Championship that gets underway on Thursday.
Willett, a 39-year-old PGA professional who hails from Buckinghamshire, only used a 3-wood, 6-iron and pitching wedge as he hurtled round to clock an official time of 20 minutes and 12 seconds.
"I am absolutely thrilled to have set this Guinness World Record for the fastest nine-hole round of golf," said an exhausted Willett following the challenge over nine holes measuring 2709 yards. "It's an incredible feeling to push the boundaries of what's possible in the sport, and I'm grateful for the opportunity provided by DP World."
The challenge was initiated by DP World, a global leader in smart logistics and title partner of the DP World Tour and DP World Tour Championship.
Danny van Otterdijk, DP World's group chief communications officer, said: "Luke's remarkable speed and skill are truly commendable, and we are delighted to have been a part of this historic moment.
"At DP World, we thrive on efficiency and excellence, and Luke's record-breaking performance perfectly aligns with our values. We congratulate him on this extraordinary feat, especially considering the course and the temperature, and look forward to witnessing more milestones in his impressive speed golf career."
Comments
 0 comments
Want to join the conversation? Please or to comment on this article.