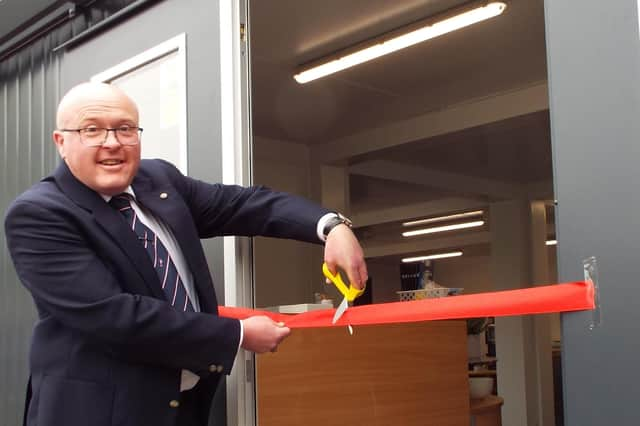 Named Old Tom's Rest after Old Tom Morris, who designed the course, the new facility officially opened its doors to the public last Saturday.
The old clubhouse had been sold just before the Covid pandemic, but since then the club, which was founded, has been given a new lease of life.
Over the last two years, renewed partnerships with other organisations within the local community and a fresh focus on making golf accessible has resulted in more than 60 new members, half of whom are under 18, joining for the 2023 season.
Highly-regarded PGA coach Allan Martin, the club's former professional, has also returned as its roving pro to lead the junior coaching and Get Into Golf initiatives.
"This is an important day, not just for the club but the entire Callander community," said Martin, who was handed the honour of cutting the ribbon to mark the clubhouse opening. "It gives the members and those visiting the area the opportunity to enjoy a welcoming and pleasant environment within the town.
"It provides a focal point for the members and those playing golf, which will further promote the facilities the club and the town have to offer, as well as a link to other community groups within the Callander area."
Andrew Lloyd, chairman of the club's Management Committee, added: "Our club has endured a difficult period over the last decade. However, with the opening of our new clubhouse we are ready to kick-start a positive new period.
"We want our golf club to be a place where everyone can relax, enjoy a coffee and take in our breathtaking surroundings, whether they are playing 18 holes, walking to the Bracklinn falls, cycling round the Trossachs or simply passing through. We pride ourselves on offering a true Scottish golf experience, and a warm welcome is just as much a part of that as the game of golf itself."
Left-hander Ben Collier, who won the Scottish Boys' Championship at West Kilbride in 1990, played his amateur golf at Callander. Two other past Scottish internationals. Gordon Macdonald and George Barrie, were also Callander members.