Muriel Thomson on titles, teaching and now tutoring
Muriel Thomson worked in a bank before getting her numbers right as a professional golfer, winning nine times on the Ladies European Tour and topping the circuit's Order of Merit twice.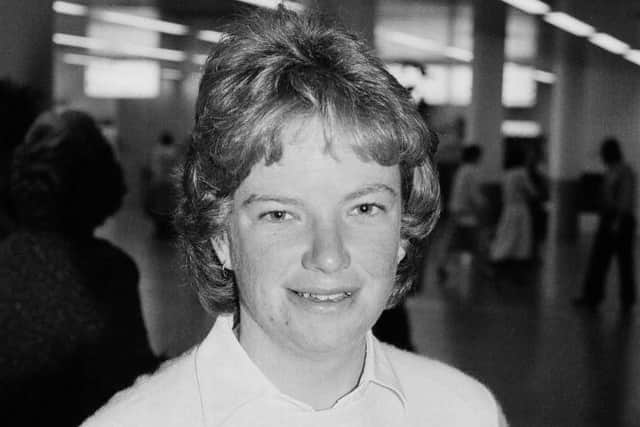 After losing her appetite for tournament golf, the Aberdonian spent nearly 25 years as a PGA professional at Portlethen and loved every minute of that spell.
Since retiring, the 66-year-old has trekked in the Himalayas, cycled thousands of miles both close to home and far afield and done voluntary work with underprivileged children in India.
How did you get into golf?
MT: When I was five years old, we used to go to Aboyne for our summer holidays . For about two or three months, we rented a house up there and we went there 10 years in a row. It's actually quite an interesting story about how I took up golf. Just before we were leaving one year, it was the Aboyne Games and we'd go down to the park and play. We were probably nine and my sisters and I were there and a lot of the local boys were there. We heard them saying a four-letter word we'd never heard before. One of my triplet sisters said, 'what does that mean?' and we said, 'oh, we don't know', so she said, 'I'll ask mum when we get home'. The whole way up the road she was saying this word so that she could remember it and went into the kitchen and said, 'mum, what does the f word mean?'. My mother looked at her in horror and said, 'where did you hear that?' and so we told her. When our father came home that night, my mother said, 'wait til I tell you what the girls were coming home with from the park today' and my dad immediately said, 'well, that's it, we need to get them out of the park and I think we should buy them golf clubs and get them started in golf' and that's how we started (laughing).
The amateur game was totally different back then, of course, and you worked in the banking industry at that time in your career. How did you find that?
MT: I went into the bank mainly because banks and insurance companies at that time were pretty good at letting sports people take time off. My father was a friend of the chief general manager of the Clydesdale Bank and he said, 'look, if Muriel wants to continue to play amateur golf, we will give her a job in the bank and she will get as much time off as she wants'. They were extremely good as I used to go in at the beginning of the year and give them a list of all the tournaments I wanted to play in and they gave me the time off, which was great.
You had obviously made your mark with a couple of North of Scotland title triumphs but then recorded back-to-back wins in the Helen Holm Trophy at Troon in 1976 and 1977. Was that the point you felt a career in the pro ranks was beckoning?
MT: I think it probably was, yes. In my last year with the bank, I think I got 12 weeks off as I got into the 1978 Curtis Cup team and went away to America to play in that and stayed on to play in the Canadian Open and the US Open. Later on that year, I was picked to go to the Espirito Santo Trophy in Fiji, so I was away for another couple of weeks for that. I think the banks looked upon it at that time as good advertising as there were another couple of girls who played in the Scottish team worked in banks, as did Mary McKenna, the great Irish champion. I don't think they do that now, though.
How much did you enjoy team golf back then?
MT: Well, I played in the Vagliano Trophy a couple of times, including a victory in 1977, while the Curtis Cup was pretty special. That brought a wee lump to your throat at the opening ceremony. That was the pinnacle of amateur golf. But I have to say that when I played in the Scottish Championship, I got beaten on the last hole by Connie Lugton, a lovely lady, and she holed about a 40-yard putt on the last green at Dornoch to beat me and I had played great golf all week. I began to think about it after that and thought, 'you know, in match play I could go on for the rest of my life and I could still be playing good golf and someone could hole a 40-yarder on the last green and I am never going to win this'. I think that was one of the things that kind of spurted me on to turn pro. I had got into the Curtis Cup and played in the World Cup and thought, 'do I have the drive to want to get into another Curtis Cup?' At that time, I was going to go to America to try and qualify for the LPGA because, at that time, the tours over here hadn't started. I qualified in America and just as I was out there the tour started in Europe. I didn't like America. I have to be honest as I only went there as it was expected of me. It's not somewhere I wanted to go. I was happy to stay in Europe and the day I left it was snowing in Aberdeen and I remember thinking, 'I hope the airport is closed and I don't have to go'. I got there and checked into the motel where I was staying and immediately got the calendar out to check how many weeks I had to go before being back home. It just wasn't for me.
You recorded nine victories on the Ladies European Tour. How pleased were you about that impressive haul?
MT: I enjoyed it. It was good fun at the start. Everybody was keen for everybody else to do well. It was all new and it was all very exciting. I feel very privileged to have been a part of that and I enjoyed seeing it grow. But, after a number of years, it started to fall apart a wee bit and we had less and less tournaments to play in.
Is there one victory that sticks out to this day?
MT: They were all very good, to be honest, but I think it was 1980. They used to have two Order of Merits - a Carlsberg Order of Merit because they sponsored around 10 tournaments at that time and then there was the tour order of merit which I think was sponsored by Hambro Life at the time. I went to a tournament at Barnham Broom, which at that time was a pretty new course. I was playing quite well at the time, I was on the crest of a wave, in fact. We arrived there for a practice day and I remember chatting to a member and him saying, 'I hear there's a cruise to the Canary Islands for the winner'. I thought to myself, 'I'm going to win that'. I just had a vibe. It was a great week as I won the tournament, I won the Carlsberg Order of Merit, I won the full order of merit and I won the cruise as well. It was a pretty memorable week (laughing).
Was it a natural progression for you when you came off the tour?
MT: I have to say it was kind of difficult. When we first started, we had lots of tournaments. You were playing week after week after week and, if you got on a roll, you could keep going. If you had a bad tournament or a wee slump, it didn't matter because you had the next week to get back out there again and turn things around. We weren't playing for huge money, but you got your bonus money from sponsorships. But the tournaments started to dwindle and I think the last year I played there were only 12 tournaments. I thought, 'no-one can make a living only working 12 weeks in a year'. You sat around all winter waiting to get going then you had a tournament then a break for three weeks or four weeks and so on. I began to feel that I was going through the motions. I couldn't get myself geed up any more. I tried to get myself psyched up, but I just think I had burnt myself out. That's about the only way I can describe it.There was just nothing happening when I stood on the first tee. And I wrestled with it because I didn't know what else to do. It had become a way of life and I enjoyed the travelling and didn't really want to give that up. I had a lot of friends that I didn't want to give up either while, at the same time, I was thinking, 'what am I going to do?' I just decided I couldn't do it any longer. I'd had enough. I went to one tournament and said to my pals 'I'm going home at the end of the week and I'm not coming back'. I needed some time to try and sort myself out and see what I was going to do instead.
That led to a career as a PGA pro, starting with a spell at Deeside before taking up a post at Portlethen, where you spent close to 25 years before retiring in 2015. How enjoyable was that?
MT: I only went to Deeside after Frank Coutts, who was a friend of mine, asked me what I was going to do when I came off the tour. I said I had no idea and he said that I shouldn't rush into anything and said I should help him at Deeside and let my brain settle down as I decided whether I wanted to go back out on tour or do something different. I think I was only there for five or six months, doing a bit of teaching and other stuff. While I was there, the job came up at Portlethen and thought that might be something fresh to revitalise my enthusiasm as I got my teeth into something new.
Was the coaching side of the game something you enjoyed?
MT: Yes, very much. I really enjoyed the junior coaching as well and it was great to see the juniors coming up through the ranks. When I went there, of course, it was a brand-new club. There were so many of the golfers that were new to the game and they were locals as well. When the club first opened, I think they were given some sort of grant from Kincardine & District Council and part of the deal was they had to take in three members from Kincardine & District Council among every four members. It was a great place to be at the beginning and I absolutely loved it. Indeed, I consider myself extremely fortunate to have been able to earn a living in a sport I loved. I was very lucky. The day I retired, I remember thinking, 'well, if that's been my working life, it's been a dawdle' because it didn't seem like work at all.
There are a lot of good things going on in women's golf at the moment, led by the R&A. Are you encouraged by that?
MT: I have to be honest because I really don't follow golf much at all now. I think when I retired, having been in golf non-stop since I was 14, I just decided that I was going to do something different and I got into cycling and I enjoy that. I do a bit of hill-walking and I do a bit of gardening as a volunteer out at Drum Castle. I always watch The Open and also the last round of The Masters. I find if you don't have Sky Sports you are losing touch with who's who. Certainly the Ladies European Tour is taking off again, which is great to see, and the young golfers hit the ball unbelievable distances. It's a great sport for youngsters to get into. It's good in so many ways.
You do some charity work these days. Tell us about that?
MT: I went through a midlife crisis when you do some silly things and I went trekking in the Himalayas and a trek across the Patagonian ice cap. I started to think, 'what am I looking for?' and someone said, 'why don't you do some voluntary work?' I had actually fixed up a trip back to Kathmandu and I was going to work in a school in a local village teaching the kids A,B,C and 1, 2, 3, that sort of thing. It all fell through at the last minute when they were having problems out there and the king got shot. The Foreign Office said it wasn't safe to go there and I just rang the doorbell of an Indian lady who lives down the road from me and asked her if she knew of anybody in India who was looking for volunteers. A few weeks later I was heading to India, somewhere I'd never thought about going. I went to a home for kids and orphans in the back streets of Madras and it was such an eye-opening experience. I came back and it took me about three months to digest everything I'd seen. I thought, 'you know what, but for the grace of God I've had a great life and it's time I put something back'. I've been going back for 15 years now. It's lovely as we've been able to help a lot of kids with their education. They've gone through college and got themselves decent jobs. The girls would normally have been married off in arranged marriages and wouldn't have been able to complete their schooling and they've been able to do that and then go on to get jobs in nursing, accounting and all sorts of things, which is very satisfying to see.
What else are you up to in retirement?
MT: I do some volunteer gardening for the National Trust and I quite enjoy that. I did a week down at Culzean Castle, which is a National Trust site. It opened my eyes to see what it takes to run an estate like that. I;ve had so much pleasure from Scotland. I love Scotland. I love getting out in the hills and stuff like that. It was a way of putting a bit back and saying 'thanks' to Scotland for giving me so much pleasure.
To have got into golf in an unusual way by those boys using the f word in the park in Aboyne, you seem to have got so much joy and pleasure out of the game?
MT: I consider myself extremely privileged. I look back on my life and think, 'wow, how fortunate have I been'. I always said that if something happened to me, I was never going to be on my deathbed saying I wish I had done this or that. I've had a lovely life. I've been very lucky. I've cycled all over the world. I cycled down through Africa, in China, across Mongolia. I've cycled 3,000 kilometres down through India. I've cycled end to end in Great Britain on my own. I've had a fabulous time and have been very lucky. And it makes you realise things. I spent so many years, particularly when I played on the tour and the importance of golf at the time, that, due to being such a perfectionist, if something wasn't right I'd get really uptight. I think I just began to think a six-foot putt really isn't that important in life (laughing). I think I have learned that over the years.
A message from the Editor:
Get a year of unlimited access to all of The Scotsman's sport coverage without the need for a full subscription. Expert analysis, exclusive interviews, live blogs, and 70 per cent fewer ads on Scotsman.com - all for less than £1 a week. Subscribe to us today https://www.scotsman.com/subscriptions/sports
Comments
 0 comments
Want to join the conversation? Please or to comment on this article.