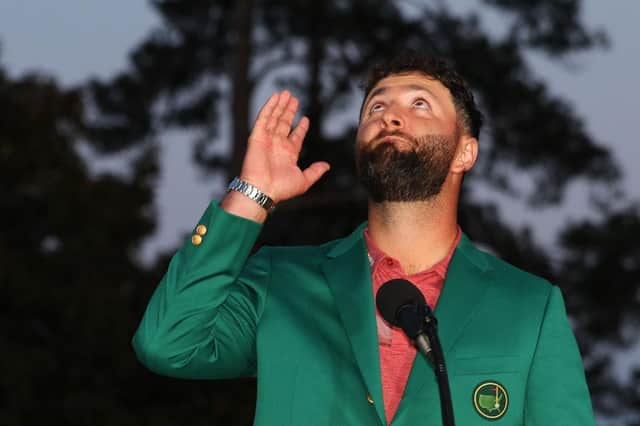 Rahm landed his second major victory as he produced a polished performance in tough weekend conditions at last month's Masters, reclaiming the world No 1 spot from Scottie Scheffler in the process.
That was Rahm's fourth title triumph in 2023, having also come out on top in the Sentry Tournament of Champions, The American Express and Genesis Invitational on the PGA Tour in the opening three months of the year.
The 28-year-old is back chasing more major glory this week when he tees up in the PGA Championship, which starts on Thursday at Oak Hill, scene of Europe's Ryder Cup win in 1995 under Bernard Gallacher's captaincy, in Rochester in New York State.
"Well, it's impossible to predict how many majors he could win," said two-time US Open champion Curtis Strange, speaking in an ESPN conference call to preview the season's second major, in reply to being asked that question.
"There's certainly huge potential for a guy like that. I like to think of his intensity. He doesn't look like he's going to win some and back off and get comfortable. He looks like he's got an inner drive to do the best he can over a 20-year career.
"The Masters, he looked dominant. Strength showed its face in so many different ways, and to me it showed it particularly when the weather got really cold and nasty on Friday and Saturday. His strength and his ability to hit the golf ball showed well during some of those difficult times. He played well during that time."
Rahm is making his seventh appearance in the PGA of America major, having tied for fourth in 2018 then finishing in the top ten again three years later.
Asked who was better right now between Rahm and second-ranked Scheffler, Strange added: "With all due respect to Scottie, Jon to me when he started on the tear earlier this year, I thought to myself, you know, he's a guy that could be one of the few guys in the history of this game that could win eight or nine tournaments in a year. Why is that? The last guy to do that is Tiger Woods, and I believe the guy to do that before him was Vijay.
"The reason I say that is because he has the physical strength. He's a mountain of a man. He's so strong. How can he win eight or nine tournaments a year? He physically has the strength. He mentally has the focus and the intensity to last through that 12-month period and to stay on top of his game. Then he's got the talent. He's got the length off the tee. When he gets on a stretch putting, he's tough to beat.
"So why do you say Scottie couldn't do that? Scottie could do that. I just think Jon has a bit more intensity to hang in to do that over the course of 10 to 12 months."