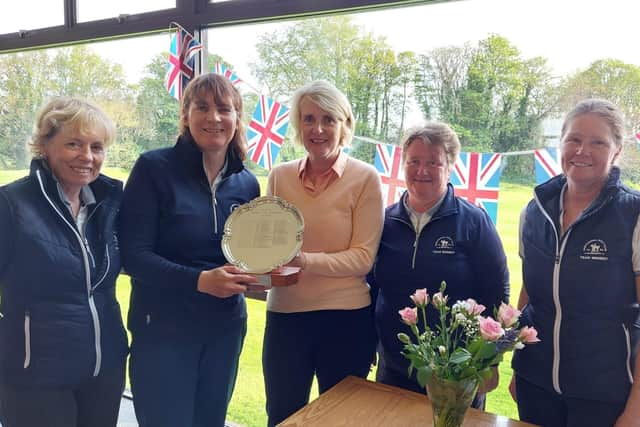 In an event held at Liberton, Mortonhall made a successful defence of the crown in the Edinburgh Ladies Inter-Club tournament.
And there was delight for Dunbar, too, in the Lothians Men's Team Tournament, which was held this year at Castle Park in East Lothian.
Twelve months after landing the title for the first time, Mortonhall came up with the winning blend again, this time represented by Carol Brown, Karen Ferguson Snedden, Catherine Stewart and Hilary Laughland.
The holders beat Royal Musselburgh 8&6 in the opening round before edging Kingsknowe by one hole over the double foursome in the second round.
Those wins set up a semi-final clash with a strong Baberton side, but, thanks to Brown and Ferguson Snedden finishing 3 up against Nicky Graham and Karen Marshall and Stewart and Laughland ending 1 up against Wendy Nicholson and Ella Marshall, Mortonhall prevailed by 4&3.
Liberton, represented by Jill McLean, Stephanie Sutherland, Patricia Johnston and Mandy Bell, beat Dalmahoy and Newbattle to make it to the last four.
But the host club's hopes of going all the way were ended by Broomieknowe as
Kate McIntosh, Linda Wemyss, Hannah Scott and Sandra Stanton pulled off a 7&6 victory in the other semi-final.
In the title decider, McIntosh and Wemyss finished two up at the front against Brown and Ferguson- Sneddon, but that was wiped out as Laughland and Stewart ended four up on Scott and Stanton.
In the Lothians Team Tournament, Jamie Duguid, Lee Morgan and Sean Marc joined forces to land the spoils for Dunbar.
Duguid led the way with a best-of-the-day two-under 68, with Morgan and Marc both signing for 73s.
The combined effort earned Dunbar an impressive six-shot victory over Baberton trio Matthew Downie, Jake Edgcombe and Colin Malone, with Royal Burgess, represented by Duncan Johnston, George Sampson and Kenny Walker, a further shot back in third.
The Walker Trophy, contested by eight affiliate clubs, was retained by George Heriot's FP thanks to the efforts of Dave Campbell (71), Stuart Langlands (75) and Elliot Innes (79).