Moray winner Marco Penge lands Challenge Tour title double in Mallorca
From Moray to Mallorca. Eight years after he looked to be a star in the making as he won the Scottish Stroke-Play Championship in Lossiemouth, Marco Penge is heading for the DP World Tour on the back of a brilliant performance on the Balearic Island.
On a sun-kissed day at Club de Golf D'Alcanada near Port D'Alcudia, the 25-year-old Englishman stormed to a six-shot success in the Rolex Challenge Tour Grand Final and, in doing so, topped the season-long Road to Mallorca Rankings.
"Unbelievable considering where I was about eight weeks ago, when I think I was about 83rd on the rankings," said Penge, who closed with a 69 to finish with a ten-under-par total, as he reflected on emulating compatriot Nathan Kimsey after he also did the double at the same venue 12 months ago.
"To be standing here and saying I've won twice on the Challenge Tour (his breakthrough came in the Open de Portugal in September) and also winning the rankings is hard to imagine. It hasn't quite sunk in yet, but I am absolutely over the moon."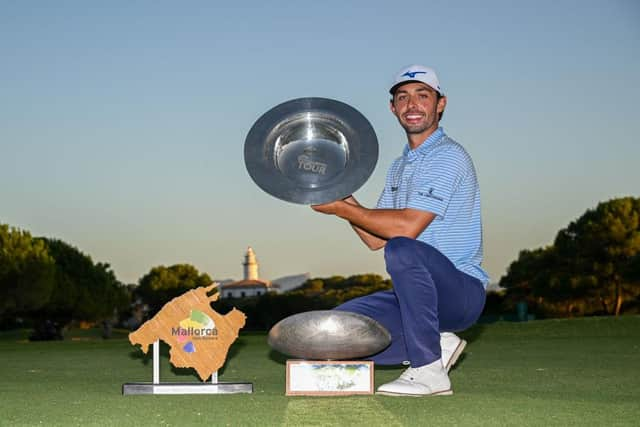 At the end of one of the best events in golf due to every player in the 45-man field starting out with a chance to secure a step up to the main tour with their last throw of the dice, tears were flowing and lots of champagne being sprayed as the battle for 20 coveted cards came to an end.
Former DP World Tour winners Matteo Manassero, Brandon Stone and Andrea Pavan all secured seats back at the top table for the 2024 campaign while 44-year-old Welshman Stuart Manley clung on to the last one by the skin of his teeth after an agonising three-and-a-half hour wait, but it was Penge who had most to smile about as the final putt dropped in the 30th event of the season, which took in 19 countries.
"Yeah," replied the Sussex man but now Manchester-based to being asked if he thought it was possible to pull off his title triumph after coming into the event sitting 24th, with the card cut-off coming at 21st on this occasion due to Alex Fitzpatrick having already secured his main tour status through the Race to Dubai. "I believe in myself and I know what I am capable of.
"On the preparation side of things, my short game and putting felt good. My coach, Gary King, has been here all week and he's been saying to me that I was hitting it great, even though I didn't feel I was swinging it great but he said I was. I was in pretty good stead to do well this week and I'm just really pleased that I could bring it all together."
After setting out with a one-shot lead, a badly pulled approach at the par-5 first led to a 6 to start for Penge but, after producing a burst of three birdies in four holes around the turn, it turned into a procession. "I find it always takes me three or four holes to settle in my rounds and that is something I need to improve on," he admitted. "But, after three holes, I said to my caddie 'I feel normal now, so let's try and get our foot down and move as far forward as we can' and obviously I did that.
"I think birdieing seven kind of settled everything really and, once I got through eight, I knew I would be fine because the first eight holes I didn't like on my eye and I was kind of chipping around and hit it as low as I could to keep in play. But, once I got through eight holes and hadn't made a big number, I felt I was going to be fine."
Injuries had played their part in him being unable to fulfil his potential until now in the professional ranks, having undergone surgery on his knee and not being able to return until late March. "My physio, Michael Murray, has played a massive part in getting me fully fit," said Penge, who qualified for The Open at Royal Liverpool in the summer.
"I started working with a good friend of mine, Gary King, four years ago next month and with those guys and my manager and my family, everyone really, and also my short-game coach Alex Buckner, I wouldn't be where I am today. I obviously have to take control of everything and go out there and do it, but, without them, I wouldn't have succeeded. Everyone in life is going to go through tough times and that was my tough time. I'm a positive person, so I like to have a challenge and try and bounce back from things."
Euan Walker, who started the event in 20th position, agonisingly missed out in the card fight for the second year in a row. "I'm kind of relieved it's over actually," said the Ayrshireman, who ended up 26th on this occasion after finishing joint-33rd on nine-over. "Obviously a bit disappointed as I'm not going to be sniffing the top 20."
Craig Howie, the other Scot to make it to the final event, climbed three spots to 39th after trying for 11th position on three over. "My game just wasn't there today," said the Peebles player, who needed to finish in the top two to catapult himself up the standings. "I needed a hot start but, after three holes, I was toast. A bit of a disappointing end."
French duo Tom Vaillant and Frederic Lacroix, who had Bothwell man Neil Crate on his bag, joined Penge in leaping into card-winning spots as they finished second and third respectively, with South African Casey Jarvis ending up second in the standings after the top spot had changed hands on a number of occasions during the afternoon.
Comments
 0 comments
Want to join the conversation? Please or to comment on this article.