Mike McCoy hails US Walker Cup players as 'marriage' material ahead of Old Course clash
Mike McCoy, the US captain, paid the ultimate compliment to his ten players for the 49th Walker Cup at St Andrews this weekend as human beings. "If you had a daughter, you'd want her to marry any of them," he declared in his final press conference ahead of an event taking place on the 100th anniversary of its first staging on the Old Course.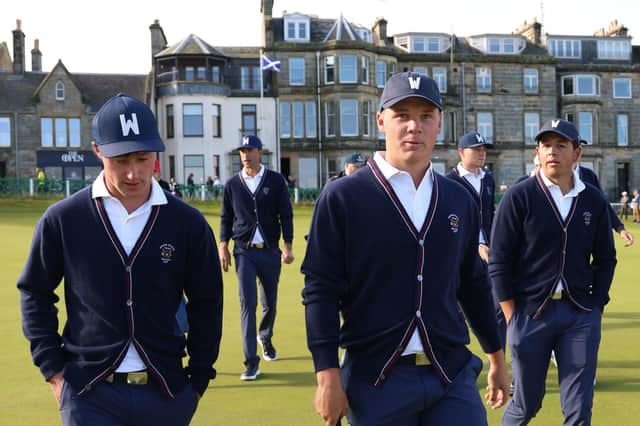 Later asked if he had a daughter who was perhaps looking for a husband, Des Moines man McCoy raised a chorus of laughter in the media centre by admitting that he did, indeed, have one unmarried daughter before adding that "she's just a little too old for them, I think."
According to the visiting skipper, his charges are also a "spiritual group who have a strong faith" and, with those boxes having been ticked, all that remains to be seen in an eagerly-awaited two-day contest is if the Americans can live up to their star-studded billing as golfers.
Bidding to land a fourth successive victory in the biennial event, eight of the players representing the Stars and Stripes on this occasion are currently in the top ten in the World Amateur Golf Ranking. In short, a Great Britain & Ireland side being led by Forfar man Stuart Wilson have their work cut out.
"They're a very mature bunch, very professional about their approach to things," said McCoy. "When they put their shoes on and step on to the practice range, you know it's all business. But you get them back in the team room, they're fun young men. They're good people. They've got a lot of support from their families, their college coaches. They've all got great support systems."
According to his players, McCoy has done a great job as he bids to prevent complacency getting in the way, with the US having tasted defeat in the contest's last two stagings on Scottish soil – at Nairn in 1999, when the GB&I team included Luke Donald, and at Royal Aberdeen, where Jordan Spieth was on the American side, in 2011. McCoy, meanwhile, was involved in a playing capacity in a more recent reverse at Royal Lytham in 2015, when his team-mates included Bryson DeChambeau.
"Yeah, so they're going to throw out all they can," said Ben James, a 20-year-old from Connecticut, of what the visitors are expecting in the opening fourball session on Saturday morning. "Captain and Stew [Hagestad, the oldest member of the US team at 32] has been a big help for us because this is going to be his fourth Walker Cup, so he's been just a great leader for us. He's our veteran. Those two have been great to learn from because I know they're going to give it 110 percent, so we're going to have to give it 120 and respect them because they're going to play well."
Austin Greaser reckons the players themselves will not be fooled into thinking the contest will be decided purely on rankings and reputations. "We're all pretty self-disciplined on and off the golf course and, whether your ranking is 1 or 20, when you tee it up tomorrow morning, I don't really think that puts you 1 up or 1 down," said the 22-year-old from Ohio. "So he [McCoy] just keeps saying we've got to show up and take care of business."
In that opening session, Blairgowrie's Connor Graham, who, at 16 years and ten months, is the youngest-ever player to taste action in this event, will join forces with Nairn 19-year-old Calum Scott, the Scottish duo facing James and Caleb Surratt in the second of four games. Scott will then take on Nick Gabrelcik in the second of eight afternoon singles, which Graham is sitting out.
"Yeah, we've kind of obviously tried to look at it in a bit of depth," said Wilson, winner of the 2004 Amateur Championship at St Andrews, in reply to being asked about his philosophy for the pairings. "But the way the Old Course is set up, it's with a par-3 on the front that's even and a par-3 on the back that's odd, and vice versa with the par-5s.
"So, if they're playing regulation golf, everybody is going to be doing the same amount of putting, and it's the same coming in or going out. If you're a strong wedge player, 1, 3, 5, 7, 9 are your holes, and then on the back it's 10, 12, 14, 16, 18. Hopefully like the match will be, it's just going to be a fair contest. It's even across the board.
"We do a bit of matching with personalities, but we've probably got ten personalities here. We've looked at the pairings, we've done a lot of the numbers and stats and things, but I don't think we could have done any better of a job than actually putting ten balls in a hat and pulling them out. The team is that close-knit. So it's great."
Close to 13,000 tickets have been sold for the weekend, when, as is the norm for this special event, spectators will get to walk on the fairways with the players.
"We'll definitely be leaning on the home crowd to give us a little extra support," admitted Irishman Mark Power, one of just two survivors in the GB&I team from a narrow defeat at Seminole two years ago and partnering the other one, Englishman Barclay Brown, in the opening foursomes against world No 1 Gordon Sargent and Dylan Menante. "But we're all really going to embrace it because it's extra special at the home of golf and it's going to be amazing."
Foursomes (US names first)
8.30am Gordon Sargent/Dylan Menante v Barclay Brown/Mark Power
8.40am Caleb Surratt/Ben James v Calum Scott/Conor Graham
8.50am Preston Summarhays/David Ford v Matthew MacLean/John Gough
9.00am Nick Dunlap/Stewart Hagestad v Alex Maguire/James Ashfield
1.45pm Caleb Surratt v Barclay Brown
1.55pm Nick Gabrelick v Calum Scott
2.05pm Gordon Sargent v Jack Bigham
2.15pm Austin Graser v Liam Nolan
2.25pm David Ford v Mark Power
2.35pm Preston Summerhays v Matthew MacLean
2.45pm Stewart Hagestad v Alex Maguire
2.55pm Nick Dunlap v John Gough
Comments
 0 comments
Want to join the conversation? Please or to comment on this article.