Midlothian win Scottish Women's County Finals for first time since 2013
Midlothian shrugged off being without three of the players who'd helped set up the opportunity to win the Scottish Women's County Finals for the first time since 2013.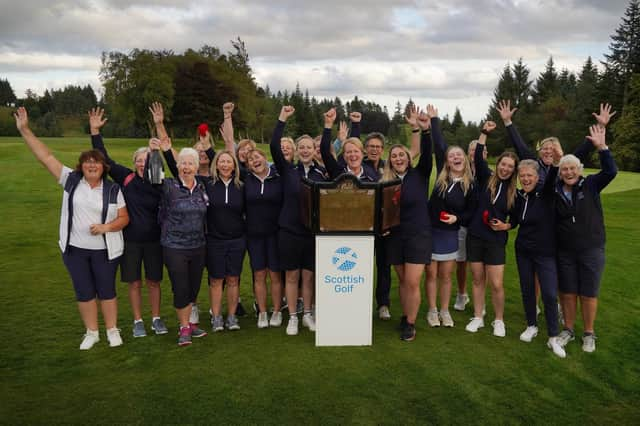 Karen Ferguson-Snedden, Karen Marshall and Hilary Laughland had all played in the winning team in the East Division County Championship at Gullane in July but were unavailable for the national title battle due to being selected to represent Scotland in the European Seniors' Team Championship in Spain.
However, Kate McIntosh, Rachael Livingstone and Molly Nicholson provided a strong backbone and they went into battle at Hilton Park along with Nicky Graham, Wendy Nicholson, Anne Hanson, Lucy Fraser and Grace Cannon.
Midlothian beat Dumfriesshire 5.5-3.5 in the opening round of matches, which saw North defeat Renfrewshire 6.5-2.5 in the other encounter. In a tight tussle, Midlothian then beat North 5-4 before clinching the crown with a 6.5-2.5 success over Renfrewshire on the final day.
"What a team," said captain Isla McCrone. "I am incredibly proud of what they individually and collectively achieved over the three days and extremely grateful for their support.
"Each and every one of the team delivered wonderful performances, committed their all to Midlothian, dug deep and pushed hard – against tough competition – to secure their individual match points which resulted in this terrific win.
"It was pure class in action and great team spirit, aided by amazing caddies who delivered above and beyond for their players."
Baberton member Livingstone added: "It was brilliant to be part of a winning team again. We lost a lot of our players from our Jamboree team as they had other commitments like playing for Scotland. It just shows the depth in our squad that we could bring five players in and still perform at the highest level.
"We have some such a wide variety in the team from the young guns who hit it miles to the older ones who are magic around the greens. The team really came together on and off the course which makes a big difference."
Comments
 0 comments
Want to join the conversation? Please or to comment on this article.