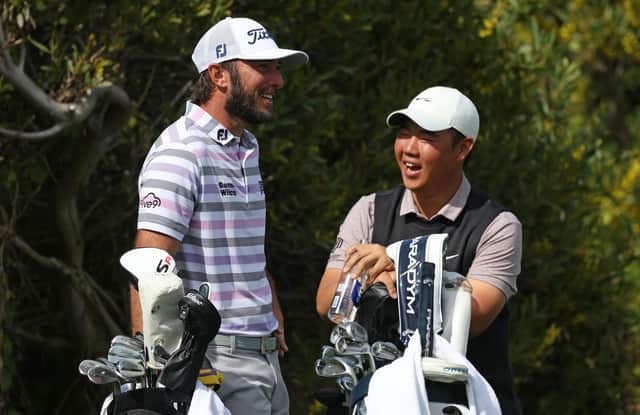 Homa and Kim both made their debuts in the 2022 edition at The Renaissance Club, where the $9 million tournament on the DP World Tour and PGA Tour schedules is being held once again on 13-16 July.
World No 6 Homa has just confirmed his return to Scotland's Golf Coast, where he tied for 16th behind fellow American Xander Schauffele last summer, with Kim also likely to be in another star-studded field.
Playing on a sponsor's invitation in that 2022 event, the Korean hadn't really been heard of outside his home country, but, using a brilliant third-place finish as a springboard, has become one of the PGA Tour's top talents.
And it's not just how they both play the game that has made Homa and Kim popular with fans, the duo both having personalities that light up rooms and conversations, as was the case when Homa spoke to reporters in a video call during a Genesis Scottish Open media day on Tuesday.
"It's hard for me to do it on a golf course," replied Homa, a six-time PGA Tour winner, to being asked how important it was to him to express himself in a game that has often been criticised in the past decade or so for lacking personalities. "But I try my best in these types of things and off the golf course.
"My dad introduced me to the game, and we would watch a lot of golf on TV. And I remember anytime there was a press conference or an interview going on, if I started to talk, my dad would tell me to listen and try to absorb well and learn something. So I think maybe from that I've appreciated athletes who are really honest.
"You never know when there's a kid out there trying to pick up on a little nugget. The fans deserve to know what we're thinking, not a roundabout way of learning what we're thinking when we're out there.
"When I'm on the course it's hard for me, I get kind of quiet, and I just like to do my thing. But I feel like little spells of personality will come out of people."
Referring to Kim, who has won twice on the PGA Tour since his Genesis Scottish Open debut, he added: "Tom is awesome, Tom is great. He's 20 years old and has the world in front of him. It's really fun watching him play golf.
"At the end of the day, this is an entertainment product. We play professional golf for lots of money because people watch us so we need to make sure that we're entertaining people. It's great to play great golf, but, if it's boring, people are not going to watch.
"So there's a lot of great guys in the game of golf who are doing a good job of bringing eyeballs to the game and getting people excited to watch every golfer but especially the big ones."
While Kim's confirmation has still to come, compatriot Sungjae Im has also been added to the entry list along with Tyrrell Hatton.