Masters 2023: Fred Ridley's media chat will be fascinating - is LIV Golf or Gary Player the bigger headache?
It's going to be a busy one for Fred Ridley, the Augusta National chairman, when he hosts an annual media chat on the eve of the 87th Masters.
We were already intrigued to hear what he had to say about the invitation criteria for the season's opening major, having hinted that some changes could be on the way.
Rightly so in the eyes of most people, LIV Golf players with current exemptions are being allowed to compete in this week's edition and there's an excitement in the Augusta air as a result of that.
However, when Ridley, in making that announcement, spoke about how it was regretful that "recent actions have divided the men's professional golf by diminishing the virtues of the game and the meaningful legacies of those who built it", he was clearly referring to Greg Norman's Saudi-backed breakaway circuit.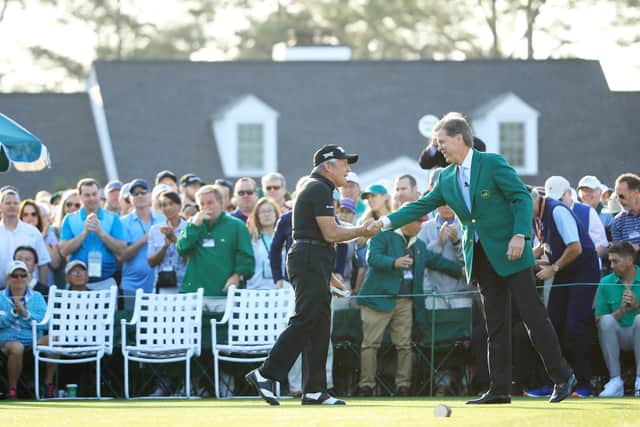 Whatever he has to say this week about LIV Golf could signal how the future is going to play out in the majors for those who effectively put money ahead of anything else.
Yes, four separate organisations run those four showpiece events and all four like to stand out individually, which, in fairness, should be the case as there's nothing wrong with them having their own identity.
You've got to think, though, that, in this instance, it's probably going to be in the best interest of the game in general if there's going to be a unified agreement.
This week should certainly show that the game is the winner when those LIV Golf players - 18 of them - find themselves on the same stage as PGA Tour and DP World Tour because a rivalry has certainly been created over the past ten months or so.
To the extent that, according to Norman, the LIV Golf players will all be there at the back of the 18th green on Sunday to be part of the celebrations should someone from that group emerge as the winner.
'Golf, but louder' is the LIV Golf slogan but, make no mistake, Ridley and his fellow Green Jackets will not tolerate anything they feel is inappropriate at the Georgia venue and Norman should bear that in mind if he's trying to use this stage to make a statement through others.
Equally interesting will be Ridley's remarks on the recently-announced bid by The R&A and USGA to introduce a Model Local Rule at the elite level in men's golf to roll back the ball because both Martin Slumbers and Mike Whan could certainly do with his support.
It would be a hammer blow, in fact, if Augusta National went out on a limb on this one and that is unlikely, though, in the crazy world golf has become, you never know.
Then there's the Gary Player issue for Ridley to deal with after the South African ripped into Augusta National in one particular interview last week. He's still down to join Jack Nicklaus and Tom Watson as an Honorary Starters on Thursday then at a traditional press conference afterwards.
But, on the back of some poor behaviour by his son as he brandished a sleeve of golf balls in a promotion stunt in 2021 and was fully banned for life, you wonder if Augusta National's patience is running out with the three-time winner here.
Comments
 0 comments
Want to join the conversation? Please or to comment on this article.