Martin Dempster: Why Tiger Woods' tampon joke was a poor error of judgement
I often feel complete and utter despair about the world we now live in. You can't do this or you can't do that. You can't say this or you can't say that. You probably can't even think this or can't think that. Bloody hell.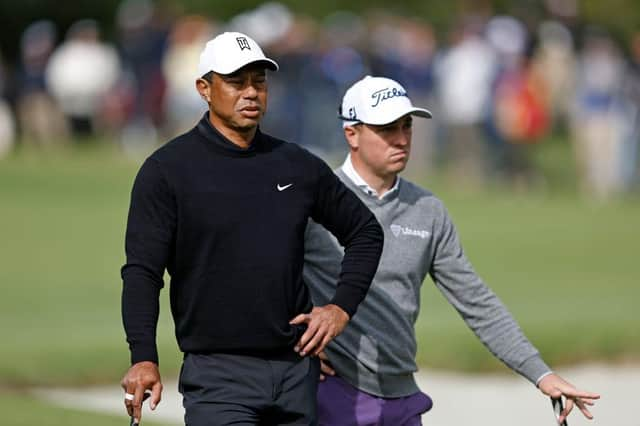 I have to say that a lot of the time I agree that most people seem to be way too sensitive, but, in the case of the storm created by Tiger Woods at the end of last week, it was no surprise to see women in particular up in arms.
In case you missed it, and that's highly unlikely, the 15-time major winner tried to hand Justin Thomas, one of his playing partners in the opening round of The Genesis Invitational in Los Angeles, a tampon as they walked off the ninth tee.
It fell to the ground as Thomas let it go due to the fact he knew Woods was trying to have a joke at his expense as the 47-year-old hit a couple of drives past his younger rival and close friend on his return to top-level action for the first time since last year's 150th Open at St Andrews.
The fact it was a tampon was only picked up through it being magnified by a photographer and Woods suddenly found himself at the centre of a social media stooshie as the tournament host played his second round on Friday.
He'd clearly been briefed about it before facing reporters and was quick to admit he'd been in the wrong. "Yeah, it was supposed to be all fun and games and obviously it hasn't turned out that way," said Woods.
"If I offended anybody in any way, shape or form, I'm sorry. It was not intended to be that way. It was just we play pranks on one another all the time and virally I think this did not come across that way. But, between us, it's different."
It was a bad error of judgement by the game's most recognisable figure because, in doing what he did in front of three or four TV cameras, it was almost certainly going to be picked up and, yes, he did offend lots of people.
"A joke about being less, at the expense of women, isn't a joke to me," wrote Iona Stephen, a leading golf broadcaster, on Twitter, where fellow sports broadcaster Jane Lewis commented: "Ah, Tiger Woods….what a role model for misogynists everywhere."
Some of the reaction to what they had to say was, in my opinion anyway, way worse than what prompted this particular storm and left us in no doubt that society is still well short of where some people might think it is in terms of equality.
That's disappointing, but, on Saturday, it should also be acknowledged that Woods made a young girl a very happy person by presenting her with a signed glove when his caddie, Joe LaCava, spotted her displaying a sign of her 'Bucket List' that already had a heart transplant ticked off and the second one was meeting him.
Golfers, the vast majority anyway and certainly Woods in that instance, are good when it comes to being positive when it comes to PR, but, sorry, let's not kid ourselves by thinking a tampon "joke" wasn't going to be offensive.
Comments
 0 comments
Want to join the conversation? Please or to comment on this article.