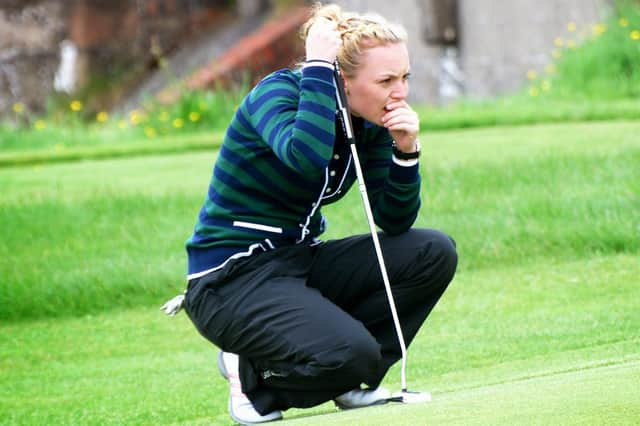 Kilmacolm's decision to line up former Scottish Women's champion Megan Briggs as the 2022 club captain has been a topic of debate in the Scottish game. Picture: Kilmacolm Golf Club
An instant reaction to that in some quarters was predictable, but please give me a little bit of credit here. A woman serving as a club captain is no longer news in itself and rightly so.
Numerous clubs in Scotland have had women in that role in recent years and those pioneers have ensured that the makeup of club committees will be both diverse and inclusive in the future, which is a real positive for the sport.
What made the Kilmacolm story newsworthy was the fact that Briggs is a successful player, having enjoyed her finest hour in the Scottish Women's Championship at Southerness in 2009 but also recording numerous other notable successes.
In my time covering the game in its birthplace, I can't remember too many other high-profile players serving as a club captain and certainly not someone in their 30s, which merely adds to the significance of Briggs being earmarked for the role at her Renfrewshire club.
"I see Megan embodying how we want to be seen," said Rene Kleyweg, the current incumbent at Kilmacolm. "Here we have a professional in her early 30s as captain of our club. Inclusive, progressive, friendly."
Andrew Farmer, a former Scottish men's internationalist and winner of both the British and Scottish Mid-Amateur Championships, has already served as Kilmacolm's captain and there are other potential candidates of a similar pedigree.
Eilidh Briggs, Megan's younger sister, is a former Scottish Girls' champion who played in the Curtis Cup in 2014, while Matt Clark, in addition to having played in eight consecutive Home Internationals, is the current Scotland men's captain.
It's an embarrassment of riches in terms of playing experience and, while not every club has internationalists, past or present as members, it has certainly made me wonder - and others, too, as this has become a topic of debate on the Scottish Golf Noticeboard on Facebook - if clubs use successful players as well as they could or even should do?
At the end of the day, it depends on the individual, of course, because people don't share the same qualities, but there surely has to be some benefit for clubs to gain as much as they possibly can from a member who understands the game and the complexities that can often throw up.
Yes, of course, a successful club needs a good manager who has a firm understanding of the day-to-day running of the business and Scotland is blessed with some of the best in the business in that respect.
Using Kilmacolm as an example, though, it has to be hugely beneficial to have someone like Megan Briggs, who also happens to be an accomplished solicitor in Glasgow, providing her input at committee level using her vast knowledge of the game as a well.
I'm not suggesting for one minute that every club should be looking at low-handicap players as the next captain. Lots of outstanding captains are, well, not all that great at actually playing the game but have had a good business head or, equally important, are excellent communicators.
People in those categories will continue to provide the figureheads at club level and, in most cases, will carry out the role with the best intention and have the support of their membership as they do so.
But, at the same time, here's hoping that some clubs do indeed perhaps start to look at utilising individuals under their noses a bit more productively than can often seem to be the case and that, of course, should also include the person who often knows a club better than anyone, the professional.
No-one has more contact with members than a club pro, yet you often wonder if that voice is heard as loud and clear as it should be at committee level.
Don't get me wrong, lots of golf clubs in Scotland have got things spot on, with managers and professionals already working in harmony with committee members, even though change can be a constant factor.
However, there are others that could perhaps use the game's boost from the Covid-19 pandemic to look at how it is structured and shake things up a bit to ensure it is in the best shape possible to enjoy a bright future when we eventually get back to that normal world.
A message from the Editor:
Thank you for reading this article. We're more reliant on your support than ever as the shift in consumer habits brought about by coronavirus impacts our advertisers. If you haven't already, please consider supporting our trusted, fact-checked journalism by taking out a digital subscription.