Marc Warren sponsors new junior programme at home club East Kilbride
Marc Warren has joined Paul Lawrie and Stephen Gallacher in trying to inspire a new generation of golfers by sponsoring a junior programme at the club where the four-time European Tour winner cut his teeth in the sport.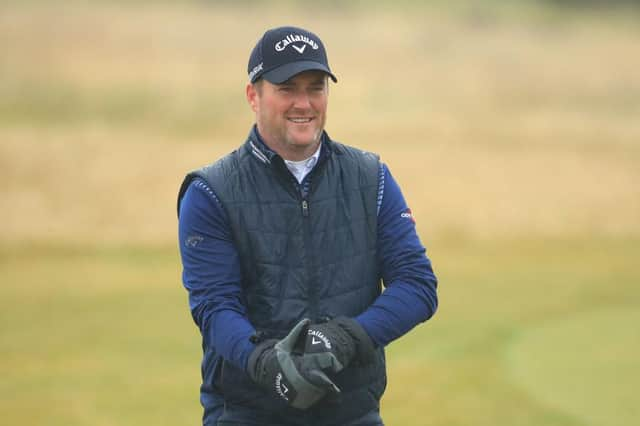 While not nearly on the same scale as the junior foundations run by Lawrie and Gallacher, Warren is hoping his support of a new initiative at East Kilbride can be just as successful in highlighting the benefits of golf to youngsters.
The 39-year-old, who won the Austrian Open last summer in the first event after the European Tour's Covid-19 lockdown, is excited about being involved in providing an opportunity for the club's current crop of juniors to follow in his footsteps.
But he will be equally happy to see youngsters using a programme being rolled out around Scotland by Alan Tait in his role with GolPhin, a company that specialises in kids' golf clubs, to learn life and social skills.
"I'm delighted to be sponsoring Golphin's MyPathway2Golf programme at East Kilbride, where I grew up as a junior," said Warren, who was made an honorary member at East Kilbride in 2002. "There's a real focus from the pros at the club on juniors at the moment, and this is the perfect programme to help recruit and retain kids at the club.
"Alan Tait came to my house before Christmas and it really stemmed from there. I am really impressed with what GolPhin are doing to help grow the game and I am personally delighted to play a small part in helping introduce new local kids to the game."Warren, a World Cup winner alongside Colin Montgomerie in 2007, added: "It's nice to be able to give something back and the junior section at East Kilbride is starting to get a little bit stronger again, so I am pleased to be helping them get access to this pathway in golf.
"Graham Bell, the club's PGA professional, is doing a really good job on the coaching side and this programme helps give them access to that. If it helps even a little bit, I am delighted to be part of that."
Flying the East Kilbride flag in his amateur days, Warren enjoyed his best year in 2001, helping Scotland land the European Team Championship before holing the winning putt for Great Britain & Ireland in the Walker Cup at Sea Island in Georgia.
"I was so fortunate when I was starting out in the game as East Kilbride had such a strong junior section back then, meaning we had lots of competition," he said. "We had a Scottish Amateur champion in Craig Heap and Stephen McGavin also played at international level. To grow up looking up to them and want to compete against them was big for me.
"You'd go up in the summer holidays and there would be 10-15 at least every day and we'd be playing against each other all the time, which is the best practice you can get. As far as a competitive environment goes, it was absolutely ideal for helping you become a better player.
"It would be ideal if a Marc Warren or Craig Heap could come through at the club again. But, at the same time, it's about the basic skills that are involved in golf. It's also about learning life skills.
"A lot of business is conducted on the golf course and it's not just about trying to get kids to play golf for a living. Any enjoyment whatsoever that kids can get from the game the better, from the social side of it to playing a sport."
The new programme will be delivered at East Kilbride by Bell, who is delighted to see Warren, a father of two young kids himself, playing an active role in trying to help shape the club's future.
"The golf club is so supportive of the juniors at the moment and to have Marc backing the juniors through GolPhin's MyPathWay2Golf programe is amazing," said Bell. "I think a few guys at the golf club helped him back in the day and he's now pleased to be giving back.
"We are very passionate about junior golf and, in particular, introducing new kids to the game at East Kilbride. As well as developing their skills from a young age, we strongly feel about making it fun and enjoyable as they progress through their young golfing career. They are the future potentially lifelong members here, and therefore it is so important to get them started off on the right foot.
"Like many clubs, we were struggling to put a junior team together for a time, but there's actually a good crop of juniors at the moment. They are super keen and we are blessed to have a good facility. We've got two chipping greens, a practice area, a putting green and an indoor lab."
Warren used the practice facilities himself before returning to winning ways in Austria, a victory that secured his seat back at the top table in European golf and, in 2021, a first event in Abu Dhabi next week up against the likes of Rory McIlroy and Justin Thomas.
"Marc grew up at the club and, when he had a slight dip in form, he was up practising at the club and kids were seeing him. They could see how hard he was working to try and instil a bit of belief back in himself," added Bell.
"His attitude was phenomenal and we now have a lounge dedicated to him in the golf club marking his achievements. It was hard being a junior back when he was a kid. Things weren't quite as pro-active as they are now.
"But what's happening now is phenomenal and I think it is a good time for golf. It's all encompassing the level of support at the moment, which is great."
A message from the Editor:Thank you for reading this article. We're more reliant on your support than ever as the shift in consumer habits brought about by coronavirus impacts our advertisers. If you haven't already, please consider supporting our trusted, fact-checked journalism by taking out a digital subscription.