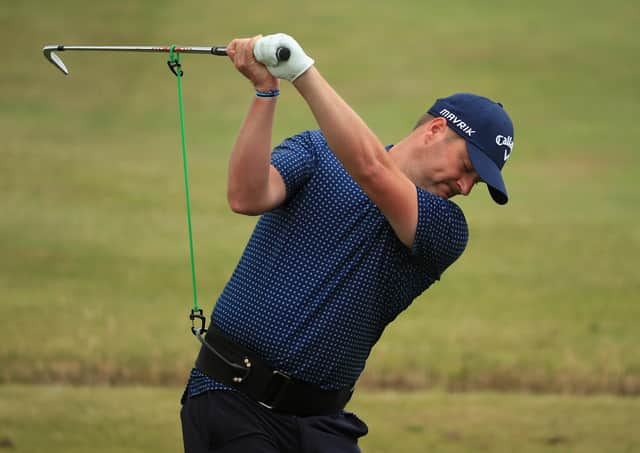 Marc Warren practises ahead of the Betfred British Masters at Close House Golf Club in Newcastle. Picture: Andrew Redington/Getty Images
Marc Warren reckons that finally listening to advice he was given early on in his professional career by the legendary Bob Torrance has helped him earn a seat back at European golf's top table, starting in this week's Betfred British Masters at Close House.
The Northumberland venue is staging the European Tour's full return after two events co-sanctioned with the Challenge Tour in Austria, the first of which, the Austrian Open at Diamond Country Club, near Vienna, was won by Warren a week past Sunday.
The 39-year-old, who regained his main tour card in the process after really struggling for the past two seasons, talked in the immediate aftermath of that welcome win about how he'd tried to simplify things by sticking to hitting one shape – in his case, a draw – as opposed to working the ball both ways. He has now admitted that was something the late Torrance often told him when they worked together, but it has taken until now for him to realise one of the game's greatest coaches had indeed been speaking lots of sense.
Marc Warren with his former coach Bob Torrance in 2008. Picture: SNS
"I'd been thinking about my game a lot and I decided through speaking to my manager Stuart Cage (a former European Tour player himself), and also to Karl Morris (a golf psychologist) in December to go back over previous tournaments when I'd done well. The thing that became apparent – Stuart talked about this – is so many players have one shape. Bob Torrance used to say that to me all the time as well, so maybe the penny's finally dropped! That shape was going to be a draw for me, so if you've got that shape you can work back technically at what you need to do with your swing.
"I'd be working on my swing and trying to produce shapes after that, rather than work on technique with a shape in mind. Lee Westwood is the perfect example of this. He's a fader of the ball, but his technique is geared up to hit that shot. Starting with the shape and the target and working back, it's the simple and sensible way of looking at it… but we're always learning."
Warren, who is among 11 Scots in an event starting today at a venue that sits to the west of Newcastle, made an eagle and 19 birdies as he shot a 13-under-par total on a testing course in Austria to claim his fourth European Tour title but first in just under four years.
"Shot selection and club selection felt so easy in Austria," he added. "For example, you're between clubs on an approach to a pin at the back of the green, between an 8 and 9, just accept that you'll be 15 feet short rather than try to hit a little cut with an 8-iron to get really close. Just make one clear decision instead of four, stop asking myself so many questions and obviously not coming up with the right answer."
Warren's return to winning ways has earned him a place in one of the marquee groups for the opening two rounds alongside 2018 Aberdeen Standard Investments Scottish Open champion Brandon Stone and evergreen Spaniard Miguel Angel Jimenez, who is set to equal Sam Torrance's record of 706 European Tour appearances this week.
"I feel things are in a good place," admitted Warren, who shot a 65 on this undulating course when finishing in a tie for 15th behind Irishman Paul Dunne in the same event in 2017. "But you don't want to get ahead of yourself, it's just one tournament. Hopefully if everything is okay in the world there will be quite a few tournaments left and I just want to play well and keep it all as simple as possible. It's not always going to work out like it did in Austria. Of course it won't. But, if you're giving yourself the chances, you can go out and enjoy your job a little more."
The start of a new seven-event UK Swing, this week's tournament is being played behind closed doors with only essential tournament personnel – ie players, caddies, staff, restricted broadcast crew and media – allowed on site. Strict protocols are in place as part of the European Tour's Medical Health Strategy, which is being implemented at all events for the remainder of the year. Players are being urged to make no contact of any kind with playing partners at any time during the round while a "buddy" system is in place, both at the course and away from it. Players, for instance, are being encouraged to have meals with their caddies while The Scotsman correspondent has been paired with his counterpart from the Courier in Dundee.
"It's weird," said Warren in reply to being asked how he had been finding the new normal, at least for the time being. "You've got to be very conscious all the time. Even the practice round yesterday, you find yourself drifting closer towards people, just naturally when you're talking and walking around.
"We're all in this together. This is only the third week back for the tour, for a lot of guys the first week back, so you're still staying on your toes and doing all the right things. We want the Tour and the tournaments to kick on from now, we don't want to be going backwards at all."
Joining Warren in flying the Saltire are Paul Lawrie, David Drysdale, David Law, Scott Jamieson, Richie Ramsay, Grant Forrest, Calum Hill, Connor Syme, Ewen Ferguson and Calum Fyfe, who won his spot through a qualifier.
Stephen Gallacher has withdrawn following the death of his father Jim last week while Bob MacIntyre, who finished joint second behind Swede Marcus Kinhult at Hillside last year, is in the US.