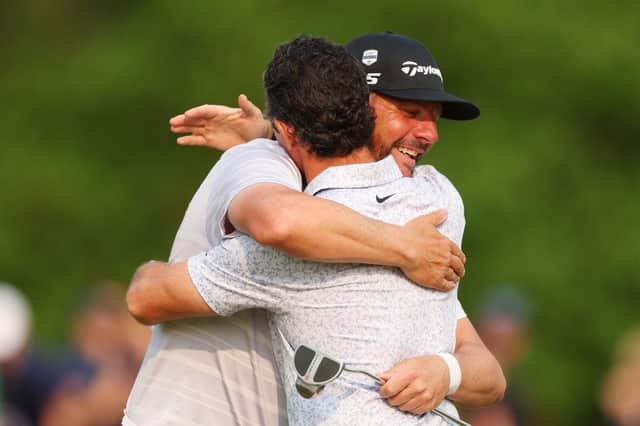 Step forward Michael Block, a 46-year-old California-based club professional who has just become a legend in the game all around the world.
He'd already earned himself a small army of new fans for the way he'd gone about his business in the 105th PGA Championship, the season's second major at Oak Hill in Rochester, over the opening three days.
Not only did people enjoy the way he played the game but also how he came across, with Fred Couples being the player I'd probably compare him to in terms of seeming to have a laid-back approach to golf but also life in general.
Finding himself in the major mix heading into the final round and playing alongside Rory McIlroy, Block was understandably a big part of the build up to Sunday's denouement in New York State.
After dropping back a bit, it seemed as though the TV producers had decided that his story for the week was written only for Block to deliver an hour or so of what was some of the best drama ever witnessed in this great game.
He slam-dunked a 7-iron for a hole-in-one at the 151-yard then made an outrageous up and down to save par at the last, sending the crowd wild in both instances and no wonder as it was truly sensational stuff.
One of 20 club professionals to qualify for the event, he picked up a career-best cheque for £288,333 for tying for 15th, securing a spot in the 2024 edition at Valhalla in Louisville in the process.
On the back of this stunning effort, Block has also been handed a spot in this week's PGA Tour event, the Charles Schwab Challenge in Texas, meaning his return to giving $150 lessons at Arroyo Trabuco Golf Club In Mission Viejo, a commuter city in Orange County, will have to wait.
In the space of a few days, Block's life has probably been changed forever and that is the beauty of golf due to it being able to provide platforms for fairytales like this one.
Regional qualifying for the 151st Open takes place around the UK and Ireland at the end of next month and lots of players taking part in that will have been handed renewed optimism by Block's effort in their bid to tee up in the season's final major at Royal Liverpool in July.
Most of the focus in any sport is always going to be on the leading lights and golf is no different. But we've just been delivered conclusive proof that it doesn't necessarily have to be about the likes of Rory McIlroy, Jon Rahm, Brooks Koepka or Bryson DeChambeau all the time.
Koepka won the main prize, the Wanamaker Trophy, at Oak Hill and well done to him for not making a big thing about becoming the first LIV Golf player to win a major and focusing on this being what it was - an individual achievement.
But the man who won most hearts over the past few days was someone we'd never even heard of this time last week and that, for me anyway, shows that golf is the best and, providing people don't tamper with the current formula too much, always will be.