He also discovered when suffering a last-day disappointment in this year's Masters that it is about mindset as much as anything else when it comes to trying to finish off the job in the game's marquee tournaments.
But, with both those boxes having been ticked, Brooks Koepka is back looking like a major machine, having become just the 20th player to win five or more with his victory in the 105th PGA Championship at Oak Hill on Sunday.
"This is probably the sweetest one of them all just because of all the hard work that had to go into this one," said the 33-year-old as he compared this title triumph to his successes in the same event in 2018 and 2019 and also his US Open double in 2017 and 2018.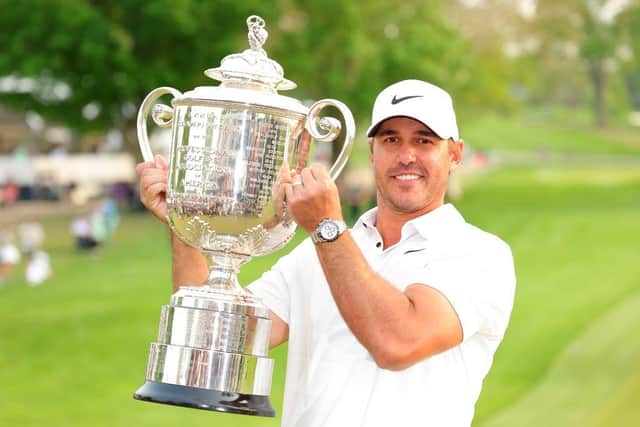 Koepka had lost his killer touch in the big events after suffering two separate knee injuries. Fearing for his future, he took LIV Golf's Saudi money last year, admitting at Augusta National during the season's first major that the decision might have been different if he'd been back to how he is now, both in terms of his physical and mental state.
"Oh, for sure," he replied to being asked if he feared that his days of picking up prizes like the Wanamaker Trophy might have been over. "Yeah, a couple years ago. Just lost. Didn't know where any golf swing was; didn't know physically if I was capable of getting back to where I was.
"I don't know if I considered retiring, but I knew if I couldn't play the way I wanted to play, then I was definitely going to give it up. I mean, the thought definitely kind of crossed my mind."
It's taken blood, sweat and tears to feel as though he's back on top of the world again, even if that's not reflected in the Official World Golf Ranking, where he's only up to 13th due to LIV Golf events not being awarded any points. "A lot of pain, physical pain," he said of what he'd gone through over the past two years. "But I'm happy to be here. I've worked my butt off."
He'd won a LIV Golf event in Florida heading into The Masters and, while it didn't end the way he wanted, the former Scottish Challenge winner wasn't going to be denied on this occasion. With a nine-under-par total, he won by two shots from compatriot Scottie Scheffler and Norwegian Victor Hovland.
"I've been playing good for a while," said Koepka as he savoured a success that saw him join Jack Nicklaus and Tiger Woods as the only players to win the PGA of America event three times in its stroke-play era. "I felt like I knew I was back kind of in January, just needed some reps to get things going and feel a bit more comfortable."
While it hurt, losing out to Jon Rahm in the end at Augusta National might not prove harmful at all in terms of how many more majors he can go on to rack up. "I learned from it," he said of that disappointment. "I'm very pleased with what I took from it, and I'm pleased with the honesty I was able to dive into.
"Spent the whole night thinking about it. I knew what I did, and I knew I was never going to come out and do that again." As a consequence, he "felt in control all day" in the closing circuit at Oak Hill in Rochester.
Next up on the major front is the US Open, which takes place at Los Angeles Country Club in the middle of June, followed by the 151st Open at Royal Liverpool a few weeks later. "Keep doing what I'm doing," said Koepka, who is excited about the prospect of becoming a day for the first time later in the year. "It's working so far. Back to having a chance pretty much every time I tee it up."