MacIntyre shocked to be 'angry Bob' after Ryder Cup dinner in Dubai
Bob MacIntyre was puzzled to step onto the Earth Course at Jumeirah Golf Estates in Dubai as "angry Bob" for the third round of the DP World Tour Championship after enjoying a dinner with his Ryder Cup team-mates on Friday night and still being in a jovial mood on the practice range.
On a day when Englishman Matt Wallace stormed into the lead in the Rolex Series event on the back of a blistering 12-under-par 60, MacIntyre was "disappointed" about having to settle for a 69 and wasn't happy about how he felt as bogeys at the first and third left him on the back foot.
"Yeah, it was poor today, to be honest," admitted the Oban man, who had started out in a tie for ninth but slipped six off the lead in joint-14th in the season finale. "Yeah, something wasn't quite right. I don't know what it was. When I come to Dubai, and I said this to Mike [Burrow, his caddie] on the way round, I felt the same thing last year.
"We had a lovely meal last night with the Ryder Cup guys, but I don't know if enjoying it that much led to me not sleeping right because my energy level is too high or what. But I need to work something out because, when I came on the golf course, I was an angry Bob as soon as I started and there was no reason for it. I was having great fun on the range with my whole team but as soon as I got on the golf course my acceptance wasn't there and that's something I need to look at."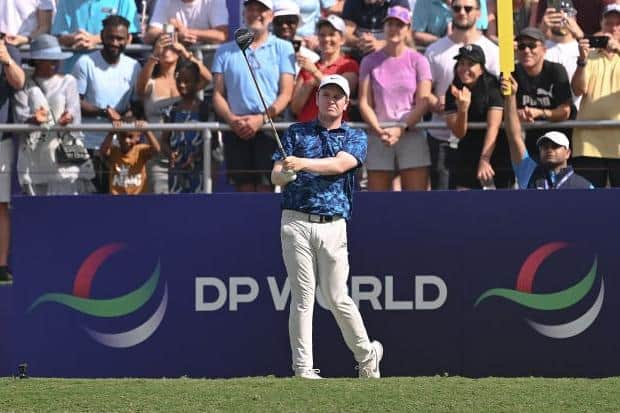 Being honest as ever, he added: "It shocked me a wee bit because I bogeyed the first and had my back against the wall and bogeyed the third as well because I wasn't committed to a shot. I was at a crossroad at that point. Mike said to me 'look, we can either take the wrong road here and we'll look back at it and think 'why have we done that' or we can take the right road here and fight back and have a chance going into Sunday' and, thankfully, I took the right road."
MacIntyre's performance coach, Austria-based Stuart Morgan, is tracking everything he does this week as the Scot closes in on one of the ten 2024 PGA Tour cards on offer through this season's Race to Dubai Rankings.
"I'll go and sit down and speak to Stuart about how I felt out there and give him my thoughts and he'll give me his thoughts and we'll come to a reason why," added MacIntyre. "I'm a human. I like having a laugh with people. But I noticed it last year. Because I had my whole family and some friends here, eight of us were going to dinner and there were a lot of laughs. But, when I was going on the golf course, it was as though I was tired and that was the feeling I had today, I felt as though I was behind the 8-ball before I started."
Connor Syme and Grant Forrest both signed for 70s to sit on two-under and one-under respectively. "That was probably the worst it could have been today, to be honest," said Forrest of his effort. "Tee to green was much better than the first two days and missed a couple of short birdie putts. Yeah, a bit of a frustrating day as it could have been a four or five under easily."
Comments
 0 comments
Want to join the conversation? Please or to comment on this article.