Luke Donald had eye on Ludvig Aberg for Ryder Cup when he was still in amateur ranks
Even before Luke Donald was "blown away by his game", Swede Ludvig Aberg had already been flagged up as a potential contender for this year's Ryder Cup in Rome. Still an amateur at the time, the Swede caught the eye of one of Donald's trusty vice captains when he teed up in the Hero Dubai Desert Classic back in January.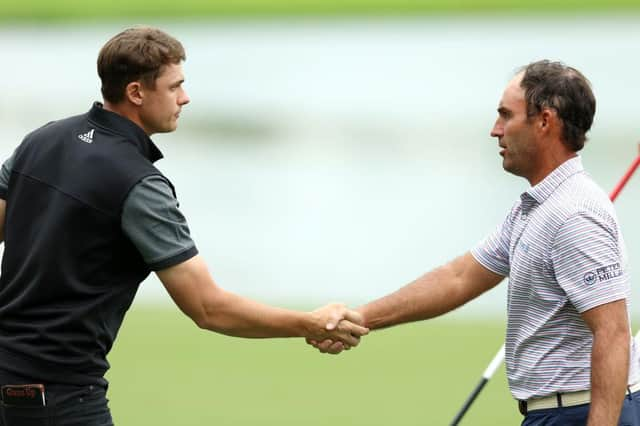 "He played in Dubai with Edoardo [Molinari]," said Donald, speaking after naming Aberg as a captain's pick for the 44th edition of the biennial event later this month along with English duo Tommy Fleetwood and Justin Rose, Austrian Sepp Straka, Irishman Shane Lowry and Dane Nicolai Hojgaard.
Molinari, a former Scottish Open champion, has been the man crunching the numbers over the past year on Donald's backroom team and, when it comes to his driving in particular, Aberg is up there with the best, including Rory McIlroy. But, in just two rounds in his company at Emirates Golf Club, the seed had been planted that he could be in the frame to make a sensational Ryder Cup debut at Marco Simone Golf Club on the outskirts of the Italian capital.
"Edoardo let me know that he was very impressed with this guy," added Donald. "He was obviously the No 1 amateur in the world. Edoardo could see that immediately and we knew that he was going to turn professional after college in June."
In his first start in the paid ranks after graduating from Texas Tech, the 23-year-old finished in the top 25 in the Canadian Open, did likewise in the Travelers Championship before finding himself paired with Donald in the first two rounds of the Rocket Mortgage Classic in Detroit, where he duly opened with a sparkling 65 before ending up in a tie for 40th. "I was blown away by his game," said Donald, though he already had an inclination that it was pretty special based on how impressive his record had been on the college circuit in the US. "You look at what he did those four years. The only comparables are really with Viktor Hovland and Jon Rahm," added the former world No 1.
When he missed the cut - his only blip so far - in the Genesis Scottish Open at The Renaissance Club, it seemed unlikely that Aberg could realistically force his way into that Ryder Cup reckoning. It needed something special, in fact, and that's exactly what he delivered when picking up four birdies in the last five holes to land his maiden professional win with a two-shot success in the Omega European Masters at Crans-sur-Sierre in Switzerland on Sunday.
"He continued to progress and I challenged him to come over to Europe and play a couple weeks," said Donald. "He finished fifth in Czech (in the penultimate qualifying event) and what he did yesterday, it was like a walk in the park for him and obviously for someone that's so inexperienced, it's just so, so impressive.
"I really do have a lot of faith and belief in Ludvig. I think he's a generational player. He's going to be around a long time. He's going to do amazing things. If he wasn't going to play this one, he's going to play the next eight Ryder Cups. That's how good I think he is. If you look at even just statistics this year, he would be the No 1 driver in the world ahead of Rory McIlroy and Scottie Scheffler. That's pretty high standards for someone that's just come out of college."
In the eyes of some, especially considering he's not yet played in a major, Donald has taken a gamble with Aberg. "Well, I obviously don't think so," insisted the man who is trying to win the trophy back for Europe after a 2021 hammering at Whistling Straits. "Yeah, he's going to be the only one outside of Sergio [Garcia] to play a Ryder Cup the same year he turned pro. Yeah, those are high standards to live up to. But everyone that's played with him, everyone that's been around him, is super impressed with his game, what he brings, and we saw that.
"We saw that last week. He was committed to come over here. He knew he had to perform well if he had any chance. I made it evident that I was thinking about him, but I certainly didn't give him any assurances. But he knew what was at stake, as well as many other players did, and he was the one who performed. So he warranted that pick."
In contrast to Aberg and three other European rookies, Justin Rose will be making his sixth appearance in the event. "His name started to be thrown around regarding The Ryder Cup, which seemed incredibly premature in a way, I suppose, back in July," observed the former US Open champion. "But he's absolutely backed it up week-in, week-out. The fact that he has almost played 75 percent of his professional career with the pressure of trying to make a Ryder Cup team immediately is quite impressive to then on the final day of the campaign, make it a bit of a no-brainer for the captain. From where he hits the golf ball off the tee, I feel like if he's half-decent with his irons and wedges and putter, he's going to be a force to be reckoned with in the world of golf."
While there was joy for Aberg and the five other picks, Pole Adrian Meronk will have to wait for his chance despite an eye-catching qualifying campaign that included an Italian Open win on the Ryder Cup course in May. "He absolutely did a lot of great stuff throughout the year and was very much on my mind," admitted Donald. "But I'm very happy with Nicolai, very happy with Ludvig, very happy with all the six picks to be honest that make up this 12."
Comments
 0 comments
Want to join the conversation? Please or to comment on this article.