LIV Golf players committed 'serious breaches' but can still be in frame for Ryder Cup
LIV Golf players found to have committed "serious breaches" of DP World Tour rules and regulations could still be involved in this year's Ryder Cup in Rome, though it will be "difficult" for them to do so.
A ruling by Sports Arbitration has confirmed a win for the DP World Tour in a case with LIV Golf players, including Lee Westwood and Ian Poulter, over sanctions imposed for playing in the first two events on the Saudi-backed breakaway circuit last year without a release.
It means they all now have to cough up £100,000 fines and are likely to face similar sanctions, if not sterner ones, in the future if it happens again. But, with no PGA Tour-style blanket ban about to be imposed, the likes of Westwood, Poulter and Sergio Garcia have not technically had the door closed on them for the Ryder Cup in September.
"In a broad brush, they still can play," said Keith Pelley, the DP World Tour's chief executive, as he responded to the panel's ruling, which followed a week-long hearing in London in February.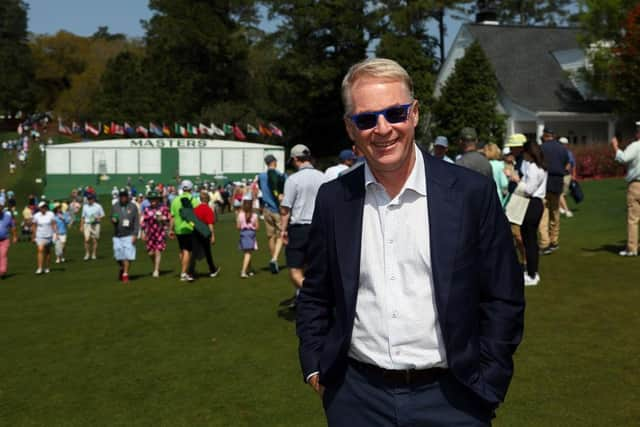 "As long as you are a member of the DP World Tour, you can qualify for one of the six spots or, in fact, you can get selected by (European captain) Luke Donald with one of his six picks and that's always been the case.
"The challenge now, depending on what transpires with the sanctions we impose down the road, is that it might make it more difficult for them to play in DP World Tour qualifying events.
"But, more importantly, we all know they have commitments to play on another tour that conflict with DP World Tour qualifying events and that will make it harder for them to qualify. But it is also important to understand that that decision has been their choice."
Garcia, the all-time record points' scorer in the biennial event, has already lost his chance of becoming Ryder Cup captain, as have fellow major winners Graeme McDowell and Martin Kaymer after the trio failed to meet the required minimum number of events in 2022.
"If any year that you don't make your minimum, regardless if you're an honorary member, you can no longer be Ryder Cup captain and vice captain," revealed Pelley, speaking from Augusta, in a video conference with golf writers.
"As long as the players make their minimum, they can still be Ryder Cup captain and vice captain, but the minute you fall out of membership and don't make your minimum, you're not eligible."
The three-man panel, which was chaired by Phillip Sycamore CB, found that Pelley had "acted entirely reasonably in refusing releases" for LIV Golf's first event at Centurion Club near St Albans then the second one at Portland in Oregon.
As the decision was awaited, it had been suggested by some people that it might actually have been a good thing for the DP World Tour to lose the case as it could create more scenarios like Rory McIlroy and Patrick Reed going head-to-head in DP World Tour events.
"I would say that I vehemently disagree," said Pelley of that claim. "It's an issue that people are pushing it who have a benefit to push it, but, in reality, it doesn't make any logical sense and it's not a concern to me at all.
"Players haven't played in their national Opens because they've had contractual commitments to play on another tour. When they've played, and it's been so very little, they've only played in high-profile events with large OWGR ranking points. They've certainly not supported the other events on our tour So, if the idea is if a decision had gone the other way and opened a door for them to play more, I don't buy it. That door has been open since last July.
"At the same time, our relationship (through a Strategic Alliance) is with the PGA Tour, and the PGA Tour is what we are working with to do something special that we will announce by the Genesis Scottish Open about our new schedule for 2024."
A total of 16 LIV Golf players must now pay their £100,000 fines, described by Pelley as reasonable and proportionate", within 30 days and, as part of a "forensic" analysis of the near 90-page ruling, a decision will be made about what the sanctions will be if members continue to breach the rules and regulations.
"We will now take time to reflect and review all facets of the decision before making any definitive statement or decision," said Pelley. "We'll do that as a collective group; it won't be a unilateral decision. That might take some time, but we understand the importance of it and will endeavour to do it as quickly as possible. I can't get into exact detail, but I think the decision gives us some really strong leeway."
The LIV Golf players had felt confident they'd be found to have done nothing wrong by teeing up on Greg Norman's rebel circuit alongside the likes of Phil Mickelson, Dustin Johnson, Brooks Koepka and Bryson DeChambeau. But, with this ruling going against them, it remains to be seen if they will retain their status as DP World Tour members.
"Overall, it's a very positive day and hopefully now we can move on," said Pelley, who provided the bulk of the DP World Tour case in the hearing. "This is a landmark decision. It doesn't just affect the DP World Tour or other golf organisations. All sporting organisations must be able to have rules and regulations and members have to abide by them. That's why it's such an important day."
The ball is now in LIV Golf's court after Greg Norman, the circuit's CEO and commissioner, had hinted any fines would be picked up by the Saudis, though it is unclear if an appeal can be heard by the Court of Arbitration for Sport.
Admitting the process had been "draining" for those involved, Pelley is hoping the losing side on this occasion will take it on the chin. "Both sides entered into this arbitration in good faith with the aim of seeking clarity and direction," he said. "We have that now and we expect that their decision is respected, just as we respected the decision of the stay back in July."