Along with Sergio Garcia, Ian Poulter and Richard Bland, the Englishman has resigned as a member of the circuit, having made that decision in the wake of the DP World Tour's arbitration-hearing victory last month over LIV Golf.
That verdict meant the quartet were liable to sanctions, including a fine of £100,000, for being in breach of the DP World Tour's tournament release regulation when they played in LIV Golf's launch event at Centurion Club near St Albans last June.
Apparently, Westwood paid his fine in the 30-day window set by a Sports Resolutions panel, but, in that same period, the recently-turned 50-year-old made a huge decision by calling time on his DP World Tour career, ruling himself out of this year's Ryder Cup in the process.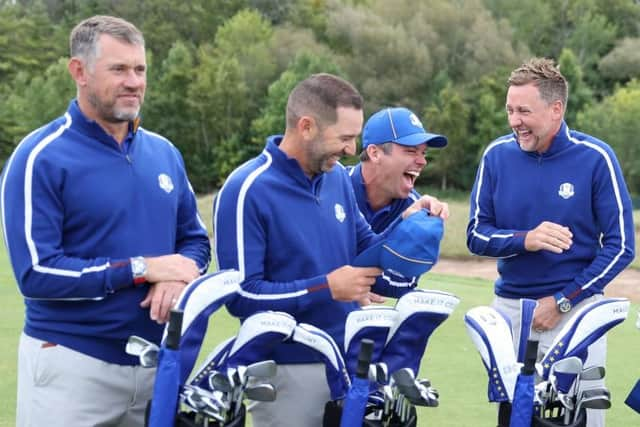 "This is a sad day, but I could not really see any other option with all the punishments hanging over me," he told The Telegraph. "I don't agree with the direction [chief executive] Keith [Pelley] and his board have taken and I want to move on."
We'll get round to Pelley and his board, but, firstly, let's look at Westwood, in particular, but also Garcia and Poulter because, and let's give credit where credit is due here, all three have been brilliant servants to Europe in the Ryder Cup.
Westwood holds the record for most appearances by a European player with 11 outings in the biennial match; Garcia is the all-time record points-scorer with 28.5 and Poulter took over from Colin Montgomerie as Europe's talisman against the Americans.
All three would almost certainly have served as captain in golf's greatest team tournament if they'd been happy to remain as either DP World Tour or PGA Tour players rather than jumping ship by signing for LIV Golf around this time last year because, like it or not, that decision had to come with consequences and, yes, they probably had to be serious ones.
This wasn't a case of players asking for the odd release here and there to play in events on the Asian Tour or wherever. Having been paid fortunes to do so, they'd joined a competitor and no-one, surely, was so naive to think that either the PGA Tour or DP World Tour would sit back and let players compete on Greg Norman's Saudi-backed circuit while still retaining seats at established tables.
PGA Tour players who joined LIV Golf were immediately suspended by the US circuit and continue to be, with the fledgling circuit's anti-trust lawsuit against the PGA Tour having suffered a couple of big blows in what looks set to be a lengthy courtroom war.
Due to different rules and regulations, the DP World Tour couldn't enforce the same blanket ban as the PGA Tour, but, in winning that arbitration case over imposing $100,000 fines and a suspension from the 2022 Genesis Scottish Open to 16 players for teeing up in that inaugural LIV Golf event, Pelley and his board received vindication for standing up for the circuit's wider membership.
It was the right thing to do because, as much as though the likes of Westwood, Garcia, Poulter and others now flying the LIV Golf flag had done in the past for what, of course, was formerly called the European Tour, the rules simply can't be either ignored or twisted to suit certain individuals.
Garcia, once European golf's golden boy, has blotted his copybook somewhat over the years while Poulter isn't everyone's cup of tea, so, in the eyes of many, they might not be missed. But Westwood will and that's down to the fact he's been part of the furniture, so to speak, after clocking up 590 appearances on his home circuit and winning on it an impressive 25 times.
He hosted the DP World Tour's first event after the Covid pandemic shutdown at Close House in 2020 and also showed his support for the circuit a couple of months later when being the headline act at an event at Fairmont St Andrews.
Yes, of course, it's quite sad that he's no longer a DP World Tour member and, as a consequence, will probably not now round off his Ryder Cup career by holding the captaincy, but this has all been brought about by a career decision made by Westwood himself.
Very few people will begrudge him being one of those LIV Golf players with a wad of money tucked away in the bank, especially as the chance came as he was closing in on that 50th birthday, but, with all due respect, that move had to come at a cost to him in other ways, even though that might be tough to admit.
As his comments suggested, Westwood isn't happy with Pelley, in particular, but also members of the DP World Tour board. He's got a bee in his bonnet about the DP World Tour initially being happy to host an event in Saudi Arabia but now not liking how the Saudis are "operating outside the ecosystem". Westwood also doesn't like the circuit's Strategic Alliance with the PGA Tour, feeling Pelley is being "bullied" by his counterpart on the US circuit, Jay Monahan.
Only time will tell if that transatlantic partnership is the best thing for the DP World Tour going forward, but, just as Westwood, Garcia, Poulter and Bland have now done, Pelley and his board members made a big call at the time and did so with the best of intentions.
Yes, the top ten players in this season's DP World Tour Race to Dubai Rankings will secure cards for the 2024 campaign, but is there any real difference now in the respect of top young players wanting to test themselves on the US circuit to when the likes of Westwood, Garcia and Poulter were the players in their shoes? I think not.