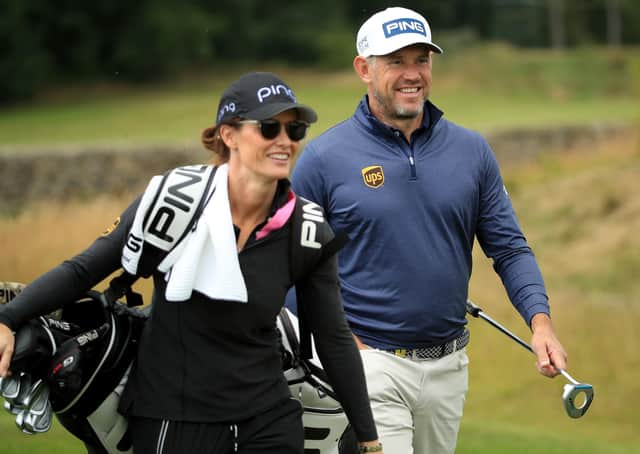 Lee Westwood with his fiancee Helen Storey during a practice round at the British Masters at Close House. Picture: Andrew Redington/Getty Images
Lee Westwood, the tournament host, believes the European Tour's "military-style" safety set-up for this week's Betfred British Masters is putting the UK Government's handling of the Covid crisis to shame.
"They seem to have thought of everything," said the Englishman of the arrangements that have been put in place at Close House for the European Tour's full return after going into lockdown following the Qatar Masters in early March.
"All the queuing up, getting checked every day whether you have symptoms and things like that. There's not a the moment in the day where it doesn't feel like your health is being checked or somebody has got an eye on you. I think that's a good thing right now."
Seven players on the PGA Tour are known to have contracted the virus since the US circuit started up last month, the latest being Grayson Murray, who has pulled out of this week's 3M Championship.
The European Tour has spent more than £2 million on a medical health strategy to get the circuit back up and running, with two co-sanctioned events in Austria in the past fortnight delivering an all clear. "For me, people need guidance through this," added Westwood, who also hosted this event at the same venue in 2017. "If you look back over the last five, six months and the way the public have been treated, I think it's not been clear enough, or clear-cut decisions on everything.
"The rules have not been plain and simple. There have been too many grey areas. That is what the European Tour is trying to eradicate with their protocols and testing. The rules have got to be there in black and white.
"We've taken all precautions. The last thing we want is to make the situation worse and be the cause of more cases. We have this Golf for Good initiative where we are giving back to the communities we play in, we don't want to be making that worse by starting off a corona spike in these communities. It's up to us to be very careful.
"From what I've witnessed people are sticking to it by the letter. Everyone is wearing masks, staying away from each other as much as they can. The testing procedures are very thorough.
"I was amazed at the system the European Tour have set up. We all got tested before we travelled to events. And, once at the event the testing procedure has been very thorough. It's military-style, almost."