Laura Beveridge hails 'great' time for Scots in women's game
These are giddy times for female golf in Scotland, having been sparked by Gemma Dryburgh's brilliant breakthrough win on the LPGA Tour in Japan last November.
We've now got Lorna McClymont looking as though she's capable of winning every time she tees it up in the amateur ranks, having triumphed in both the Welsh and Irish Women's Open in recent weeks.
We've also got Hannah Darling, an equally exciting amateur talent, strutting her stuff at the top level on the US college circuit, starring for South Carolina right now in the NCAA Women's Division 1 Championship in Arizona.
We've just seen Louise Duncan, in only her sixth event as a card holder on the Ladies European Tour, record a top-ten finish against the likes of Lydia Ko and Lexi Thompson in the Aramco Team Series in Florida.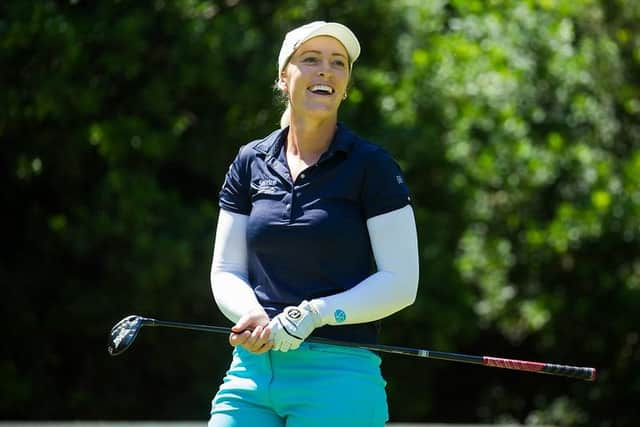 On, and let's not forget that we've also had Laura Beveridge and Hannah McCook both tasting recent success in the Rose Ladies Series, where they recorded victories at Southport & Ainsdale and The Grove respectively.
"It is great," said Beveridge of the women's game in Scotland looking as though it is probably stronger in terms of depth in talent that it ever has, though Catriona Matthew in particular, of course, made her mark at the top level for a prolonged period of time.
"I was fortunate that there were quite a lot of us around the same age who turned pro and went on to do some great things in golf. Then there was a bit of a lull and there wasn't anything really happening for players who were five or six years younger than me. But now it's good to see what's happening."
Both McClymont and Duncan have been expertly guided on their career paths by Dean Robertson at Stirling University while Darling continues to blossom through working with Ian Muir, who now runs the golf programme at St Andrews University. At the same time, LPGA winner Kathryn Imrie's return home to take up a performance role with Scottish Golf also seems to be helping bring out the best in the country's top young talent.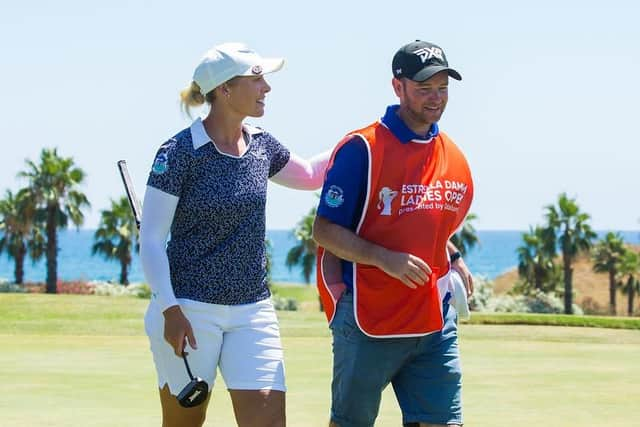 "They have a good support system and it seems as if the players are getting supported well with equipment, clothing etc and they seem to be building more of a professional golfer from the amateur ranks," observed 2012 Scottish Women's Amateur champion Beveridge, who, as she freely admits herself, has been fotunate to be supported by Mike Loggie, the founder and chief executive of Saltire Energy, since making golf her career rather than becoming a PE teacher.
"I feel that when I turned pro we were all good amateurs but then found ourselves kind of left on our own. But now it seems as if they have a system where they are trying to build players for the future of women's golf right through to the professional game and just from an amateur point of view. It is very encouraging to see."
As was Beveridge, having her best season in the paid ranks as she finished 32rd in the Race to Costa del Sol Rankings, admitting she finally felt she "belongs" on the circuit after chiselling away on it for a decade without making much headway.
"We go back to a lot of the same courses and I know a lot of the players as I've been on the go for a while now and a lot of them have come through the Access Tour like me," said the 33-year-old, who is attached to Kippie Lodge Sports and Country Club, just outside Aberdeen. "I guess it's more about being familiar in your environment and I think that's important.
"I'm also fortunate to be at a lot of events with my other half, Keil, which also helps with being comfortable. I guess I'm pitching up now and not being so intimidated by the event or the goings on around the event any more. I'm getting used to that now and it's a nice place to be."
Also based at Kippie Lodge, the aforementioned Keil coaches Beveridge and also now caddies for her a fair bit. Like David and Vicky Drysdale in the men's game, spending lots time together even with the stress of sport mixed in is working fine for the Beveridges
"Kiel is quite relaxed, both in his coaching and caddying roles. It's great for me as he is always consistent. Regardless of us being husband and wife, he can segregate things. He can look at things and say, 'ok, this is my job for the day and I am caddying' but then, if anything goes wrong, I can say 'this needs to be looked at' and he can do that in his coaching capacity. Then we go out for dinner at night and not talk about golf. It doesn't seem there is too much strain on our marriage right now (laughing)."
This week marks the start of six successive events on the LET in mainland Europe, a run taking in visits to Belgium, Sweden (for a double-header), Germany, Czech Republic and Finland. Along with the likes of Duncan, Michele Thomson and Kylie Henry, Beveridge will be pushing hard for a first Scottish success on the circuit since 2019.
Referring to her Rose Ladies Series success, Beveridge said: "It's good to remind ourselves that, if you have to do it, you can still get across the line. Even if it's just a one-day event, it still matters. So we are trying to bag that in the memory bank. We are trying to push close to a top ten in the Order of Merit because that gets you through to the final stage in the LPGA Q-School.
"I think we showed with some of my results last year that it is definitely possible. We just need to keep building on that and get a few more top-ten and top-five finishes. If a win is possible, then great. But we'll keep doing what we are doing and see what happens."
Comments
 0 comments
Want to join the conversation? Please or to comment on this article.