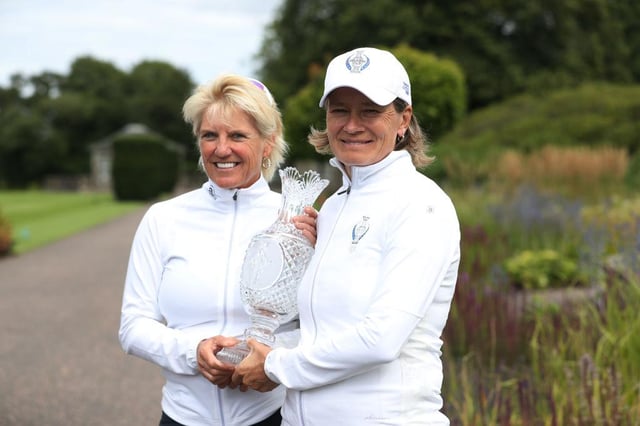 Kathryn Imrie and Catriona Matthew pose for a photograph after the announcement of the European Solheim Cup team at Gleneagles in August , 2019. Picture: Ian MacNicol/Getty Images.
She also made her Solheim Cup debut alongside Annika Sorenstam before being enlisted by her long-time friend, Catriona Matthew, as a vice captain for the memorable match at Gleneagles in 2019.
Add in the fact she now coaches the former US Secretary of State, Condoleezza Rice, in California and Imrie has lots to talk about, as she does here in an exclusive interview.
Did you know from an early age that you were destined for a career in golf?
Kathryn Imrie in action during the 43rd LPGA Championship at the DuPont Country Club in Wilmington, Delaware, in 1997. Picture: Jamie Squire/Allsport/Getty Images.
KI: Probably destined for a career in sport, but I didn't really know it was going to be in golf until I was 14 or 15. Football was my first love and I was sure I was going to be the first female to play for Dundee (laughing). I actually trained with the Dundee Strikers, the ladies' team, for a while and hockey was the big love after football before golf basically took over.
Are you from a golfing family?
KI: Yeah, my mum, Addie, took up the game after raising the four of us while my dad, Bob, always played and also my eldest brother Graham, who was pretty decent as well. I started on the Ashludie, the shorter course at Monifieth, and it was perfect for me back then. I think most courses should have somewhere like that around 5,000 yards to let people learn the game.
You enjoyed an impressive junior career. What was the highlight during that period?
Kathryn Imrie lifts the trophy aloft after her win in the 1995 Jamie Farr Toledo Classic. She was the first Scot to record a victory on the LPGA Tour
KI: I think it has to be when I won the Scottish Schools at Monifieth when I was 14. That was definitely a highlight, beating all the older competitors who didn't have a clue who this young squirt from Monifieth was. The three successive Scottish Junior Stroke-Play Championships were good, too, especially when I came from 10 shots back in one of those to win.
When did you first come across Catriona Matthew, who is a couple of years younger than you?
KI: I know there was definitely a bit of scuttlebutt about this really good player from North Berwick and it was one of the Scottish Championships in the early to mid-80s. There was definitely a lot of talk about her before I first met her and it was through the Scottish national camps that we got to know each other. One of our first trips together was a road trip to Lindrick for the British Open in 1988 with fellow Scot Julie Forbes. We all met in Edinburgh at a multi-story car park. Unfortunately, the car got pretty banged up on the way out of the car park (due to the tight circular ramps and Beany's driving) and, as you can imagine, this was all quite hilarious to the three of us. Good news was, we all made it to Lindrick and had a ball that week.
You were also team-mates in the 1990 Curtis Cup. How nice was that at the time?
Kathryn Imrie, far right, with the rest of the European team, captain Catriona Matthew and other vice captains at the 2019 Solheim Cup at Gleneagles. Picture: Naomi Baker/Getty Images.
KI: It was great and Elaine Fairquharson was also in that team, which was great for three Scots to be in an eight-strong side. We got hammered 14-4 at Somerset Hills as we were totally outplayed by the Americans. It wasn't a great experience in that respect, but it was still a fantastic week. We also played in the Vagliano Trophy together, but never managed to be Solheim Cup team-mates, unfortunately.
Was it a no-brainer to turn professional then?
KI: If I hadn't made that Curtis Cup team, I wasn't going to turn pro but, having managed to be in the top eight players in GB & Ireland at the time, I thought I must have been half decent and so I turned pro in 1991. My family was totally behind me, though the deal was that I had to get my degree at the University of Arizona.
How did you find college life in the US?
Kathryn Imrie caddying for former US Secretary of State Condoleezza Rice during the 2013 AT&T Pebble Beach National Pro-Am at the Monterey Peninsula Country Club in California. Picture: Ezra Shaw/Getty Images.
KI: Well, going from Dundee to the desert was a bit of a change for starters (laughing). I thought I had landed on the moon, to be honest. My first sunbathing experience lasted about 30 seconds as it was 110 degrees on top of a roof. I loved it, though I did get homesick in my sophomore year. But I stuck it out. Dad's words were the "easiest thing you can do is quit", so that was never going to happen and thank god I did stay on.
You became the first Scot to win on the LPGA when landing the Jamie Farr Toledo Classic on the LPGA in 1995. How special was that?
KI: That was by far the best success of my career outside the Solheim Cup. It was my 11th tournament in a row, believe it or not. It was actually my parents' 40th anniversary on the Sunday I won and I was going to come back and surprise them but I felt my game was turning a corner after a couple of high finishes. It was really nagging at me that I should have been back home as it was a huge celebration, but that was a nice gift to give them and mum got the Rolex I was given as a first-time winner and it has the date engraved on the back. That was really cool.
You also held an LPGA record for making 11 birdies in the one round. What do you remember about that?
KI: It was in the 1997 State Farm Charity Classic in Springfield, Illinois, and it was the day after Princess Diana had died. We all came into the locker-room that morning and were watching the TV. Everyone was shocked and stunned. In fact, I didn't even warm up that day. I was just in a daze and, to be honest, I went out not giving a s***. It felt meaningless and when I found myself five-under after six it was one of those instances of getting out of your own way. It's the only time I can truly say I played a care-free round of golf from start to finish.
Was it slightly disappointing that you also didn't win on the LET, but was that down to you simply playing more in America?
KI: It's definitely disappointing and I had my chance at the 1996 Compaq Open in Sweden when I was in a play-off with Alfie [Helen Alfredsson] and Federica Dassu. But I did play most of my golf in the US and it is always fun to say you are the first Scot to have won on the LPGA Tour.
You made a winning Solheim Cup debut with none other than Annika Sorenstam at St Pierre in 1996. How did that feel?
KI: Brilliant. That was undoubtedly the best week of my life. Everything was phenomenal. I played with Annika and Lotte [Liselotte Neumann]. Mickey Walker put me with good players, which was great. You always knew Annika was going to throw in a few birdies and it was good to help her along the way. With Lotte in the foursomes, I will never forget the first hole as she hit the first putt from 30 feet about 12 feet past the hole. I remember looking at her, but Lotte was as cool as they come and never flinched. I holed the return putt but she didn't say anything until about the sixth hole, when she said: 'Sorry about that on the first hole' (laughing).
To then be part of Catriona's backroom team at Gleneagles in 2019 and the way that panned out, how special was that?
KI: I mean, that still gives me goosebumps just thinking about it. Gleneagles as a venue was phenomenal. Beanie as the captain was amazing. It came down to the wire and it was written in the stars. All my Solheim Cup experiences have been incredible - whether it's been as a player, a team helper or a Vice Captain. In fact, the Solheim Cup is so near and dear to my heart that I have documented all my Solheim Cup experiences and thanks to Covid I have finally almost finished my book. The book focuses on how Scottish players, caddies, officials, fans, commentators have all influenced this great event.
Catriona was quick on to the 18th green after Suzann Pettersen holed the winning putt. I take it you weren't far behind her?
KI: I was actually with Bronte Law on the 17th hole. We were watching it on the big screen and I remember Jerry Foltz running past saying "Suzann for the cup". We were in a group huddle and Tanya Hall started screaming before the ball was even halfway there as she must have heard the roar from the 18th green. It was a surreal moment and that last hour was just incredible. I just watched it not that long ago and it is unbelievable television.
How hopeful are you that a similar backroom team can help Catriona deliver another win in Toledo, Ohio, in September?
KI: It's going to be a different challenge. Look, the Americans will be out for revenge and they are going to be strong. But why not? It will be a similar team, I'd imagine, and a similar backroom team. We are 99.9 per cent certain that Suzann will stick to her vice captain's role (laughing). If the stars align again, there is absolutely no reason why we can't do it.I know Beany wouldn't take on the job again if she didn't think her team could win.
How did the Stanford University connection, which you are proud of and rightly so, come about?
KI: After I quit playing the tour roughly in 2009-2010, I started teaching at the Jim McLean Teaching Academy down in Palm Springs. It was just too hot for me in the summer and I thought I needed to either look for a job somewhere else in the US or head back to Scotland. After being on tour for 20 years, you had felt pampered and I applied for a job for an assistant coaching job at college level. Stanford came up and I filled out my application and sent it off but honestly didn't believe I would hear anything back. But the coach actually contacted me three weeks later and said, 'you are just what we are looking for to teach them more about course management' and, to cut a long story short, Caroline O'Connor hired me back in 2010 and that was me on the road in the college scene. Stanford is just like a big family and it opened up so many doors and connections. That opened the door for the job I am in now. The Bay Area is not a bad place at all to hang your hat.
KI: I'm still the volunteer assistant coach with the Stanford women's golf team. I work with a couple of the girls individually and, once in a while, I'll hold a practice session for the team. But I'm officially the Director of instruction at Sharon Heights Golf & Country Club, which is just south of San Francisco. That entails over seeing some junior programs at the club, teaching private lessons, clinics and on-course lessons. It's a bit of everything, which is perfect, and I am lucky to have such a variety as that's something a lot of instructors don't have.
And, of course, the people you have taught out there include former US Secretary of State Condoleezza Rice. That must be a lovely relationship to have?
KI: Yes, it is - she is great and just a phenomenal person. Talk about someone who manages her time well. She loves her golf, she works hard, she still does a lot of speaking engagements. She is now the director of the Hoover Institution at Stanford, having taken on a different role. But she still has time for her golf and it was a great thrill for me to caddie for her several times at the Pebble Beach Pro-Am. I've been teaching her for a while and it's great to see that she is still very keen.
Do you have a favourite golf story involving her?
KI: Oh yes. Most of the years I caddied for Condi at the AT&T Pebble Beach Pro- Am she was partnered with Jason Bohn. One particular year we were paired with Phil Mickelson and another Secretary of State, Rex Tillerson. I'll never forget that morning, the crowds were huge and we were teeing off the first at Pebble Beach. The amateur ladies' tees were well ahead of the pro tees and, after Phil had hit, it was Condi's turn and, boy, was she nervous. I could see her hands a little shaky as she asked me for a tee. I told her "don't worry Condi all these thousands of people are here to see Phil, not you!" We still laugh about that to this day and apparently she tells this story at some of her speaking engagements.
What do you make of initiatives back home to grow women's and girls' golf, led by the R&A?
KI: It should be a diverse sport that is available to anyone and everyone. Organisations like the R&A promoting the game is great, especially for girls. I think it's growing worldwide, but it's still not enough, in my opinion. There's an advert on TV over here that says only four per cent of the sports on TV is women's sport, which is shocking, really, when you think about it. I was absolutely gobsmacked when I saw that. I do think women's sports in general are getting more TV time, but, when it's that low, there is a long, long way to go.
You've been out there a long time. Is that home for you now or will you return to Dundee one way?
KI: Well, funny you should ask that because I've just bought a wee place in Broughty Ferry, so, yes, I will be back at some point. I really miss it. The job I have is fantastic and I love it, but I will be back in Scotland at some point.
Sum up what golf has brought you in life?
KI: You had to save the best one for last (laughing). Just everything. It is my life. It is interesting that a lot of female professionals aren't really interested in staying in the game when their touring life is over. But, for me, it's been my lifestyle and given me my friends. I couldn't live without it and it has definitely helped define who I am. I just want to make sure I give back as well, which is what I am doing through my job right now. I want to do my bit to make sure youngsters, girls and boys, get access to golf like I did and just have fun with it and learn from it as it opens doors in many ways. Young women now can do business on the golf course. I'm looking at a new set of clubs right now and I can't get out there to give them a whack… got to get ready for the Senior Women's US Open.