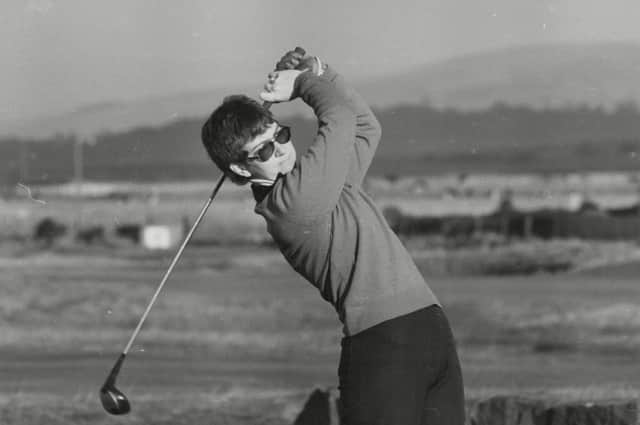 Jane Connachan, a prolific winner as an amateur before landing five Ladies European Tour victories, in action at Turnberry. Picture: ANL/Shutterstock
The Prestonpans woman triumphed on the Ladies European Tour in her rookie season in the professional ranks and looked destined to go all the way to the top before falling out of love with the game as she started to face a mental battle.
Since quitting tour life at just 27, Connachan has carved out a coaching career and is now based at Kingsfield Golf Centre, where she is at the heart of the Stephen Gallacher Foundation's bid to grow the game.
How did you get into golf and where?
15-year-old Jane Connachan pictured at a luncheon held by Lothian convener John Crichton in Edinburgh in 1979. Picture: Dick Ewart
JC: I got into golf at Royal Musselburgh because I lived in Prestonpans and it was through my dad, Robin, who was a keen golfer. I just wanted to be with him all the time and it seemed a natural thing. I remember when I first went up, he would sit me on his golf trolley and pull me around the course. That's how I got the golf bug.
You started your competitive career at just 10 years old. How did that feel at the time?
JC: Well, I was the world's worst at being sick due to feeling nervous about going anywhere. It was the British Girls' Championship down at Dunbar, which meant it wasn't far from home, and I think I was playing off 16 or 18 at the time. I remember being really nervous, though once I was on the golf course I felt fine. It was just getting there that felt terrible. My mother, Bella, also had this idea that to make me smart she dressed me in a kilt with white socks. Oh, deary me. A few years ago, Carly Booth wore a kilt, but her kilt was up her bahookie and mine certainly wasn't (laughing).
Your early wins included back-to-back victories in the Girls' Amateur Championship in 1980-81. That must have been a pretty special feat?
Jane Connachan in action during the Scottish Ladies' Golf Championship at Gullane in May 1979. Picture: Jack Crombie.
JC: Yeah, it was. I loved match-play and it got to the stage where I was so confident that, even when I was three or four down, I knew I was going to win and I know that probably sounds terrible. I remember that any time I played Pamela Wright we always went to extra holes and I also remember playing in the Scottish Ladies' final at Troon and I was four down after five but it didn't bother me and I won on the 19th. It was just a confidence thing. As a youngster, you don't really feel fazed.
The second of those wins came in extra holes against Penny Grice at Woodbridge. That must have been a nice one to win?
JC: Believe it or not, Penny is the only person I have stopped practising and watched. Oh, what a player and I just loved her style. I had to hole a six-foot putt on the 18th against her to go to extra-time. It was one of those I remember seeing the line of the putt, just as they put a line up on the TV screen these days.
You first played for Scotland at just 15. What do you remember about that?
Jane Connachan offers some teacher training at Musselburgh Sports Centre in 2011. Picture: Rob Eyton-Jones.
JC: It was down at Harlech and we won. I remember going down in the car with a couple of players and it was just special. One of my favourite players of all time was Mary McKenna, and just to meet her and chat with her was fantastic. I just loved it.
At 18, you were the Scottish champion and also held the Ladies' British Stroke-Play title. Did that confirm the level your game had risen to?
JC: That would be in 1982 and I also won the Order of Merit that year, which was nice. It was easy and, again, I know that probably sounds bizarre. It just got to the stage where I expected to win and I think later on, the following year, in fact, I really struggled. Because of how nervous I felt before arriving at a course, it got the stage where I didn't want to win as it was making me feel sick. I had a terrible year in 1983, but that turned out to be a good thing because in 1984, when the Curtis Cup team for the match at Muirfield was being announced, no Scots were in it and that kind of pushed me into the professional ranks.
By then, of course, you had already played in two Curtis Cups in 1980 and 1982?
Jane Connachan is now based at Kingsfield Golf Centre, where she "loves" working for the Arkley family. She is pictured with one of the club's stalwarts, Ian Hislop. Picture: Kingsfield Golf Centre
JC: The first time I played was very special because, at that time, I was the youngest player ever to do so. But the attitudes then were really strange. It was almost a case of 'well done, you are in the team but bad luck because you are going to lose!' We never got the chance to think we could win against the Americans. The second time was in Denver and the captain, Moira O'Donnel, had got somebody to compose five songs and, seriously, every one was about losing (laughing). There was no chance of us winning because no-one believed it was possible.
Was there ever any doubt about you turning professional?
JC: No, I think that was always on the cards. I always wanted to do this as a job. And I was always very lucky that my family was behind me all the time.
And you got your career off to a flying start by winning the Jersey Open in your rookie season in 1984?
JC: It was funny because when we arrived at the club in a bus after everyone had flown there together, I remember taking one look at the course and thinking, 'I like this'. On the morning of the final round, I was violently sick due to those nerves, but as soon as I got on the course I was absolutely fine.
Two more wins the following year and five in total on the LET. What was the best of those victories?
JC: The European Open in 1989 was a special one, but the second one in the British Olivetti Tournament, we got to about the eighth hole and Dale Reid was on fire. Julie Brown was also going well and I remember thinking, 'if I don't pull my socks up here, I'm not going to even finish second'. But I think I then had a string of about eight birdies and, just like the British Girls, I saw the line of the putt and all I needed to do was hit it hard enough and it was going to go in. Apart from the match-play events, I'd led to start from finish in my other wins, whereas in that one I came from behind, which was nice.
And, of course, your LET career also included a round of 58. Where was that?
JC: It was at Eastleigh near Bournemouth. That was nice because my brother-in-law, David, caddied for me on that occasion. That was brilliant. It sounded better than it actually was, though, because I think the par was something like 66 and it was short but, at the same time, it was tricky.
When did you start to feel you didn't want to be a tour pro any longer?
JC: It was probably not long after the European Open, so it would be around 1990. I wasn't enjoying my golf and I just didn't want to be out on the course. The difference then was that my dad died in 1986 and I didn't have anyone to give me a row or say, 'behave yourself, get yourself out of this rut'. I started to struggle with my mental health at that stage as I didn't have anyone to help me.
In an interview a few years ago, you said you were once so angry with yourself that you raked your nails across your forehead on the course and drew blood. Is that right?
JC: Yes, I did. It was a sign of sheer frustration as I didn't want to be there by then. The funny thing is as a coach it is nice to have been a winner but I know what it is also like just trying to survive. Although the pressure of winning is hard, it's a heck of a lot easier than just trying to make a living. I can appreciate some of the kids struggling because it is really hard.
Based on your own experience, do you worry when you hear someone described these days as a child prodigy?
JC: Yes, I do. The biggest difference to now and when I was described as that is that I maybe had one or two tournaments a month and these kids have tournaments every single week. The pressure they are sometimes put under is so intense. I played because I loved the game and I just happened to be good at it. Don't get me wrong, some of the kids today are also brilliant players, but my worry is they are going to be burnt out before they reach their true potential.
How did your transition into coaching come about then?
JC: I was very lucky because a couple of years prior to having my mental struggles I had gone for a lesson with Jimmy Hume when he was still the pro at Gullane and he said, 'look, when you are not on the tour, I would like you to come and work for me' so I did. He put me through my PGA training so, as I was coming out of playing, I had already started my move into coaching.
You were based at Fenton Barns in East Lothian for a spell. How did that came about and how enjoyable was that spell?
JC: It came about through Jimmy. When it first opened, it was Jimmy who suggested to Keith Chalmers Watson that 'you should get wee Janie there'. It became full-time before I took it over myself and it was really good.
And, of course, you are now based at Kingsfield, near Linlithgow, working there for the Arkley family?
JC: I was at The Hermitage opposite the Braids and someone from Kingsfield had seen the work I had been doing there and they got in touch to see if I would be interested in doing something for them. I absolutely love Kingsfield. The Arkleys are such a lovely family to work for and, because I was there and Robert Arkley is friendly with Stephen Gallacher, I then got involved with his foundation. I've been very lucky, when I think about it. I have just been in the right place at the right time since starting to do coaching.
How satisfying is the work you do with the kids through the Stephen Gallacher Foundation?
JC: It's the best, honestly. It's not just the kids that have done well, it's also the boys and girls who play because they simply love the game. Of course, it's nice to see players doing well but equally nice is when someone tells you, 'Jane, I'm a member of a golf club now'.
Do you ever find a young golfer asking if you played at a decent level?
JC: No, not really. They probably see me just as an old lady, an old fart probably (laughing). Some of the parents remember what I was able to do. But I would like to think they (the kids) did think I was a decent player at some point.
Do you still get out for a game yourself?
JC: I play at the Old Course at Musselburgh with my sister. Before Covid started, it was with my next door neighbour as well and it is purely for fun. If I have a good day, then great. But, if I have a bad day, it doesn't matter.
Clearly that enjoyment is back on the golf course?
JC: Yes, I love it. I also love the history of the Old Course at Musselburgh.
Would you do anything different if you could turn the clock back?
JC: Yes. There's one thing I would definitely do differently and, again, it was because my nerves got in the way. It was probably in 1986 and I was second in the order of merit. Laura Davies was first and we both got invited to what would have been the Dinah Shore and the US Women's Open. She went - and won - while I didn't go because I was too nervous and that has to be the biggest regret of my career.
A message from the Editor:
Get a year of unlimited access to all of The Scotsman's sport coverage without the need for a full subscription. Expert analysis, exclusive interviews, live blogs, and 70 per cent fewer ads on Scotsman.com - all for less than £1 a week. Subscribe to us today https://www.scotsman.com/subscriptions/sports