On 20 June, the second longest day of the year, Kennedy will play 18 holes on 18 different courses in East Lothian, hitting his opening shot at Old Musselburgh and holing his final putt at Dunbar. In between, he'll also visit The Musselburgh, Royal Musselburgh, Longniddry, Craigielaw, Kilspindie, Luffness, all three Gullane courses, Muirfield, The Renaissance Club, both Archerfield Links courses, North Berwick, The Glen and Winterfield.
Hitting golf shots will probably be the easy part for the 37-year-old, a former Lothians Boys' Order of Merit winner who plays off plus one at Royal Burgess, but he's likely to be a touch tired as he tackles his final few holes as he is walking the whole way as he raises money for the Stephen Gallacher Foundation.
"The idea of the day came from childhood memories of driving out to East Lothian," said Kennedy, who not only has golf in his blood but works in the game, his current role being as director of content for Golf Digest after making his mark as the European Tour's social media manager. "We used to do our summer holidays in North Berwick in a house that overlooked the West Links while I was also a junior member at The Glen growing up. On the drives out, I would sit in the back of the car with my brother and stare out of the window at all the links courses we would pass. I used to wonder if it was possible to play your way across the whole of East Lothian without leaving a golf course, hitting shots from course to course all the way down the coast.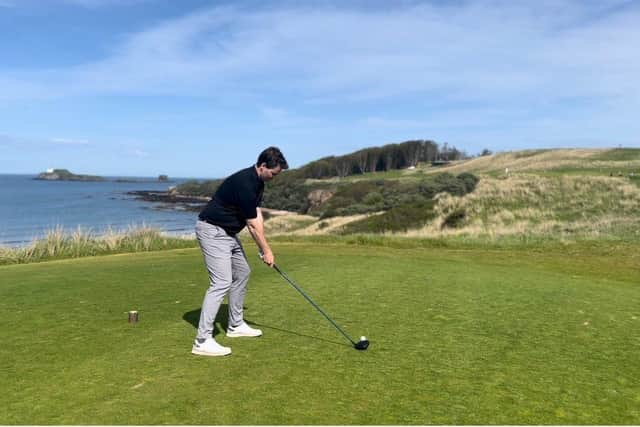 "During lockdown, I thought about it more and began looking at the courses and how many there were and how feasible a day like this would be. I started noting down the key/main courses along the coast and found there were 16 good courses from Old Musselburgh to The Glen, in a stretch that wasn't actually very far. The OCD nature in me felt it needed to be 18 holes/courses, so I looked further afield and found Winterfield and Dunbar. It means there will be a 10-mile walk to the 17th tee on this course, but it's worth it and great to be able to finish at Dunbar.
"It would have been great to play a few more of the signature holes of the courses, but it will still be great to play the likes of the opening hole at Old Musselburgh, the fourth at Longniddry, the 11th at Muirfield and the Redan at North Berwick to name just a few."
The challenge will see him walk approximately 50 miles, aiming to start around 5am and finish at 10pm. "In preparation for the day, I hand wrote letters to each of the clubs to ask for permission to play a hole on the day. All (well, nearly all!) were very generous and supportive of the day and gave permission with no questions asked," added Kennedy, who was at college in the US with Russell Knox.
"As for the charity, I had always thought if I did this I should use it for good and raise money for a worthy cause. I also wanted the charity to be golf-related as that's what this is all about.
"I've been to Stevie's charity dinner a couple of times and watching the video that explains what his foundation does really struck a nerve with me. Seeing the events they put on for kids of all ages and abilities reminded me of events I used to play at the kids course at North Berwick as a boy.
"I tell anyone that listens that those events are what got me hooked on golf from the age of eight or nine. Fun, well-organised events on a course that was designed for kids. It was great. By 11 or 12, I was trying to break par each time I teed it up and it gave me a competitive outlet that I wouldn't have found on a full-length, 18-hole golf course. Aged 13, I shot a 22 on the nine hole course at North Berwick (-5). If I played that course 100 times today, I wouldn't shoot 22!
"Stevie was always very kind to me during my time spent working at the European Tour and Ryder Cup. One of my first events working there was the 2012 Ryder Cup and of course that was a massive week for Stephen and his family.
"Since then, he and the other Scottish lads on Tour have been great and it was always fun catching up with them on the road. To be able to help Stephen and his foundation with this day in East Lothian is a nice way to give back to him and the game/area I fell in love with as a boy."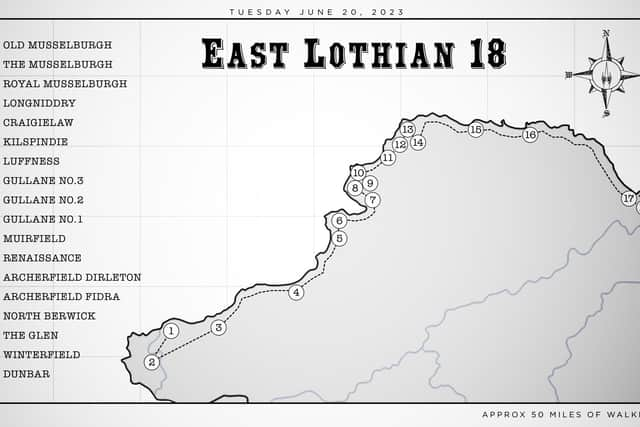 Kennedy is aiming to raise £18,000, which he describes as a "hefty target" but says the symmetry with the 18 holes was "too good to pass up". Urging people to support him through https://www.gofundme.com/f/east-lothian-18, he said: "Fingers crossed we get close to that number."