Is Tiger Woods playing the 2023 Masters? How many times has Tiger Woods won The Masters? Golfer's net worth
Tiger Woods is the first name most people, certainly those of a younger vintage, think of whenever The Masters is mentioned and that is perfectly understandable.
This will be the American's 25th appearance at Augusta National and he's penned an incredible storyline at the Georgia venue. He made his debut as an amateur in 1995, finishing in a tie for 41st to claim the prize for low amateur. A missed cut – his only one in the season's opening major – the following year in another amateur appearance might have been disappointing for him at the time.
But, in 1997, Woods produced a stunning performance to become the youngest winner of the tournament and the youngest winner of a major since World War Two. The American then added back-to-back successes, joining Jack Nicklaus and Nick Faldo as the only players to achieve that feat, in 2001 and 2002 before adding a fourth title triumph in 2005. At the traditional Champions' Dinner in 2017, Woods was heard telling fellow former champions that his back was in such bad shape that he may be finished with competitive golf. But, after having fusion surgery, he pulled off one of the greatest comebacks in sport by winning for a fifth time at Augusta National in 2019.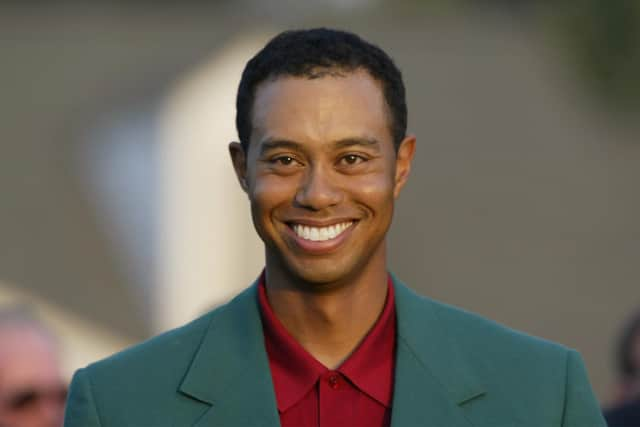 His mum Kultida and his two children Sam and Charlie were waiting at the back of the 18th green on that occasion and Woods was overcome with emotion as they all celebrated one of the event's most memorable moments. The win came at the age of 43 years, three months and 15 days. It was his 15th major victory in total but a first since the 2008 US Open. He also joined Nicklaus, Gary Player, Lee Trevino, Raymond Floyd, Billy Casper, Harry Vardon and J.H. Taylor on an elite list of golfers to have won a major in three different decades.
Where has Tiger Woods been playing?
Woods missed the 2021 event after suffering serious leg injuries in a single-car crash in Los Angeles earlier in the year, admitting he was "lucky to be alive". He returned to major action in last year's edition and, bearing in mind that Augusta National provides one of the toughest physical challenges in golf, he did well to make the cut before ending up in 47th spot. Apart from the odd regular event, Woods has said more than once that he is only really capable of playing in the majors these days and that is certainly his plan for 2023. His best score in 94 rounds at Augusta National is 65 while 78, which he signed for in both the third and fourth rounds last year, is his worst.
What is Tiger Woods' total prize money during his career?
Since turning professional in 1996, Tiger has amassed a mighty more than £90million in prize money, has won 15 majors and 82 events in total.
What is Tiger Woods' net worth?
Massive firms such as Nike, EA Sports and Gillette all used Woods to promote their products over the last 25 years. That makes his net worth come in at around £608million, leaving him as the second highest-earning athlete in history. His career earnings of £1.5billion are only surpassed by the £1.99billion coined by NBA legend Michael Jordan.