How LIV Golf narrative played part in captivating start to 2023 major campaign
The big LIV Golf celebration - they were apparently set to storm the 18th green, though we all know that wouldn't have happened on this particular stage - will have to wait.
But let's not beat about the bush here because there can be absolutely no denying that the narrative surrounding the players from the Saudi-backed breakaway circuit played a big part in creating a fascinating first chapter in the 2023 major season.
Brooks Koepka, of course, was mainly responsible for that as he made his presence felt for most of the tournament before finding out that is more difficult to win majors than he made it look for a spell when claiming four of them in less than two years.
Personally, I'd have had no issues if the American had come out on top on Sunday instead of Jon Rahm as I honestly felt he'd conducted himself well throughout the week and had been honest about how he might not have joined LIV Golf if he'd felt fully fit a year ago.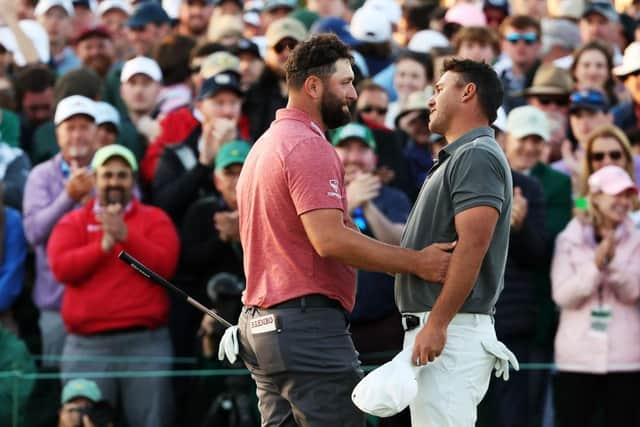 I don't think Koepka would have over-egged the situation if he'd been the one getting a Green Jacket slipped over his shoulders and it was no surprise, of course, that the classy Rahm didn't do that in reverse.
At the end of a captivating event, Koepka, Phil Mickelson and Patrick Reed all finished in the top ten, which represented a good result among the 18 LIV Golf players in the Augusta National field.
There was genuine excitement, not just among the patrons but golf fans watching at home, as Mickelson played with Jordan Spieth in the final round and Rahm and Koepka also went out together in the final round.
It was purely coincidence, surely, that Mickelson and Spieth shot 65 and 66 respectively, sharing 17 birdies, but that certainly provided a great spectacle in the game's most-watched event, so good on them.
As they go their separate ways again – the PGA Tour boys, minus Rory McIlroy, heading to Hilton Head in South Carolina for another of the new designated events and the LIV Golf guys to Adelaide – it can only be hoped that last week did, indeed, prove a watershed moment in an ugly year for the game.
As Fred Ridley, the Augusta National chairman, was right to point out, there seemed to be some harmony among players on the opposite sides of the sport's great divide and that needs to be carried forward. If it is, we can expect more of the same where it matters most – on the golf course itself, in the PGA Championship, US Open and The Open.
The $18 million prize pot for The Masters is less than what they'll be playing for in this week's RBC Heritage, that PGA Tour event, while it was also less than the LIV Golf League for one its 54-holers in Florida prior to the season's opening major.
That doesn't seem quite right, but, no matter how much crazy money is thrown around in the years to come, the 87th Masters was a very timely reminder indeed that nothing will mean more to players than either claiming a Green Jacket or picking up the Claret Jug, Wanamaker Trophy or US Open Trophy.
Yip, golf can still be good. No, make that very good!
Comments
 0 comments
Want to join the conversation? Please or to comment on this article.