Henrik Stenson: 'I was surprised I wasn't announced as former Ryder Cup captain' of Dubai round with Luke Donald
Henrik Stenson showed his well-known humorous side after playing with Luke Donald, the man who replaced him as Europe's Ryder Cup captain after joining LIV Golf, in the third round of the Hero Dubai Desert Classic.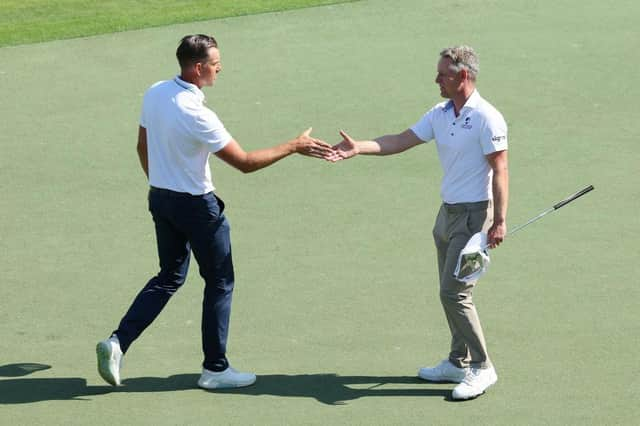 As was the case in last week's Abu Dhabi HSBC Championship, the first leg of a Rolex Series double-header in the UAE, Donald was announced on the first tee at Emirates Golf Club as "Ryder Cup captain".
Speaking at the end of their round together, a smiling Stenson, who'd held the post for just four months before being removed as a direct result of signing up for LIV Golf, said: "The only thing I would say is that I was surprised I wasn't announced as the former captain!"
The pair, who, as expected, showed no signs of any ill will whatsoever during their round, also had two-time Ryder Cup player Tyrrell Hatton for company on the Majlis Course.
"I posted a tweet last night, just a bit of fun," said Hatton of a Bart Simpson-themed post indicating he'd like to be well out of the way if the Ryder Cup had been mentioned at any point. "It went down pretty well. There was never anything negative there. I was just minding my own business and trying not to get in anyone's way."
Helped by three birdies in a row on the back nine, former Open champion Stenson shot a 70 to comfortably progress to the final day on four-under, but, with a 54-hole cut in operation due to 87 players making it past the halfway stage, Donald found himself heading home after 74 left him on level-par.
"Five-over through six wasn't very good!" he said in offering an initial reaction to the day. "No, there were no problems at all," he then added to being asked how it had been out on the course. "You guys like to make it a storm in a teacup. There were no issues. It was just like we were playing a normal round."
Hatton holed a monster 50-foot eagle putt across the green at the 18th, which he openly admitted that he'd regretted due to the fact he'd set plans in place to catch an afternoon flight when it looked like he was missing that cut at the end of the third circuit but ended up making it on two-under.
After taking off his hat, the Englishman buried his head in it for a few minutes and almost looked as though he was consoling his caddie, Scot Mick Donaghy, for doing something neither had really wanted before the pair left the green.
"I'm pretty sad about it," admitted Hatton, who was deep in conversation on the phone, presumably with his management team, when he emerged from the recording area before heading to the locker-room to weigh up whether or not he could gamble on leaving before the cut was determined.
"Seventy-two will make the cut and making that cut has just potentially cost me 48 hours at home. I was mentally at home yesterday," he admitted. "I was hoping the guys would make sure I could get home. I just crept in this morning. That is probably the only 50-foot putt I wish I'd never made in my life."