Hannah Darling: Nothing prepares you for playing at Augusta National for first time - it was overwhelming
Hannah Darling didn't exactly freeze when she made history by becoming the first Scottish woman to play a competitive round at Augusta National 12 months ago but, by her own admission, the occasion definitely got to her.
"It was pretty overwhelming," said the 19-year-old Scot as she recalled the historic occasion in the final round of the Augusta National Women's Amateur, having been left to fly the Saltire on her own after compatriot Louise Duncan missed the 36-hole cut.
"That was the most people I'd played in front of," added Darling, a proud member of Broomieknowe Golf Club on the outskirts of Edinburgh and also now flying the flag for the University of South Carolina. "Nothing really prepares you for that, especially at Augusta National."
While Duncan has now embarked on a professional career, Darling is back in Georgia this week for the fourth edition of what is referred to by players as the 'ANWA', having secured her invitation once again through a lofty position – she's currently 12th – in the World Amateur Golf Ranking. The event starts on Wednesday at Champions Retreat, where, after 36 holes over two days, the top 30 and ties will then move on to Augusta National, playing a practice round there on Friday then the final 18 holes on Saturday.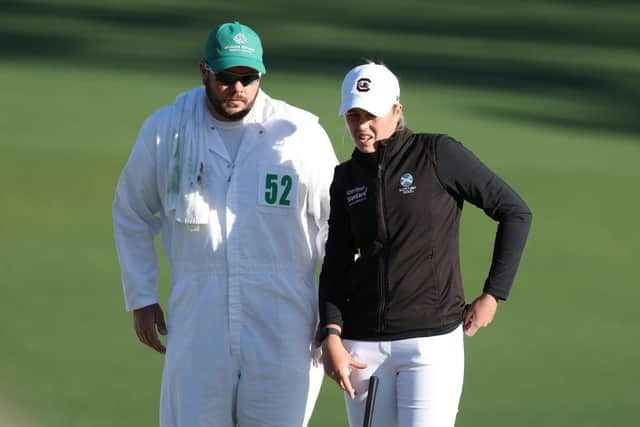 "I am very excited and we are driving there now," Darling, who, after a final-day 79, tied for 27th last year behind 16-year-old American Anna Davis, told The Scotsman, having politely apologised for being hard to track down on this particular occasion but having absolutely no need to. "It offers a lot of opportunities and I think last year I didn't quite take it all in enough. I kind of got wrapped up in a lot of stuff while I also had a lot of school work going on. There were things going on and this year I just want to go out and enjoy it.
"For me, I think the weeks I just enjoy it and let things happen are the ones I perform my best, so that's what I will be aiming for this week. Now I feel that I've done it once and got that under my belt, I'm hoping that I will feel a lot more comfortable and know now what to expect."
This year's field boasts 44 players ranked inside the top 50 on the World Amateur Golf Ranking. A total of 20 different countries are being represented, with Darling being joined by English quartet Caley McGinty, Charlotte Heath, Lottie Woad and Amelia Williamson.
"I just got off to a slow start," said Darling, the 2021 R&A Girls' Amateur champion. "You play the first hole and there are hundreds of people around the first tee and green and it almost shocks you when you go out. I just wasn't quite comfortable, to be completely honest. Yeah, I was nervous and just kind of got wrapped up in things. I was playing with Rachel Kuehn and she made lots of birdies early on whereas I just felt it was a lot of pressure. My putter did turn a bit cold that day, unfortunately, but that's just golf."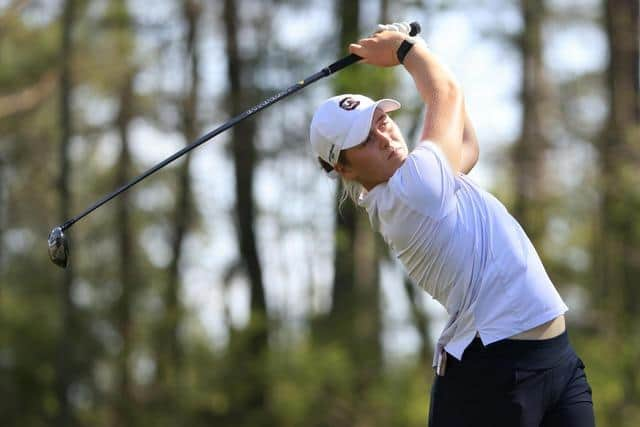 American Rose Zhang, who was the leading amateur in last year's AIG Women's Open, heads this week's field, joining Emilia Migliaccio and Erica Shepherd in becoming the only players to have teed up in all the editions so far. In comparison, Darling is still learning the ropes, so to speak, but she's more than capable of making her presence felt. "My game has felt really good," she said. "I had a really good fall campaign, when all four events were top-six finishes. I then took five weeks off after that as I don't want to get burnt out later this year. I've probably been a little bit rusty since coming back from that but in an event in Athens (the Georgia one) last week it definitely felt as though my game was coming together again."
In just her second year at South Carolina, Darling has made a 15-player shortlist for the Annika Award, which is presented annually to the most outstanding women's college golfer, with past winners including Ireland's Leona Maguire. She described that as "cool" and, while another exciting summer season is already looming, it would certainly be special if her schedule included starts in both the US Women's Open and AIG Women's Open, rewards that are up for grabs this week.
"I'll hopefully also have the NCAA Nationals and I am really excited to see what we can do over the next few weeks as we've got a great group of players," she said. "I think people underestimate how busy we are trying to keep on top of school work and practice our golf and also try and have a life outside of that, too. It's definitely been busy, but it's worth it."
Darling has already played in two Curtis Cups. If she can make it three in a row, she'll have Catriona Matthew as her captain after the two-time winning Solheim Cup skipper was appointed to lead Great Britain & Ireland in next year's amateur contest at Sunningdale. "It's great," said Darling of that announcement. "I'm really excited, actually. Catriona is great and over the last few years I've got to know her a bit better. She's a great person who has had success both on and off the golf course. It's amazing that The R&A have been able to secure that captaincy and I was actually talking to some players, including Annabell Fuller, about it and we are all very excited about that and what she can bring to the role."
Comments
 0 comments
Want to join the conversation? Please or to comment on this article.