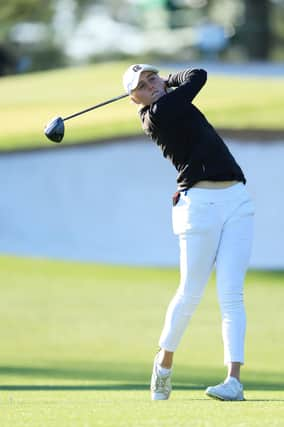 On a day when Hannah Darling, the sole Scot in the field, birdied her final hole for a two-over 74 to sit just inside the cut mark in the battle to make it to Augusta National for the third and final round, Zhang and Davis provided the headlines but for different reasons.
Zhang's six-under-par 66 at Champions Retreat was the best so far in four editions of the tournament and she achieved the feat in style with a bogey-free effort.
"With it being so soft and being muddy (due to heavy rain in the Augusta area earlier in the week), I can't really expect anything more out of my game today," said Zhang, who finished as the leading amateur in last year's AIG Women's Open at Muirfield.
The 19-year-old, who is one of three players teeing up in the event for a fourth time, attends Stanford University in California and this sparkling effort was watched by Condoleeza Rice.
The former US Secretary of State and one of Augusta National's first women members, Rice has strong Stanford links. "It's so inspirational," said Zhang, who leads by a shot from Sweden's Andrea Lignell, of her being in attendance.
Preferred lies were in operation due to the course being saturated, but, inadvertently, Davis took two in the rough at the first, leading to a 5 being turned into a 9 and her total becoming a 76 before she signed her scorecard at the end of the round.
"I was a little taken aback," said the 17-year-old, who was alerted about the infringements on the fourth tee. "I had a good round if you don't count the first hole."
Darling, who made it to the final round on her debut last year, sits in a tie for 23rd after a round that contained two early bogeys, a mix of three bogeys and two birdies at the start of her back nine then that closing birdie, which left the 19-year-old Broomieknowe player smiling at the end.
"I just went into it trying to have some fun," said Darling of her day. "Last year I think I kind of got wrapped up in everything that was going on. It's quite easy to. There's a lot going on. We're treated like the best in the world that we are.
"I've got my team-mate, Sophia [Burnett], caddying for me this year. So we just went out and kept ourselves laughing and played golf."
The effort left the University of South Carolina player sitting as the second-best among five British players, with Charlotte Heath taking pride of place with a par-72 to lie in joint-13th.
"I put myself in a few awkward positions early on in the round, but managed to putt from pretty much everywhere today. So that was definitely big to build on," added Darling.
"I feel like the nerves are a little bit more out of the way now. So we can go and just do our thing tomorrow."