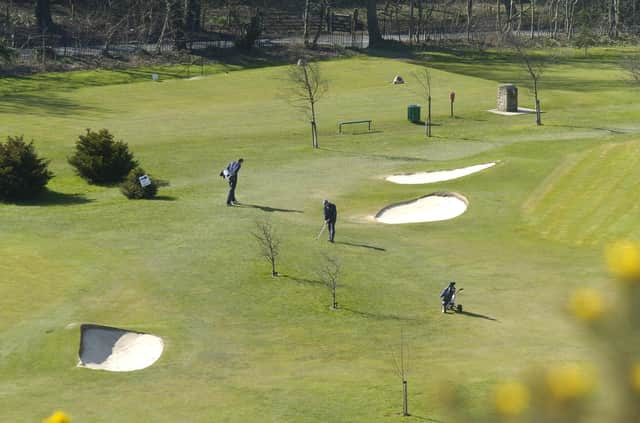 The manager of one of the top golf clubs in Edinburgh has expressed shock at a greenkeeper being "threatened" by a golfer.
The incident happened on Thursday at Merchants of Edinburgh Golf Club in the heart of the city.
Like all courses in Scotland, it remains closed due to the coronavirus lockdown restrictions.
But, in common with a number of venues, it has seen frustrated golfers starting to turn up, mainly to practise, without permission.
"We have been advised this morning of an incident which has just occurred at the course," Merchants club manager Melanie Dobie said in an email to members.
"A member of our green staff, while carrying out his duties, was threatened by a golfer.
"This individual, who claimed to be a member, was practising on the putting green at the first tee and our green staff told him the course and all practice facilities were closed and he should refrain from playing. Our staff member was then verbally abused and physically threatened by a club. This behaviour is totally unacceptable and no one should have to experience this when carrying out their duties."
The incident came a few hours after the police were called to nearby Mortonhall Golf Club following a report of people playing there.Mortonhall club manager Alan Mackay said: "I have been in touch with police on a regular basis about the amount of 'traffic' on the golf course at times, which has been ridiculous.
"The police were called again last night as a member who was out walking took a picture of people golfing.
"By time they arrived, they had gone and were then called out to another incident."
Many golf courses around the country are being used at the moment by non-golfers for daily exercise.
Mackay added: "80 per cent of people are very courteous in where they walk on the course.
"But there are some who have no disregard in how much hard work the green staff have put in to making the course look as good as it does."
People have also been spotted practising in bunkers at the Braids, one of the Edinburgh Leisure courses.