Grant Forrest reckons his 'edge' helped secure DP World Tour Championship return
Grant Forrest knows he can sometimes be his worst enemy on a golf course but, at the same time, admits he is reluctant to lose the "edge" that shaped his career in the amateur ranks before becoming a DP World Tour winner.
A bit like compatriot Bob MacIntyre, Forrest has a habit of being a tad too hard on himself at times despite acknowledging that it's not easy to be successful at the top end of the ladder in the professional ranks.
"I think it's one of those things that's probably got us where it has," said the 30-year-old, speaking in Dubai, where he is playing in this week's season-ending DP World Tour Championship along with MacIntyre, as well as Ewen Ferguson and Connor Syme.
"If you take it away completely and start accepting things that aren't good enough all the time, I think that's more dangerous. It's part of what makes us competitors and part of the reason we are able to do this for a living. It's part of your edge and drive because you expect certain things of yourself and, when they don't happen, it's frustrating. It's just a case of managing that the best you can."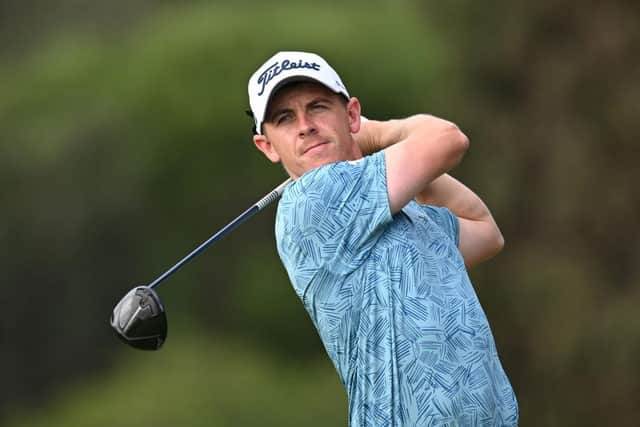 Forrest finished joint-16th in his second appearance in the season finale two years ago before missing out 12 months ago as the 2021 Hero Open winner ended up 95th in the Race to Dubai after a disappointing campaign.
The Pencaitland-based player comfortably secured his spot in the 50-man field on this occasion, though, after getting the season off to a solid start in Abu Dhabi back in January before finishing just outside the top ten in the Genesis Scottish Open then claiming a tie for third in the Horizon Irish Open.
"Yeah, I didn't even make the Nedbank last year, so to have this wrapped up since Ireland was a good way to bounce back this year and also a sign that I have played much better golf," said Forrest. "A couple of years ago I played pretty well here, having a good last day. It's a driving golf course. If you do that well, it sets you up.
"The rough is a bit different now. It's a lot thicker. They don't overseed, so it sits right down in the Bermuda and, if you get a bad lie, it's hard to get more than a short iron on it. Place is in great condition. Greens are quick and they are going to be firm as well. It's just a serious test of golf."
Forrest heads into the event sitting 35th in this year's Race to Dubai and, with a whopping $10.5 million up for grabs, he is looking to finish the season off on a high.
"Loads of positives," he said of his 2023 campaign. "Results-wise, it's been a lot better compared to last year. I've been up there numerous times and am happy to bounce back from last year.
"Years like I had last year are the ones you learn from the most. You can get to a point in a season where if you are not where you feel you should be or not had the results you're looking for, it's quite easy to hit the panic button.
"It's always about trying to take a longer-term view of things, which is a lot easier said than done because, at the end of the day, you need results. But, over the course of your career, it's about what's your medium or longer-term plan. Of course, there will be things you feel you need to do in the short term to get a result, but it's always about keeping attention to the longer-term position."
After this, Forrest is heading to Australia for a double-header there to start the new season and he'll be a married man when he starts out again back in the United Arab Emirates in January as he's tying the knot with his long-time girlfriend, Christy Farrell, next month.
"We say it's Christy's wedding featuring Grant," he joked. "Seriously, though, we're excited. It's going to be a great day. I'd love to say I've had loads to do with the planning, but I've not. She's been great at sorting everything out."
Comments
 0 comments
Want to join the conversation? Please or to comment on this article.