Grant Forrest: Last year was struggle but I learned more from it
Grant Forrest reckons he learned more from his "struggle" on the DP World Tour last season than he did becoming a maiden winner on the circuit the year before.
The former Scottish Amateur champion had been looking to kick on after a stunning success on home soil in the Hero Open at Fairmont St Andrews helped him finish 36th in 2021.
But, instead, he found himself on the "bubble" towards the end of last season before having to settle for 93rd in the rankings.
"It wasn't the best year," admitted Forrest, speaking as he prepared for this week's Abu Dhabi HSBC Championship at Yas Links. "It was a bit of a struggle.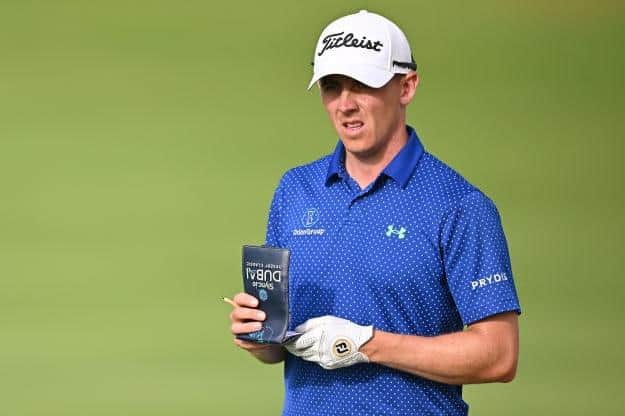 "I struggled with my game mostly, which was quite tough. I think it's different when you've got an injury, but, when you feel your game is not quite there, it's tough to go out and feel confident. You kind of expect to keep pushing on and doing better every year and it didn't happen, which is frustrating.
"I was kind of on the bubble for a while then had a good Dunhill (finishing in the top ten) and that felt like a bit of weight off my shoulders knowing that, even though it wasn't the best of years, I was still going to be out here.
"I learned a lot from last year and I think that's the most important thing when you have not had such a good year. I think you can learn more from that kind of year."
Forrest played in two events in South Africa and also the Mauritius Open before Christmas at the start of the new campaign. "It wasn't too long a break because of that," he said. "But I feel recharged, having got some good work done during the break and I'm ready to go."
The 29-year-old, who is getting married at the end of this year, has a new caddie in Davy Kenny, who was on Paul Lawrie's bag for a successful spell. "Davy is really experienced and a really good caddie and I think it will be a good partnership," he said of his fellow Scot.
Forrest came out to the UAE early to try and get rid of any rust, but he was working on his own at Al Ain and is doing likewise here.
"I don't have a swing coach at the moment," he said. "I've gone back to what I know. I feel I know enough about my own swing now. It's just going back to what I did when I was playing well. It's easy to get caught up trying to change things. The intention is good, but sometimes it doesn't work."
Comments
 0 comments
Want to join the conversation? Please or to comment on this article.