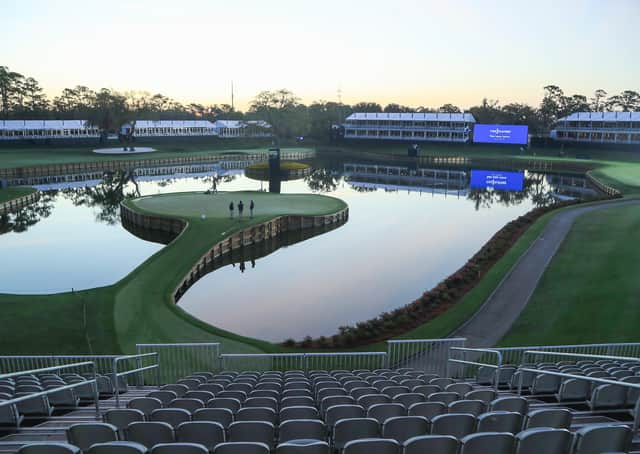 The gallery around the 17th green at Sawgrass was empty with the cancellation of this month's Players Championship. Picture: Getty.
RICHIE RAMSAY (European Tour)
It is bananas just now and I think it is going to get worse before it gets better. It's the scale of it, really, that is quite frightening. It doesn't matter what walk of life you are from, it affects everyone. With that in mind, it is even more important for all of us to act together. That hadn't happened straight after last week's warning about "non-essential" contact, and that's why the Government made the announcement on Friday to ask pubs, clubs and restaurants to close.
When I was coming back from Dubai just under a fortnight ago, I was concerned because there were flights coming in to Edinburgh from Italy around the same time and I was pretty bewildered by that, especially as they were coming from areas that are heavily affected.
I understand that you have to get people back from places in a situation like this, but when I arrived at the airport, I was a little bit surprised because you couldn't really tell something was going on. It's been other places as well.
I take something for an issue I had in my eye. It's an immunosuppressants, so it lowers my immune system and I took a step back from normal day-to-day activities after the first few days I was back home. I decided I needed to stay away from the gym, even though I was wiping equipment down, and I have set up a temporary gym at home and I am trying to restrict 
everything I do.
It's not just for me but also some of the elderly people in our housing development, and I also have to think about my wife, Angela, and our daughter, Olivia, too.
I think they were smart to make the calls on the tournaments that have been postponed as that gives people a bit of clarity. I think communication is so important at the moment. We need people to be clear, concise and articulate about everything, not only in our sport but in all walks of life.
The Irish Open is now due to be the first event on our schedule, but, being completely honest, I can't see that going ahead. If someone said to me, 'Richie, we are going to start up again at the end of June', I would take that hands down.
If the Open in mid-July was the first one back, it wouldn't surprise me but, at the same time, it may be a lot longer than that.
People almost seem a little bit lost without having sport as an outlet, that coming together and the joy it brings. Sport can almost be an escape from the day-to-day life. At the moment, though, we need to act together and push in the same 
direction.
While the decision has now been made following Monday's address to the nation by Prime Minister Boris Johnson, it seemed as though opinion was split on whether or not 
people should still be out playing golf. Before that announcement, I could see why so many people still wanted to get out for a game and, making the necessary adjustments, felt a golf course was a safe 
environment.
Playing golf could have helped people stay healthy, both physically and mentally. I think the big thing for me is – okay you can get out for a walk, but I think people are going to see how big golf is mentally.
I was down at the Renaissance Club on Friday just to hit some balls. Gullane was really busy, albeit on a beautiful day. The car park at Luffness was also like a Saturday morning when it overflows on to the grass.
However, golf at all levels is definitely no longer a priority and I sincerely hope that everyone takes the advice issued by Scottish Golf on Monday night to stop playing for the time being, with lots of courses around the country acting swiftly to inform members of immediate 
closures.
One of the things I've learned from golf is that you can't control the uncontrollable. So this gives me a chance to spend more time with Olivia. I've got to be careful what we do. But, towards the end of last week, we went for a walk up Blackford Hill in Edinburgh, which was great fun.
Seeing her pretty much every morning and every night is pretty much a luxury for me, to be honest. That's a nice thing.
It's trying to make the best of a bad situation, which I think I have definitely learned to do on a 
golf course!
ANDREW OLDCORN (Staysure Tour)
Like all of my colleagues out there 
in the world of professional golf, myself and my family are in a state of bewilderment about what is actually unfolding on a daily basis.
What originally started a few weeks ago with a level of concern of how it would impact upon my job has escalated as I have now turned all my attention to the safety and health of all of my immediate family.
I really can't even think about my career right now as it is way down the list in my priorities at the moment.
I had been looking forward to getting started again so much as I haven't actually played a tour event since last October as I had injured my elbow, which meant I missed a substantial number of big events on the Staysure Tour at the end of last season. "Whilst rehabbing that particular injury through the winter months and progressing and increasing my practice in anticipation of the start of my season, I was looking forward to getting back into it all again.
Even as I approach my 60th birthday at the end of this month, I still have the desire and work ethic to keep going every spring. But, as much as I am still practising as much as I can under the enforcements we are facing, as much for the fresh air as anything, I know it's going to be a long time until we can entertain resuming normal tour life.
I think there has to be some element of realism here that it is entirely possible we may not play one event this season. As much as that is a sobering prospect for us as a family as I still have a family to provide for and support, it isn't really as important as saving lives.
My wife worked as a registered staff nurse for ten years before we got married and had our family. It is those people that are going to be in the frontline in the next few weeks and months that we must think of the most right now and offer as much support to them as well as family and our neighbours and friends."
GEMMA DRYBURGH (Ladies European Tour and LPGA Tour)
From what seemed a small problem 
at the start of the year when the LPGA Asian events in China, Thailand and Singapore 
were cancelled to where we are now, 
I still can't quite get my head 
around it.
We were in Australia at the time and we all thought it would be an issue mainly in Asia, but then it gradually became more and more of a global issue once the virus started to spread.
Now everyone seems to be affected all over the world.
It is hard to see when we might play competitive golf again. I am hoping we can play and get back to normal by the summertime, but the situation is so fluid that no one really knows how the situation will be in a few months.
It is hard for all of us, but I feel really sorry for the rookies who have just qualified for the LET or the LPGA and are desperate to get a start in an event and make their mark.
It is going to be tough not knowing when we will have an opportunity to play for some prize money again. In our off season we have time off but we always have a date or a tournament to aim for. Now everyone's guess is as good as mine to when we might play again.
Every player is in a different position financially, some may need to try to get a job in the meantime which in itself won't be easy at a time like this.
But hopefully we can all get through these few months or however long it ends up being and come out stronger together.
DANIEL YOUNG (Challenge Tour)
I was meant to be going to the United States 
for a few weeks to get ready for the start of the main part of the season, but that trip had to be cancelled.
I think the biggest problem we are all finding is the 'unknown'. Nobody really knows what is going to happen, so it is very difficult to predict what will lie ahead in the coming months. I think all we can do is try and stay sharp and see what happens come May time.
It was great to get my first full season on the Challenge Tour off to an encouraging start in South Africa earlier in the year, so this is particularly frustrating for me.
But there will be plenty of other guys in a similar situation as me, so all we can do is wait and see how everything pans out. Right now I would say it doesn't look all that good moving forward. We are in for a very interesting few months, I think.
JOHN HENRY (PGA Euro Protour)
The news about our tour being cancelled did not surprise me as they were calling off European Tour and Challenge Tour events as the weeks go on. So the right thing to do would be to follow suit.
I think the PGA EuroPro Tour organisers have released this news as late as they could have considering the first stage of the Qualifying School was due to start in two weeks' time.
The qualifying schools of all tours are a big earner and help with the cash flow for the tour's year. Without them, it's impossible to run the tours as well as they do. Maybe the situation we are in now justifies the European Tour Qualifying School entry fee of £1800.
I feel the PGA EuroPro Tour's statement saying there may be some events towards the end of the year is false hope. I hope I am wrong, but when we get through this it's going to be a great scapegoat for companies to bow out of any possible future sponsorship opportunities with 'ah, we've tightened up the purse strings due to the coronavirus'.
Thankfully, I have been working full-time since coming home from the second stage of the European Tour School in mid-November and also done some other bits and bobs throughout. So, luckily, I will have an April wage. I finished my work last Thursday, however, to concentrate on getting ready for the start of the new season, so I will be calling the office looking for my job back, I think!
I fear for the guys who have been full-time for years making a decent living from the game, built up a nice style of living etc who will be looking like picking up a minimum wage job to try to bridge the gap on the bills.
I had been hoping that we could keep playing on the Big Johnson's Tour, a home-based circuit, that I run. Our first pro-only event this season was last Thursday at St Andrews Jubilee, which was full with four players on the reserve list.
Our first one pro, one amateur event was on Monday at Archerfield, and we were trying to add more events to our schedule, but the circuit is now on hold following Monday's virtual lockdown.