GB&I captain Stuart Wilson dismisses 'Blairgowrie bias' claim in Walker Cup team
Zach Johnson and Suzann Pettersen aren't the only captains who've been feeling a bit of heat over recent team selections in golf, Justin Thomas having proved a controversial Ryder Cup pick by the former and the latter's decision to overlook Jodi Ewart Shadoff for the Solheim Cup also raising some eyebrows.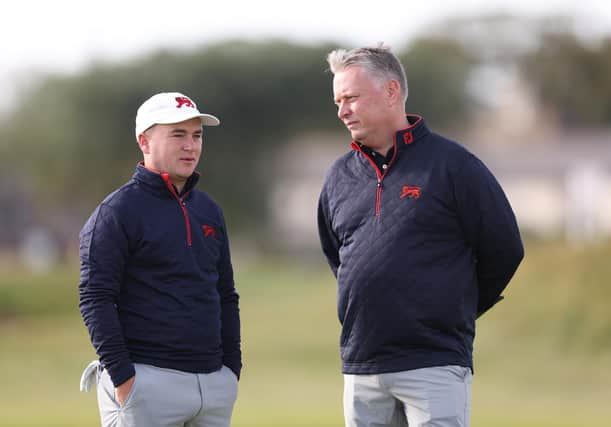 In Stuart Wilson's case, the inclusion of Connor Graham in the Great Britain & Ireland team for this week's Walker Cup at St Andrews prompted one individual to claim on social media that it had been influenced by Wilson being the managing secretary at Blairgowrie, where Graham is a member.
"To be fair, I totally get that," said Wilson, smiling, as he spoke to The Scotsman at the Old Course Hotel before heading to Kingsbarns with his players in a bid to break up a long week in preparation for the 100th anniversary of the match being played for the first time at St Andrews.
"But, as anyone who knows me would tell you, I never show bias to anyone. I've captained teams in the past, including the GB&I Boys, where there were no Scottish lads on the team. We pick the ten best players who we believe are going to give us the best chance of delivering points."
Though four Irish players - Alex Maguire, Matthew McLean, Liam Nolan and Mark Power - are in the ten-strong team, it seems that the decision to overlook world No 58 Caolan Rafferty hasn't gone down too well with some people.
"WAGR (World Amateur Golf Ranking) is a great tool in some respects, but for those who are maybe on the outside and looking in, it's easy to use WAGR as a stick to beat as well," added Wilson.
"At the end of the day, we are looking at players we believe have the ability to deliver a point for us. So consistent performances might not be the actual key to making the team. We are looking for the guys with that kind of killer instinct who want to go out there and get the job done."
Both Graham and Nairn's Calum Scott made the line up after being named in an initial squad towards the end of last year and, according to Wilson, 16-year-old Graham has earned the chance to lock horns with a star-studded US side this weekend.
"Absolutely and that's why he's here," added the GB&I captain. "The talent is there and it's clear for all to see. He could probably do with becoming a bit more consistent. But, when he's on, he's absolutely unstoppable. I appreciate he can't play at that level all the time, but I am sure this is the kind of environment Connor will thrive in."
Scott is following in the footsteps of his older brother Sandy, who played in the 2019 match at Royal Liverpool. In both instances, spells at Texas Tech contributed to those chances being secured. "Sandy had a great amateur career and a great Walker Cup as well," observed Wilson. "Calum was always the wee brother in the background always doing his own thing. Then he went out to America and came back like a man mountain (laughing).
"His golf has been just brilliant. He played for GB&I last year in the St Andrews Trophy and it was going to take ten golfers playing some great golf to push him out of the team. I think Calum was probably a stick on from the start."
Comments
 0 comments
Want to join the conversation? Please or to comment on this article.