Fred Couples: LIV players bashing PGA Tour bothers the hell out of me
Former Masters champion Fred Couples joined Tiger Woods and Rory McIlroy for nine holes at Augusta National on Monday then said he was sticking by his recent robust remarks about LIV Golf players.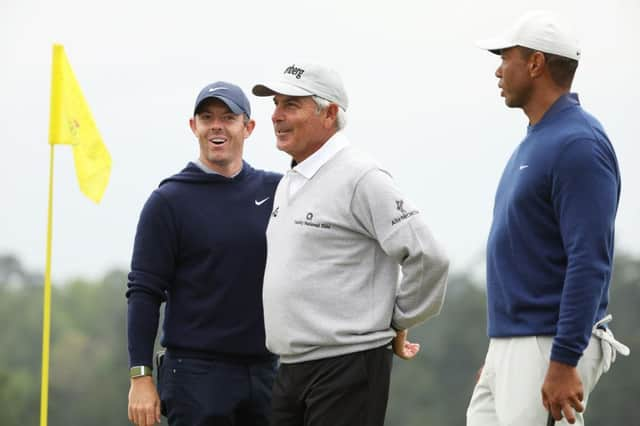 In an interview last month with the Orange County Register, Couples called three-time Masters winner Phil Mickelson a "nutbag" and hit out in broader terms at LIV Golf players over bleating about the PGA Tour.
Speaking on the first official practice day for the season's opening major in Georgia, Couples said: "I've made comments, but they need to understand if they've looked at anything I've ever said, I call myself the same stuff I'm calling them. I just don't think they should bash the PGA Tour or anybody, just go play golf.
"If one wants to stop and ask why I'm picking on them, then I'm all for it, but I don't really think I've done anything horrific. They're making comments and I'm replying to them. That's it. I have no problem with any of them, just please do not bash a Tour that I have 43 years invested in. It bothers the hell out of me.
"But I have no problem with anyone on the LIV Tour. I really don't. I would love to be paired with Phil. I mean, he's one of the best players that ever played. He loves this place as much as I do, and if we did, we'd look at each other on the first hole and we'd have a good time."
Six LIV Golf players will be in attendance at Tuesday's Champions' Dinner, with two-time winner Ben Crenshaw saying over the weekend that he was "a little concerned" about how the atmosphere might be.
But Couples said of that: "I'm not expecting anything different. I sit in a great spot, so I'm down by all the beautiful people that I've sat with, and it's not that the other ones aren't.
"But I'm saying [Jack] Nicklaus, Tiger, [Raymond] Floyd, myself, Sandy Lyle, and then right to the head of the table. So, for 20 years almost, Raymond has told me where to sit and how to do it, and I'm not near a whole lot of people."
Comments
 0 comments
Want to join the conversation? Please or to comment on this article.