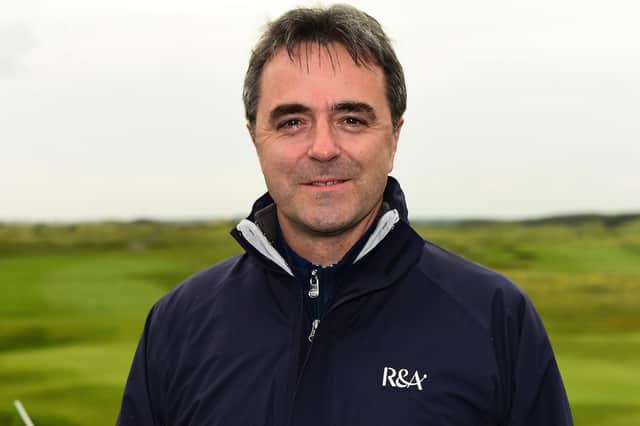 The R&A has appointed Phil Anderton as its chief development officer. Picture: The R&A
Phil Anderton, the former chief executive of Hearts and the Scottish Rugby Union, has landed a new role with golf's governing body.
The R&A has appointed the Scot as its chief development officer. The experienced Anderton has held a number of key jobs in a variety of sports and has a reputation as a moderniser.
He earned the nickname "Fireworks Phil" during his time at the SRU for introducing spectacular pyrotechnics into the pre-match entertainment.
He then worked for Hearts during the early, rollercoaster days of the Vladimir Romanov era.
He also has experience working in tennis with the ATP Tour.
Following Duncan Weir's recent retirement after 35 years with the R&A, Anderton will take on Weir's strategic and operational responsibilities for golf development and amateur championships. He will also assume responsibility for sustainability, the British Golf Museum and for the R&A's international offices in Singapore and Argentina.
Martin Slumbers, chief executive of the R&A, said: "Phil joins us at a time when the importance of developing golf around the world and building momentum on the growing interest in the sport has never been more important.
"He is very well placed to harness the investment we make to grow golf in so many different ways and ensure it is managed sustainably. Phil will play a key role in shaping our future strategy and delivering our commitment to ensuring golf is thriving in 50 years' time."
Anderton said: "I am delighted to be starting a new role working for the R&A and it is a privilege to be given the opportunity to help shape the sport worldwide."Our goal is to ensure the sport thrives by becoming more appealing, accessible and inclusive and the R&A has a huge role to play in driving that effort. The sport has so much to offer and I look forward to working with our affiliated national associations, federations and partners across golf to make this happen."
Anderton will be based at the R&A's headquarters in St Andrews.
His early career involved roles with Procter & Gamble and The Coca-Cola Company before he moved into high profile positions with the SRU and Hearts. He was then chief marketing officer of the ATP Tour and chairman of the ATP World Tour Finals before becoming chief executive of Al Jazira Sports Club in Abu Dhabi.
While at the ATP, he reviewed the golf industry's work in growing participation at grassroots level to help inform tennis. More recently, he has run his own consultancy businesses.