Falling back in love with golf thanks to Covid games
We've all been there. Hating golf rather than enjoying it. And, for me, the low point in that respect just happened to occur in the one place it really shouldn't - the Old Course in St Andrews.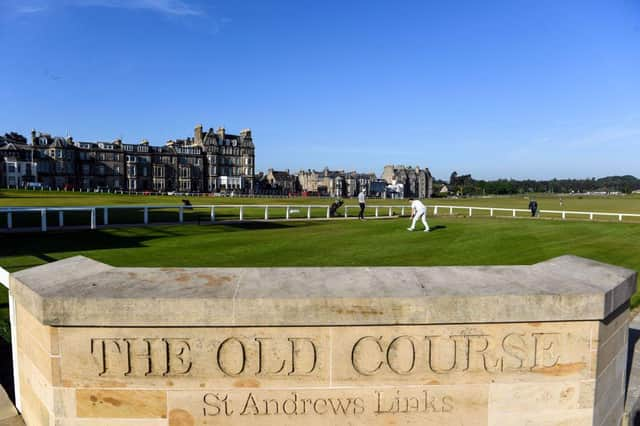 Golf correspondent Martin Dempster hit rock bottom on the Old Course in St Andrews during a media event in 2015. Picture: Andy Buchanan/AFP via Getty Images.
It was a media event for the 2015 Open Championship, and I still cringe to this day at the thought of being unable to get my ball airborne most of the way round in one of the most embarrassing experiences of my life.
Okay, it wasn't nearly as humiliating as a fresh air shot on the first tee at Muirfield at a similar gathering two years earlier, especially as news of that seemed to spread like wildfire in the local community, but this wasn't just one of those off days.
For way too long, back to when I was the editor of a golf magazine and enjoyed some nice perks, I had been trying too many different clubs and, if memory serves me correctly, I might even have had THREE drivers in the bag that day.
Honestly, I left the Auld Grey Toun feeling like a broken man and, for a good while afterwards, things didn't improve. I ended up being content feeling as though I was getting my golf 'fix' solely from my work and, frankly, didn't look forward at all to being out on the golf course for anything else.
It got so bad that I was barely taking the club back before finding myself trying to swat the ball like a fly, the thought in my head at the time being similar to Raymond Jacobs, the former Herald golf correspondent, when it was revealed by one of his colleagues that "oh, no" was his cry even before the point of impact.
Golf is a punishing game when you are in such a fragile state and, though the recovery process has been slow, it has only just dawned on me that those dark days have been left in the past.
Fittingly, it was actually driving up to St Andrews last week for my final game of 2020 - one of the benefits of living in Fife during the previous set of Covid-19 restrictions - that I found myself thinking about what had helped me turn the corner and it almost came to me straight away.
One of the reasons I fell in love with golf in the first place was down to the fact, as a teenager, I was offered the chance to be part of a brilliant group of people through joining my dad and his mates for their weekly Sunday morning game at Dunbar.
They were all from Berwickshire, a bunch consisting of down-to-earth, hard-working individuals, and it was the highlight of my week being in their company, not just out on the course but back in the clubhouse afterwards sitting at a couple of tables before crowding around the Tic-Tac-Toe machine trying to land its £5 jackpot in 5p pieces.
Sadly, most of the members from that group, my dad included, have passed away and, having moved away from that area myself, it has taken time to feel as though I have been given the chance to replicate that situation where I now play my golf, which, as regular readers of this column will know is Aberdour.
Thanks to three people in particular but also others who fit into our regular fourball if a slot arises, I am back loving the game again due to the fact there are few better places to be in life when you are in good company, and we certainly enjoyed plenty of that in 2020.
Apparently, I played 50 times at my home club last year, which is probably double what I'd have managed if the pandemic hadn't prevented me from covering my normal quota of tournaments in the height of the season.
I probably played a dozen more rounds, including an outing back at the Old Course that helped me exorcise the demons from five years earlier, and, hand on heart, I enjoyed every single one of those 60 or so games.
Looking back, I also have two of Scotland's top players, Stephen Gallacher and Marc Warren, as well as European Tour chief executive Keith Pelley, to thank for helping me regain that playing passion.
In the build up to the 2019 Aberdeen Standard Investments Scottish Open, Pelley asked me to make up a four ball at The Renaissance Club on his first visit to the East Lothian venue. Deep down, I thought I'd made a big mistake saying 'yes' and felt out of my league entirely.
However, thanks to that trio reminding me that being out on a golf course is mainly about trying to have some fun, it was one of the most enjoyable days I've had through the game and, indeed, has become my own personal benchmark in that respect.
A message from the Editor:
Thank you for reading this article. We're more reliant on your support than ever as the shift in consumer habits brought about by coronavirus impacts our advertisers.
If you haven't already, please consider supporting our trusted, fact-checked journalism by taking out a digital subscription.
Want to join the conversation? Please or to comment on this article.