Ewen Ferguson tips hat to 'bloody superstar' Nicolai Hojgaard after Dubai win
Ewen Ferguson hailed Nicola Hojgaard as a "bloody superstar" after watching from close-quarters as the 22-year-old became golf's new Great Dane by landing a two-shot success in the DP World Tour Championship in Dubai.
On a day when Tommy Fleetwood and Viktor Hovland both held the lead at one point or another in the final round of the season on the DP World Tour, victory eventually went to Hojgaard after producing a burst of five straight birdies from the 13th hole on the Earth Course at Jumeirah Golf Estates.
After missing a great chance at the par-5 18th to extend that run to six, Hojgaard pulled the brim of his hat over his face to hide a feeling of disappointment as he feared that might come back to bite him in the $10.5 million Rolex Series event. But, as he was making his way to the recorder's area, Fleetwood dropped a shot after three-putting the 17th and then neither him, Hovland or overnight leader Matt Wallace managed to eagle the last to force a play-off.
Hojgaard's closing 64 gave him a 21-under-par total, with Fleetwood and Hovland both signing off with 68s and Wallace, who'd birdied all nine holes on the back nine in his stunning 60 on Saturday, having to settle for a 69 as the trio all shared second spot.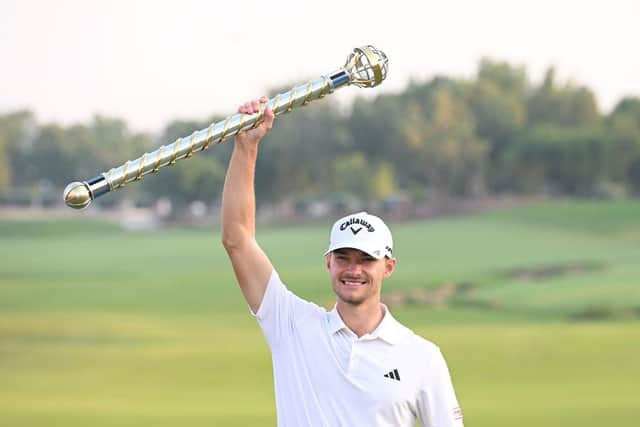 "What about Nicolai?" said Ferguson, who was robbed of an eagle at the closing hole as his long putt from off the green was stopped from going in by it hitting the flagstick but was rightly pleased to end up in the top ten himself as he continued to gain new admirers. "He's a bloody superstar. What a golfer and you are trying to match him shot for shot, which I was doing for quite a while and I was happy about that. We had brilliant fun out there."
It was Hojgaard's third title triumph after previously landing the 2021 Italian Open and the Ras Al Khaimah Championship the following year. This one was worth a whopping $3 million and lifted the Ryder Cup team member in Rome to second behind winner Rory McIlroy in the final Race to Dubai Rankings. "Absolutely amazing," said Hojgaard of becoming the first Dane to win the season finale.
The day was tinged with a touch of disappointment, though, as his twin brother, Ramsus, narrowly missed out on one of the ten 2024 PGA Tour cards that were up for grabs through this season's points list. "I really wanted him to get that card," said Hojgaard, who had already secured his status on the US circuit next season through finishing in the top 125 in this year's FedEx Cup standings. "I feel sorry for Ras, but he's going to bounce back. He always does."
Dubai-based Ferguson was still in the hunt after he'd rolled in a birdie putt at the 12th and the fist pump to celebrate it dropping showed he was out there trying to get the job done before Hojgaard then switched on the after-burners. Nonetheless, it was another splendid effort from the 27-year-old Scot.
"Yeah," he said, smiling of being robbed by that eagle attempt cruelly staying out at the last. "It was right in the middle of the hole and they say you should keep in the pin in these days! But, at the same time, I was glad that it stayed close enough to the hole to make a 4.
"I was really nervous on the last as I'd played so well all week and I've had a couple of occasions this year where I've maybe messed up on the last and kind of almost messed up the week all of a sudden. I was so focused to try and finish strong but also not ruin things with my attitude so I was really proud of myself there.
"I know I keep mentioning names but Tommy [Fleetwood] was up on the putting green this morning giving me praise while Shane Lowry's coach said something nice about me to my coach as well. I think that makes me feel good knowing you are getting their respect."
Rightly so and, after deciding to only give himself a week's break to recharge the batteries, he's set to start the 2023 campaign in South Africa before Christmas. "I didn't like the fact I started the first event of this calendar year with no points and that put me under a bit of extra pressure," he said. Also, the PGA Tour cards will be up for grabs again and, with the points system now being better for some of the smaller events, I'm looking to get off to a good start before being back here in my own bed in Dubai for a month."
It was mission accomplished for Bob MacIntyre in terms of securing his PGA Tour card but not in respect of breaking into the world's top 50, meaning he needs to produce something big in two upcoming events in Australia to secure a Masters invitation before the 31 January cut-off.
"Yeah, it is," he said of one of his main goals for the year being achieved as he joined Adrian Meronk, Ryan Fox, Victor Perez, Thorbjorn Olesen, Alexander Bjork, Sami Valimaki, Matthieu Pavon, Jorge Campillo and Ryo Hisatsune in being new PGA Tour card members.
"Look, I love playing the DP World Tour. But, realistically, the best players are playing week in, week out on the PGA Tour. I am obviously trying to chase down a place in the top 50, though, and I've had two great opportunities. In two of my last three events, I've made an arse out them to not get inside that and I've got to go to Australia and try and win now.
"I've just got one goal in mind and that's getting into Augusta. Again, just disappointed the way I finished in Qatar and the way I finished here. We move on and try and work on the weaknesses."
Comments
 0 comments
Want to join the conversation? Please or to comment on this article.